SONYA BRIDGES NAMED DIRECTOR OF EMCC CAFB EXTENSION
News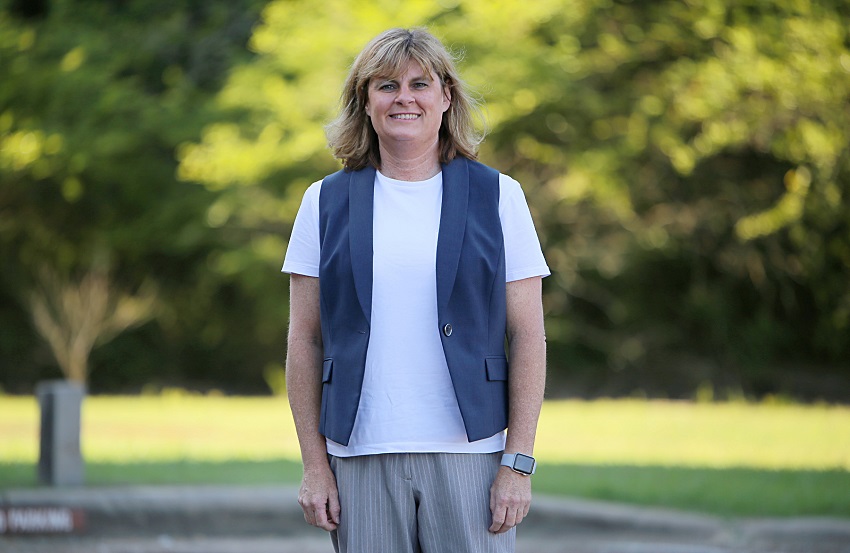 July 24, 2019
Columbus resident Sonya Bridges has been named as the new director at East Mississippi Community College's Columbus Air Force Base Extension.
Bridges assumed the position July 9. She replaces Jacqueline Newton, who retired from the position in May.
Bridges has taught English at EMCC for four years. Her first two years were spent teaching full time at the EMCC CAFB Extension. Since that time she has maintained an office at the college's Golden Triangle campus, where she also teaches.
"We are excited that Sonya will assume the duties of director of our Columbus Air Force Base Extension," Associate Dean of Instruction Gina Thompson said. "We encourage everyone to stop by and let her tell you about the many programs of study we have available."
In addition to her new duties, Bridges will continue in her role as an instructor and will teach an eight-week intensive English Comp I course at the base for the term that begins in August. The class will run from 4:30 p.m. to 7:15 p.m.
"Most of our military members at the base get off at 4 p.m. so this will give them a chance to grab a bite to eat before coming to class," Bridges said.
The CAFB Extension opened in 1972 and serves roughly 150 to 200 students per semester. Classes at the base are available to not only active and retired service members and their dependents but to civilians as well.
"I am really looking forward to helping members of our military, their family members and the community at large meet their educational goals," Bridges said.
Enlisted members at CAFB can complete their associate's degree with EMCC or transfer credits to the Community College of the Air Force, a federally-chartered, degree-granting institution that offers airmen courses that lead to a degree, certification, licensure or accreditation in their field of study.
College Algebra and Public Speaking will also be offered Tuesdays and Thursdays at the EMCC CAFB Extension beginning in August. Most of the students who enroll at the base extension take online courses, Bridges said.
"They take the courses online and come in to the base extension for their testing," Bridges said.
Bridges can advise and register students at the EMCC CAFB Extension, located on the base at 81 Ward Street, and help guide them through the online admissions process. Financial aid, book purchases and class payments are made at EMCC's Golden Triangle campus.
Bridges is a native of Laurel. She earned a master's degree from William Carey University and earned an Education Specialist Degree from Mississippi College in Educational Leadership. She has completed her studies at Mississippi College for a doctorate in Educational Leadership and is working on her doctoral dissertation.
Prior to accepting a position at EMCC, Bridges taught for 12 years at Heidelberg Academy.
"It is rewarding when students you taught finish law school or med school or turn out to be teachers themselves," Bridges said. "You think to yourself, 'Well, maybe I had a little something to do with that.'"
For more information about available courses at the EMCC CAFB Extension, call 662-434-2660 or email Bridges at sbridges@eastms.edu.