BRICK PAVERS AVAILABLE AT EMCC FOR LIMITED TIME
News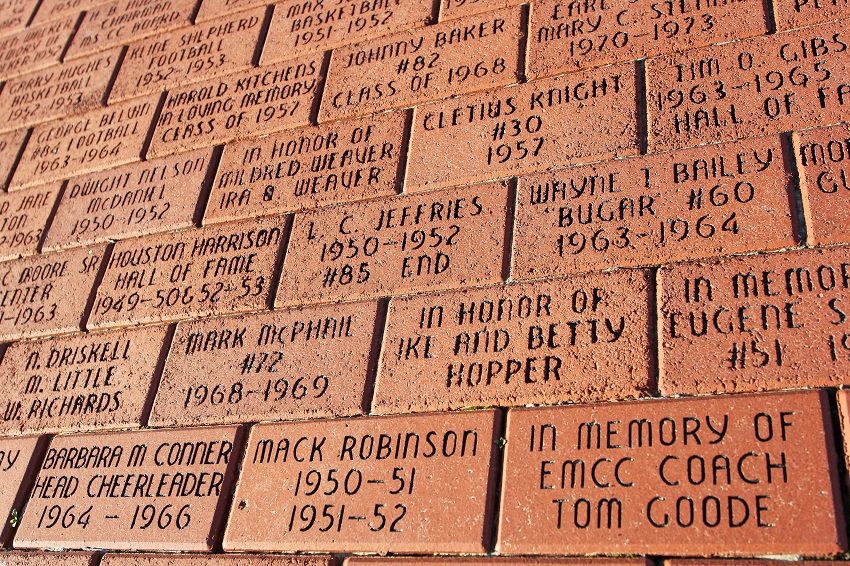 March 20, 2019
Want your name or that of a loved one displayed on East Mississippi Community College's Scooba campus? The EMCC Development Foundation is selling engraved brick pavers for a limited time at Sullivan-Windham Field and at Chapel in the Pines.
Each brick paver may contain up to three lines of print with a combined 14 letters and spaces per line.
Brick pavers will be available for purchase in the Walkway of Champions in Sullivan Plaza at Sullivan-Windham Field and at the Chapel in the Pines for $200 each. Brick pavers located at the base of the 7-foot, 6-inch bronze statue of former EMCC Coach Bob "Bull" Sullivan in Sullivan Plaza are available for $500 each.
"Proceeds from the sale of the brick pavers at Sullivan Plaza will allow us to update and improve the seating around Coach Sullivan's statue," EMCC Director of Alumni Affairs and Foundation Operations Gina Cotton said. "If you choose to have a brick placed at the Chapel in the Pines, your gift will enable us to continue with bi-weekly ministry opportunities sponsored by the Chapel in the Pines and the Orr Center for Christian Activity. Either way, EMCC supporters have the opportunity to leave a permanent legacy on our beloved campus."
The deadline to submit an order for brick pavers is April 15. To order a brick paver, contact Gina Cotton by email at gcotton@eastms.edu or by telephone at 662.476.5063.