Blue Cross & Blue Shield of Mississippi Foundation awards EMCC third grant
News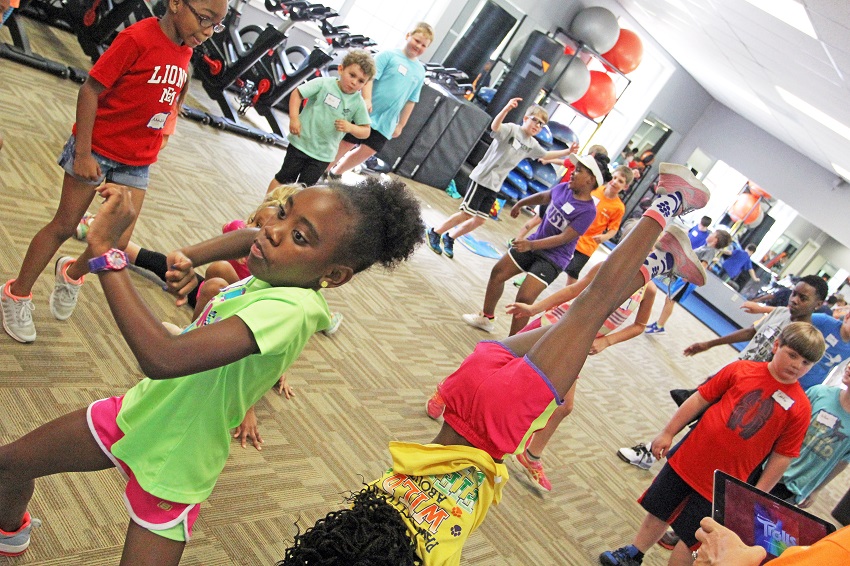 January 9, 2019
East Mississippi Community College has been awarded an $115,865 grant by the Blue Cross & Blue Shield of Mississippi Foundation to continue providing health and wellness initiatives to benefit the college's students, employees and members of the surrounding community.
The Foundation Board of Directors approved the grant to fund a third year of the Our Pride, Making Strides Toward Optimal Health Initiative at EMCC, which was first implemented in 2016.
This is the third grant awarded to EMCC by the Foundation for the initiative, with an initial grant of $211,086 disbursed in 2016 and a second grant totaling nearly $265,000 awarded in 2017.
Among other things, the grant funds have been used to purchase and install all new exercise equipment at the Wellness Center on EMCC's Scooba campus and to provide Family Fun Days, fun runs and other events that include exercise and nutrition components for residents in Kemper County. Wellness Center staff have also visited area schools to promote healthy lifestyle choices.
"We will build on some of the programs and events we have done in the past with the grant funds and will implement some new things this year," EMCC Director of Wellness and Intramurals Cathy Castleberry said.
In 2017, EMCC opened the Wellness Center to community members, who can join for a nominal price. Free exercise routines, such as total body workouts, fitness circuits and ab classes, are available to faculty, staff, students and Wellness Center members.
Scooba resident Crystal Kingery joined the Wellness Center last August. A former physical education teacher at Kemper Academy, Kingery said she put on about 20 pounds after she quit smoking and her blood pressure had gone up.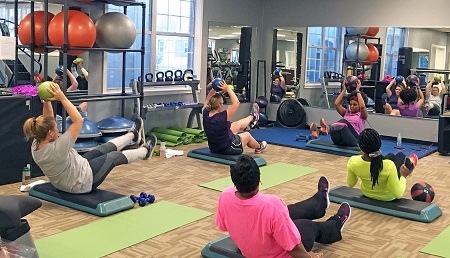 Since she began working out at the Wellness Center, Kingery has lost about 11 pounds and her blood pressure has dropped to where it should be.
"I feel a lot better," Kingery said. "For people like me who love to exercise, having that facility here is wonderful."
Other programs have proved popular as well. The "Little Lions Making Strides" summer day camp in which campers participate in a variety of fun activities and nutrition and wellness education will return this summer, as will a September Childhood Obesity Awareness event and a spring fitness challenge titled "Reach the Beach."
New this year will be a monthly healthy snack day, with fresh fruits, granola and protein bars made available to anyone who comes in the Wellness Center. The healthy snacks will also be provided to students during exam week.
Construction this year will also begin on an outdoor fitness facility funded through the Blue Cross & Blue Shield of Mississippi Foundation's second grant to the college, with funds earmarked from the current grant to provide shade canopies at some of the workout stations.
Original plans for the outdoor exercise facility called for 20 workout stations with traditional equipment, such as stair climbers, other cardio equipment, a bench press, a sit-up bench and a butterfly press, to name a few.
"Those plans have changed somewhat," Castleberry said. "We will still have some of the traditional workout equipment but we are pretty sure we are also going to add an outdoor obstacle course. We thought our students would really like that."
The outdoor facility will be open to the public at no charge and will be available for after-hours and weekend use. Tentative plans call for locating the exercise facility between the F.R. Young Student Union and the Hawkins Building.
"I can't wait for the outdoor facility to open," Kingery said. "I think that is something the kids will really like too."
"The programs we have implemented and the equipment purchases we have made with the grant funds have improved the health and wellness for our students, faculty, staff and the community," Castleberry said. "We are grateful to the Blue Cross & Blue Shield of Mississippi Foundation for their continued support."
The Our Pride Making Strides initiative at East Mississippi Community College is in partnership with the Blue Cross & Blue Shield of Mississippi Foundation. The Blue Cross & Blue Shield of Mississippi Foundation is committed to supporting Mississippi's universities and colleges in implementing healthy eating and exercise initiatives that extend from the campus to the local communities and schools. Learn more about the work of the Blue Cross & Blue Shield of Mississippi Foundation at www.healthiermississippi.org.