LEARN TO SPIKE, TAPER, FADE IN EMCC BARBERING PROGRAM
News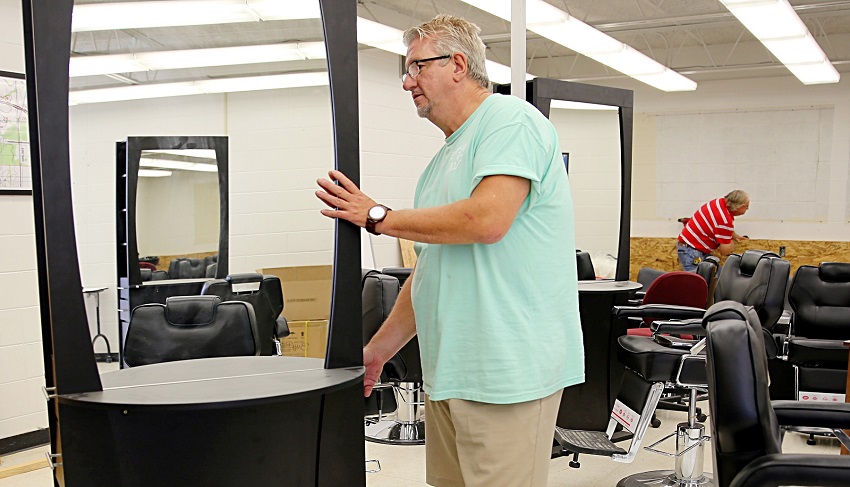 July 10, 2019
For the first time, East Mississippi Community College will offer a program that qualifies students to take the Mississippi Board of Barber Examiners' test.
Students enrolled in the new Barbering program on the college's Golden Triangle campus will begin attending classes in the fall term that begins in August.
"It is going to be a great program and there is a big demand right now for both cosmetologists and barbers," said David Long, who heads both EMCC's Cosmetology and Barbering programs.
According to the U.S. Bureau of Labor Statistics, "Employment of barbers, hairstylists and cosmetologists is projected to grow 13 percent from 2016 to 2026, faster than the average for all occupations. Population growth will lead to greater demand for hair care services."
EMCC has offered a career certificate in Cosmetology for years and Long said the decision was made to expand the department to include a separate track for Barbering to meet a growing demand for the services.
"For a while, there was a push for unisex salons that offered services to both men and women," Long said. "Now there has been a shift back to the way it used to be when men went to barber shops and women patronized beauty salons."
EMCC will continue to offer Cosmetology, which is governed by the Mississippi State Board of Cosmetology and is a separate education track from Barbering. The requirements for both programs are similar.
State law requires that students enrolled in both programs receive 1,500 hours of training prior to sitting for the state exams. Both are nine-month programs and students are in class 40 hours a week.
Students in the Cosmetology program, located in the Douglas Building, are taught out of a fully equipped salon that includes stylist and dryer chairs, shampoo sinks, and manicure, pedicure and facial stations.
The Barbering program will be located across the hall from the Cosmetology program and work is under way to set up training areas with all new equipment that will include barber chairs, manicure and pedicure stations and shampoo chairs.
"Whereas students in Cosmetology are trained more extensively in the processes for hair coloring, hair weaving and permanent waving, those enrolled in the Barbering program will concentrate more on men's haircuts, shaving and the basics of facial steaming," Long said. "They will also be taught how to give manicures and pedicures and some of the basics on hair coloring and perming."
Coursework for the Barbering program will include all hair-cutting techniques, such as clipper and scissor cuts, and hair styles such as taper, fade and spike cuts.
Like the Cosmetology program, the Barbering program will offer services for discounted rates to the public beginning the third week in October, after the students have undergone sufficient training.
Twenty students will be accepted into the Barbering program this fall and most of those spots are taken already. Students interested in enrolling in the program need to speak in person with Student Services Coordinators Yolandra Beck or Elizabeth Regl, whose offices are located in the Counseling Center in the Douglas Building.
"We are really excited to offer the Barbering program," EMCC Associate Dean of Instruction Dr. Michael Busby said. "We think this will complement our Cosmetology program and will provide new alternatives and opportunities to our students."