HASKINS HIRED AS ASSISTANT DIRECTOR OF EMCC MIGHTY LION BAND
News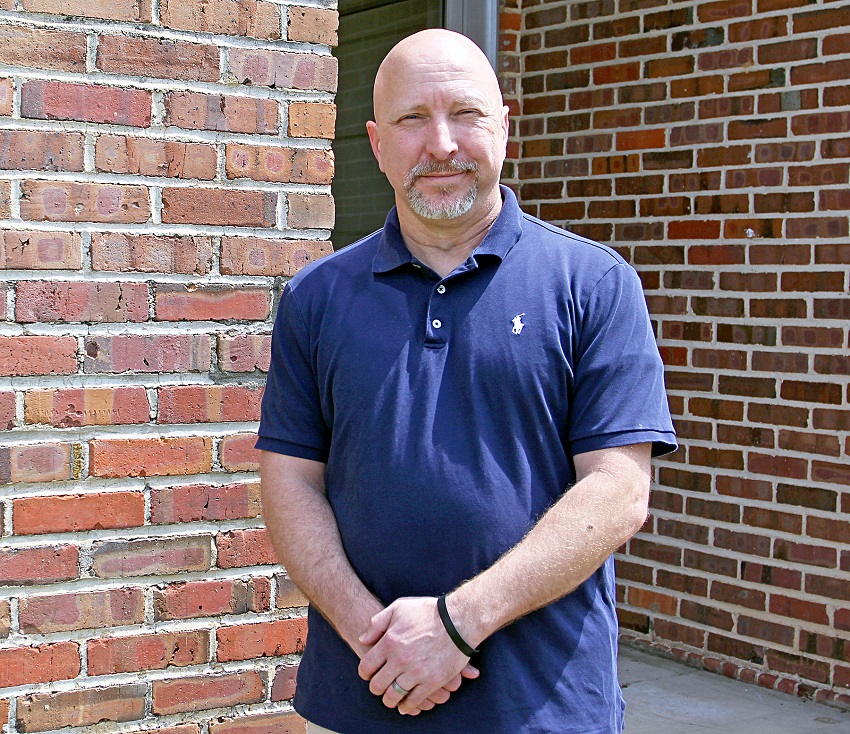 July 26, 2019
East Mississippi Community College's new assistant band director, Greg Haskins, is a Mississippi native who spent eight years in the U.S. Marine Corps performing as a percussionist in one of the Corps' 10 active duty field bands before segueing into the private business sector and eventually accepting a position as a school district percussion director.
Music has been a big part of his life ever since his days as a percussionist with the Pearl "Pirate" Band at Pearl High School. In 1986, during his junior year, Haskins and his fellow band members traveled to Indianapolis, Ind., to compete in the Bands of America Grand National Championships, earning fifth overall in the nation.
A guest performance by the U.S. Marine Drum and Bugle Corps at the grand nationals nudged him towards his future career path.
"Seeing them was exciting and made me want to pursue my musical interests and perform in the military," Haskins said.
On Feb. 14, 1989, a Valentine's Day, Haskins was drummed into the Marine Corps Boot Camp.
Unlike the United States Marine Band, one of the premier bands in the nation comprised of civilians based in Washington, D.C. who perform for presidential inaugurations and White House events, the Marine Corps active duty field bands are battle-ready units whose members are as adept with combat rifles as they are at performing ceremonial music duties.
"People don't understand, especially in the Marine fleet bands, we do a lot of the same things a typical combat infantry unit does," Haskins said.
The bands also perform for dignitaries and during his eight-year stint in the military, Haskins and his fellow band members had the opportunity to travel to 27 countries. He has performed before former President George H.W. Bush and backed up former President Bill Clinton during one of that president's signature saxophone performances.
While serving in military bands, Haskins has performed with musical artists such as Christian vocalist Amy Grant and Country singer Clay Walker.
"I played for the president of France and the Queen of England during the 50th celebration of D-Day in France," Haskins said.
After the military, he was ready to try his hand at something different and accepted a position as an account manager for Entergy Mississippi's alarm system division, which was later bought out by ADT. He continued working with ADT and later started his own alarm company, which he eventually sold.
During that time he was also freelancing as an adjunct percussion instructor for school systems in Pearl and Florence.
In 2014, he accepted a position as director of percussions for the North Pike School District in Summit, which serves middle and high school students. He rebuilt the percussion program from the ground up and in 2017 the school's indoor percussion group won the state championship for the Regional A classification in the Mississippi Indoor Association's Percussion/Winds Championship in Jackson.
It was during his years as an adjunct instructor and percussion director that Haskins found his niche.
"I had been teaching percussion for so long I decided to make it a full time gig," Haskins said.
He had taken some college courses and in 2015 decided to continue his education. In 2017, at the age of 47, Haskins earned a bachelor's degree from William Carey University. Earlier this month he graduated from William Carey University's Instrumental Education Program with a master's degree in Music Education.
He started work for EMCC during the first week of July. EMCC Director of Bands Chris King had not met Haskins prior to his interview for the assistant band director job but King was friends with two of Haskins' co-workers.
"I told Greg, 'I hate to take you from my friends but I will,'" King said. "We are super excited about what Greg brings to the table. He is a phenomenal percussionist and some of the drummers have already come by to meet him and they seem really excited. I think it is going to be a great year."
Haskins and his wife, Christy, who teaches preschool, have moved to Quitman where King resides and the two men commute to work together. Greg Haskins and Christy Haskins each have three children from previous marriages.
EMCC is gearing up for band camp, which begins the first week of August. King said "it will be all hands on deck."
Greg Haskins said he is excited about the opportunity to teach at EMCC.
"I hope to instill a passion in my students to achieve what they want out of life," Haskins said. "I want them to know they can succeed if they want something badly enough and are willing to work for it."