ARC FEDERAL CO-CHAIR TIM THOMAS TOURS EMCC 'COMMUNIVERSITY'
News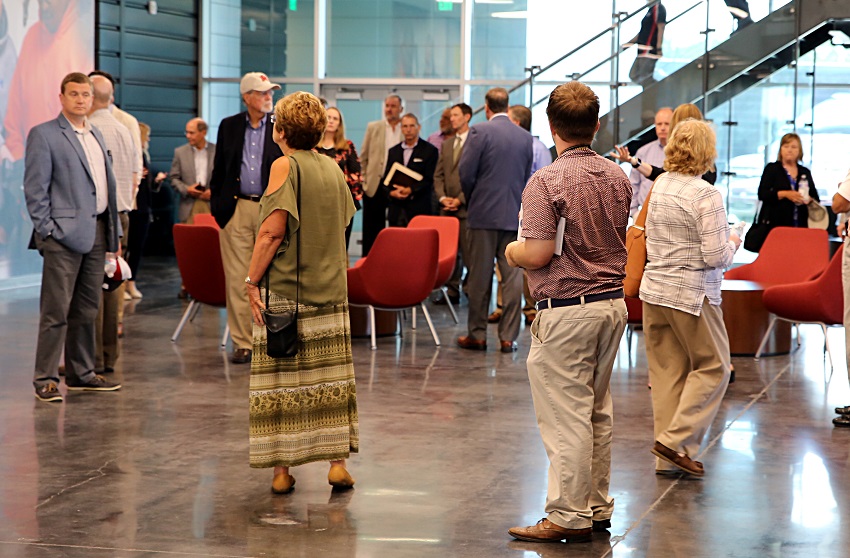 July 16, 2019
Appalachian Regional Commission (ARC) Federal Co-Chair Tim Thomas was among the visitors who toured East Mississippi Community College's Communiversity Tuesday afternoon.
Thomas' visit coincides with an open house for the Communiversity that began Tuesday and runs through Thursday. The public is invited to attend the open house, which runs from 8 a.m. to 8 p.m. daily.
"To see this type facility here in Mississippi is just tremendous," Thomas said of the Communiversity. "This will really help this area remain an advanced manufacturing center of excellence."
Thomas was joined on the tour by ARC Chief of Staff Guy Land and other ARC delegates representing member states.
Construction on the $42 million Communiversity recently wrapped up and the first classes at the facility dedicated to training students for careers in modern manufacturing will be offered in the fall term that begins in August.
Much of the instruction at the Communiversity will take place in 21 high-bay laboratories designed to allow easy access for the setup and removal of heavy machinery. Among the programs that will have dedicated space in the bays are: Electrical Technology; Mechatronics Technology; Engineering, Drafting & Design; Precision Machining & Manufacturing; Systems based Automation; and Industrial Maintenance.
Registration for those classes is under way now.
Workforce services not directly related to advanced manufacturing, such as Automotive Technology, Welding and Fabrication, and Information Systems Technology, will remain in the Center for Manufacturing Technology Excellence complex on the college's Mayhew campus.
EMCC Board of Trustees member Rudy Johnson said the facility will not only serve the needs of existing employers but will act as a catalyst for attracting new industry.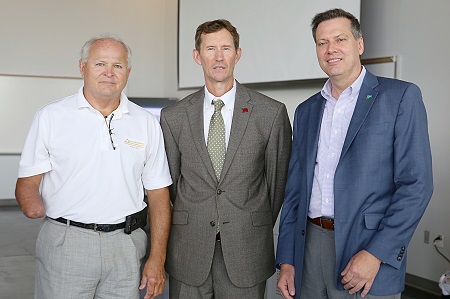 "Industry leaders are going to look at the Communiversity and say, 'We can get our people trained here,'" Johnson said. "You must have a skilled workforce to attract new industry and that is what the Communiversity is all about."
Soft space in the new facility is dedicated for start-ups and industries locating to the area and seminar rooms will be available for educational, business and civic purposes. Future plans call for a full-service cafeteria.
The 145,638-square-foot facility also features a two-story Imagination Center, where PACCAR Engine Company and International Paper have set up displays. Other area manufacturers will soon showcase their products in the Imagination Center designed to expose children to today's modern, high-tech industries.
Lance Walters, plant manager at PACCAR Engine Company and a Communiversity Advisory Board member, said the new facility is something for which the entire area can be proud.
"We want to see it succeed too," Walters said.
The project has been six-years in the making. A ground-breaking ceremony for the Communiversity attended by Lt. Gov. Tate Reeves and other federal, state and local officials took place in December 2016. Prior to that, a coalition of partners worked for three years to secure funding, nail down a site location and hammer out program details.
The ARC contributed $10.7 million to the project, with the Mississippi State Legislature kicking in $18 million. Clay, Lowndes and Oktibbeha counties provided a combined $13.5 million.
Area business and industry leaders comprise the advisory board for the Communiversity and the Golden Triangle Development LINK has been instrumental in the project.
"One of the things that makes the Communiversity unique is the diverse group of partners who have coalesced around a common goal of providing a facility to meet the current and future demand for a highly trained workforce required by industries with advanced manufacturing processes," EMCC President Dr. Scott Alsobrooks said. "The Communiversity would not be a reality today without the support of our federal, state and local officials. We can't thank the ARC and our other partners enough."
Employees with EMCC's Center for Manufacturing Technology Excellence have worked closely with area industry leaders to ensure student training dovetails with the companies' workforce needs.
"The Communiversity provides us the ability to expand on our capability to continue to meet the exacting standards required in today's advanced manufacturing environments," EMCC Workforce and Community Services Vice President Dr. Raj Shaunak said. "The Communiversity will play an integral role in ensuring those needs are met now and into the distant future. That is good not only for industry but for our graduates, the community and the state of Mississippi."