EMCC STUDENTS EARN HIGH SCHOOL EQUIVALENCY DIPLOMAS
News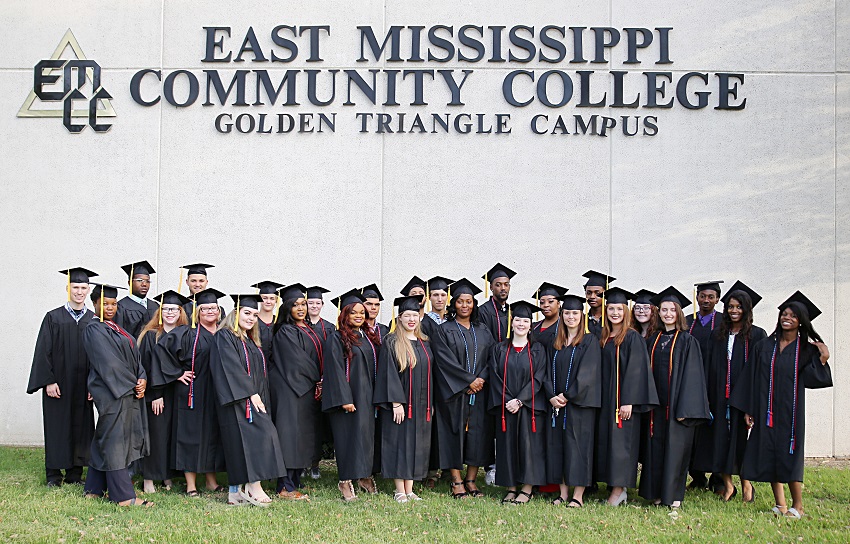 May 31, 2019
Thirty-one Adult Education students in East Mississippi Community College's Launch Pad program received their high school equivalency diplomas the night of Thursday, May 30, in a graduation ceremony in the Lyceum Auditorium on the college's Golden Triangle campus.
Speakers for the event included EMCC President Dr. Scott Alsobrooks, State Director of Adult Education and High School Equivalency Sandy Crist, 2nd Chance Mississippi Executive Directory Zach Scruggs, and EMCC Adult Education Director Dr. O'Neil Wright.
The graduates are: Tokoria Clark of Macon; Lavette Coggins of West Point; Lealon Cook of Houston; Carter Ensz of Macon; Myra Ensz of Macon; Gabrielle Foster of Sturgis; Marsha Friesen of Macon; Jose G. Garcia of West Point; Billy Gill of Pheba; Tameka Glenn of Noxubee County; Morgan Goulet of Columbus; Christina Greenlaw of Columbus; Shandi Gregory; Rahkeem Jones of Columbus; Howard Lenoir of West Point; Deborah Lewis; Cameron Douglas-McKinney of Starkville; Reva Reeves of Columbus; Cayla Roberts of Columbus; Mary Grace Ruth of Starkville; Ashley Sharp of Starkville; Tyson Sims of Columbus; Antonseya Smith of Columbus; Michael Triplett of Starkville; Schyler White of West Point; Jaelyn Wilkerson of Columbus; Michael Wyman; and Tracy Wyman of Columbus.