PROGRAMS TO ADDRESS WORKER SHORTAGE IN CONSTRUCTION TRADES
News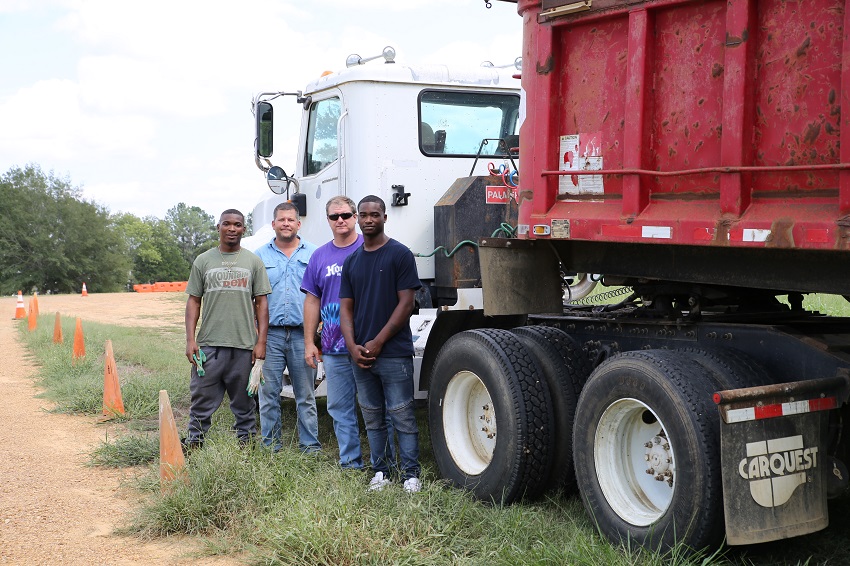 August 22, 2018
East Mississippi Community College's Workforce Services division is implementing one new program and shifting the focus of another to train students to meet a local demand for skilled construction workers and drivers.
"There is a consortium of construction companies who approached us and said they are in dire need of skilled employees," EMCC Workforce Specialist Carey Butler said. "They wanted to know if we could train students and serve as a pipeline of potential employees to help meet their needs."
EMCC and the construction companies, which includes general contractors and road contractors, partnered to form a "construction industry team" to formulate an action plan. The consortium includes representatives from: APAC-Mississippi, Inc.; Burns Dirt; Century Construction; Dunn Roadbuilders LLC; Eutaw Construction Company, Inc.; Falcon Contracting Company, Inc.; Joe Beall, HR Consultant; McCrary Construction Services; Mississippi Paving & Construction, Inc.; Murphree Paving; Neel-Schaffer; Perma Corporation; Phillips Contracting; Superior Asphalt, Inc.
To address the construction industry's needs, EMCC's Workforce Services will offer a new program titled Construction Basic Skills at the college's West Point Center and will incorporate civil worksite and road construction into the Commercial Truck Driving program at the Mayhew campus.
The Construction Basic Skills course was created to address a shortage of skilled foundation workers, EMCC Workforce Project Manager Dr. Jim Huerkamp said.
"Students in the Construction Basic Skills course will learn about things like site layout, concrete pads, foundation work, reinforcing bar, construction math and communication and people skills, all with an emphasis on safety first," Huerkamp said.
A lack of qualified drivers was another problem that was identified. Whereas the Commercial Truck Driving course used to focus primarily on long-haul trucking, students will now also be trained to operate dump trucks and trailers and lowboys used to transport heavy construction equipment.
"We are actually going to take the students to the companies' construction sites and let them get a feel for loading and dumping gravel and dirt," Butler said. "Phillips Contracting donated a dump trailer and a truck we will be able to use for training."
Columbus resident Ronald Gore is among four students in the program who have already earned their Commercial Driver's License.
"I am putting out applications as we speak," Gore said. "There is a big demand for drivers and that is one of the things that attracted me to the program."
Students will learn safe dumping procedures, hauling hot mix asphalt, hauling characteristics of various materials and electronic logging devices, to name a few things.
Course requirements include: a silver or better on the WorkKeys test; proof of graduation from a high school or high school equivalency diploma; possession of a driver's license; Department of Transportation drug screen; presentation of a Social Security card; DOT physical; application for Commercial Driver's License (CDL) filed at the Department of Motor Vehicles; CDL learner's permit or motor vehicle report; paid tuition and a Workforce Innovation and Opportunity Act profile completed.
The Commercial Truck Driving program takes five weeks to complete. The course includes the use of an EMCC truck by students when they take their CDL road test. The students will be accompanied by the program's instructor, Mark Dodson.
The course costs $2,250. Tuition assistance is available for qualified students.
"I think this is the only program that has a dump truck trailer for training to go along with flatbeds and van trailers," Dodson said. "EMCC's Commercial Truck Driving program gives students a couple of different employment options when they finish their training."
The 96-hour Construction Basic Skills course is expected to take about eight weeks to complete. Students will earn an industry-specific Occupational Safety and Health Administration certification, as well as National Center for Construction Education and Research "Core" certification and a Construction Basic Skills certificate.
Students must be at least 18 years of age and score a silver or better on the WorkKeys test. They must show proof they graduated from a high school or earned a high school equivalency diploma. Other requirements include a DOT drug screen and possession of a Social Security card and a government issued driver's license or ID card.
Those interested in applying for the Commercial Truck Driving program can call Butler at 662.243.1967 or email him at cbutler@eastms.edu.
To enroll in the Construction Basic Skills Course, call the West Point Center at 662.243.2647 or Huerkamp at 662.243.1961. Huerkamp can also be reached by email at jhuerkamp@eastms.edu.
Call Workforce Services at 662.243.2686 for information or help regarding either program.