STARKVILLE BRIDGES DONATES $22.5K TO EMCC FOR VETERANS' SCHOLARSHIPS
News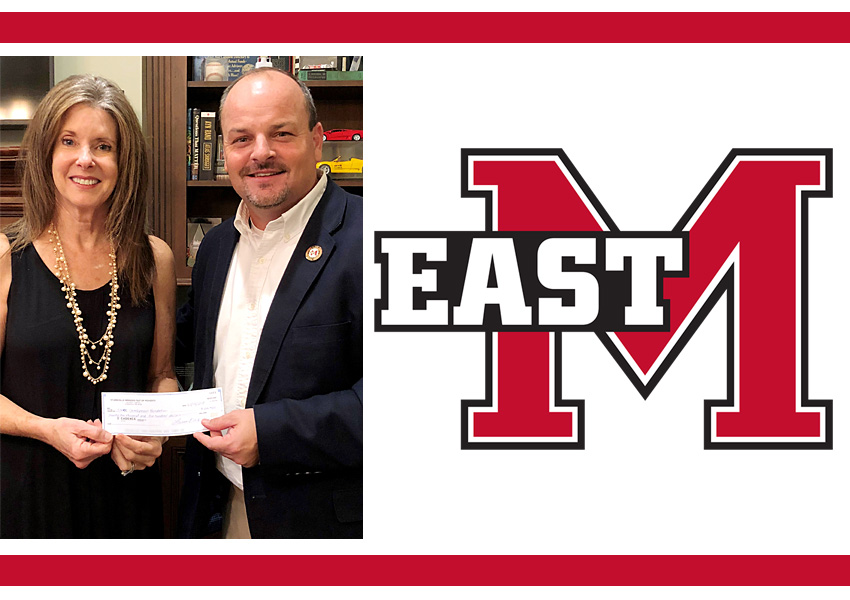 July 23, 2018
A $22,500 donation by the nonprofit organization Starkville Bridges to East Mississippi Community College will provide scholarships to eligible U.S. military veterans who served on foreign soil.
On Thursday, July 19, Starkville Bridges President Lynn Phillips-Gaines presented a $22,500 check from the organization to EMCC Executive Director of College Advancement Marcus Wood. The money will be used to establish a scholarship fund that will provide up to $1,500 per semester to qualified veterans who are enrolled in technical programs offered through EMCC's Manufacturing, Technology and Engineering Division.
"We want to recognize the sacrifice paid by our veterans, many of whom have fought in wars far away from home. We feel the establishment of this scholarship fund is one way in which we can accomplish that," Phillips-Gaines said. "Many of our veterans return home and find they don't have the resources needed to obtain an education or training for a vocation. Our hope is these scholarships will help address those needs."
Wood said he cannot think of a more worthy cause than that of expanding educational opportunities to members of the U.S. Armed Forces who have served overseas.
"East Mississippi Community College is honored to partner with Starkville Bridges to provide these scholarships to our returning military veterans," Wood said. "We are grateful to Lynn and her organization for providing the funds to make this possible."
MTE Division Veteran Scholarships will be available to qualified veterans enrolled in one of the following programs: Automation & Control, Automotive, Computer Networking, Computer Programming, Database Administration, Diesel Mechanics, Drafting & Design, Electrical, Electro-Mechanical, Industrial Maintenance, Mechatronics, Network Security, Precision Manufacturing & Machining, or Welding Programs.
Diesel Mechanics is offered as a career certificate program. Computer Networking, Computer Programming, Database Administration and Network Security are two-year programs that lead to Associate of Applied Science degrees. Students can earn either a career certificate or an associate's degree in the remaining programs.
The scholarships will be made available to qualified returning veterans who were deployed and are not on active duty. Preference will be given to veterans from Oktibbeha County who served in the Middle East.
To qualify, veterans must use their GI Bill educational benefits and demonstrate a financial need.
"This is intended to serve as a supplement to the funds for which our veterans already qualify," MTED Navigator Greta Miller said. "Some of our National Guard students, for example, have been activated and deployed but only receive a percentage of their VA benefits when they return home."
EMCC VA Coordinator Sandra Hearron serves as the college's U.S. Department of Veterans Affairs school certifying official.
"I will work with them to find out what benefit they are applying for and what benefit they might be eligible to receive," Hearron said.
The mission of Starkville Bridges is to eradicate poverty in Oktibbeha County by providing the education and resources needed to transition into the middle class, according to the organization's website.
Phillips-Gaines, a certified financial planner, said many returning veterans find themselves unprepared to meet the demands of a changed civilian workforce and that the scholarships are in keeping with her organization's mission of helping those in need achieve financial stability.
"I am just so thankful we have EMCC right here in our backyard that trains people for employment in the new industries moving into our area," she said. "What appeals to me is that not everyone needs to attend a four-year university to obtain a skillset and earn a good wage."
EMCC Interim President Dr. Rick Young said he is grateful to Phillips-Gaines for her desire to give back to the men and women who have served in the U.S. military.
"The scholarship program Lynn is funding will provide a means for qualified veterans to take advantage of the unique educational and training opportunities offered by East Mississippi Community College," Young said.
Veterans who would like more information about the MTE Division Veteran Scholarships can contact MTED Navigators Greta Miller or Patricia Corrigan. Call Miller at 662.243.2659 or send her an email at gmiller@eastms.edu. Corrigan can be reached at 662.243.2631 or pcorrigan@eastms.edu.