TEXAS FANS OF 'LAST CHANCE U' ATTEND EMCC FOOTBALL GAME
News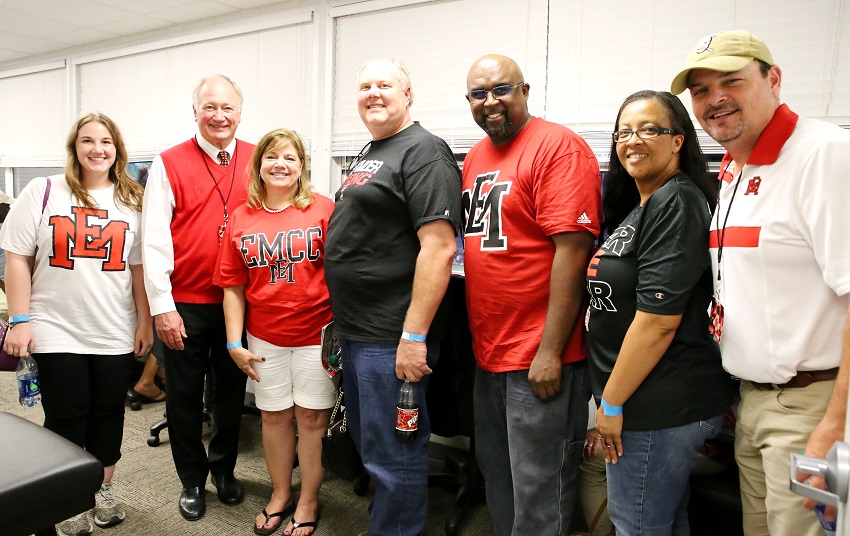 September 10, 2018
Longview, Texas resident Randall Latch, his wife, Jaye, and the couple's daughter Christine, drove six hours from their hometown to Scooba on Aug. 30 to watch the East Mississippi Community College football team take on Hinds Community College in the season opener at Sullivan-Windham Field.
Unbeknownst to the Latch family, another couple from Longview also attended the game. Dr. George Shankle, Jr., and his wife Tracie, sat in the same row the Latch family was sitting in, about four seats away. Although the two families were both from Longview they had not met before but that changed before the football game was over.
Both families decided to attend the game after watching the first two seasons of "Last Chance U," a gritty Netflix documentary highlighting the Lions' 2015 and 2016 football seasons.
"We started binge watching it during Christmas of 2017," Randall Latch said of the series. "You see all of this terrible stuff going on in the country. Then you had 'Last Chance U' showing you something great happening here in the U.S."
During the football game in which EMCC shut out Hinds 50-0, the Latch family was seated next to Kemper County native Bernard "Joe" Hulin and his wife, Loretta, who struck up a conversation with the visitors. The Shankles were drawn into the conversation and both Texas families were surprised to learn they were neighbors.
"What are the odds of that?" Randall Latch asked.
Joe Hulin said he was impressed with the fact that two families from Texas, a big football state in itself, would both make the 12-hour round trip to Scooba to watch a football game.
"The look and feeling generated by our fans just made them feel like there was something special about EMCC fans," said Joe Hulin, who resides in Preston with his wife.
When EMCC Executive Director of College Advancement Marcus Wood and Director of Alumni Affairs and Foundation Operations Gina Cotton learned the couple were in the stands, they dropped by for a visit and took them up to the press box to meet with college administrators and officials.
"The hospitality from everyone was wonderful," Shankle said. "We weren't expecting to meet Marcus and be invited to the skybox. I really enjoyed that."
Randall Latch agreed.
"I have never met more wonderful, inviting, super nice people, who were willing to spend a little time with us," he said. "We came to Mississippi expecting nothing but to meet a few people, watch a football game, see the campus and return home."
Hulin had a similar experience two years ago while he and his wife were sitting in the same seats during EMCC's 2016 homecoming game. During that game, they struck up a conversation with Dan and Kelly Thompson of London, England. The couple were planning a road trip across the U.S. and decided to include a live football game at EMCC to their itinerary after watching "Last Chance U."
"It must be something about these seats," Joe Hulin said with a laugh. "It just makes me feel good. I am always telling the story of Kemper County and our community college and the things we do here. To hear someone else speak highly of you without you soliciting their input makes you feel as if we must be doing some things right."
Randall Latch said one of the highlights for him was meeting Wood, who is the former offensive coordinator for the Lions and was featured in "Last Chance U."
"When Marcus came to the stands, I heard his voice and turned and around and froze," Randall Latch said. "My daughter Christine did too."
Wood said he thoroughly enjoyed the experience.
"It was great," Wood said. "I am grateful they thought enough of what we are doing here at EMCC to make that long drive to help us cheer on our football team. Those of us who are fortunate enough to work at EMCC know this is a special place and I am grateful for any opportunity to show off our college to our friends from out of state."
Both the Latch and Shankle families said they are planning return trips to Scooba to watch another football game. Randall Latch said friends of his in Longview who have watched "Last Chance U" said they would like to make the trip as well.
"Don't be surprised if you have an influx of people from Longview in the stands during the homecoming game," Randall Latch said.