EMCC, BAPTIST TO HOST OPEN HOUSE FOR SURGICAL TECHNOLOGY, PARAMEDIC PROGRAMS
News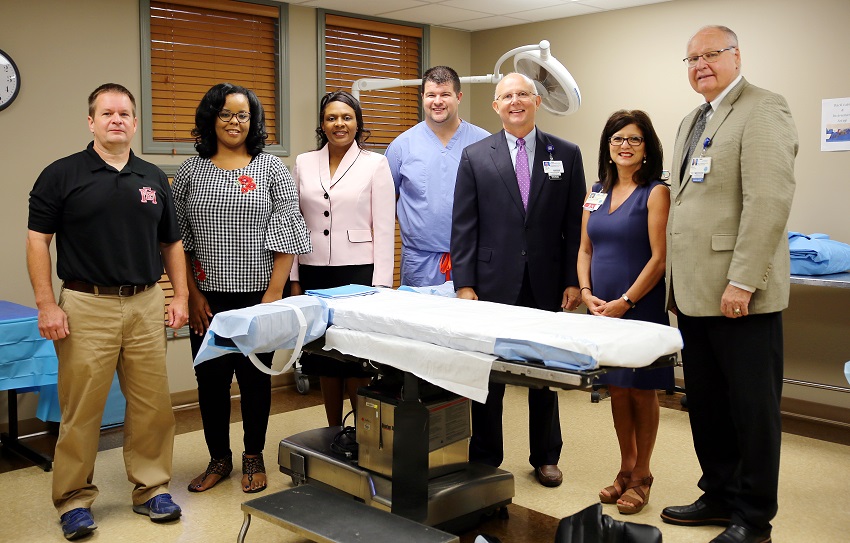 October 16, 2018
The public is invited to attend an open house Oct. 23 at 10 a.m. to showcase a training facility provided by Baptist Memorial Hospital-Golden Triangle that will house East Mississippi Community College's Paramedic and Surgical Technology programs.
The open house will take place in the training facility, which is located on the Baptist Golden Triangle campus at 515 Willowbrook Road in Columbus.
Classes for both the Paramedic and Surgical Technology programs are expected to begin in January.
In February, officials with Baptist Golden Triangle approached EMCC about a local need for certified surgical technologists. When officials at EMCC explained there was no space available at the college for a new program, Baptist offered the use of one of their buildings for both a Surgical Technology Program and the college's Paramedic Program.
In addition, hospital officials also offered to equip classrooms, supply computers and labs, and provide a mini operating room at the training facility.
"We are grateful to Baptist Golden Triangle for providing space for these programs that will benefit our students, patients at our area hospitals and the community at large," EMCC Interim President Dr. Randall Bradberry said.
"Certified surgical technologists are important to the Baptist Golden Triangle medical team," said Baptist Golden Triangle's Chief Nursing Officer Mary Ellen Sumrall. "It was important for us to partner with an educational institution that was well respected and that could provide outstanding training for future members of our team. We believe our partnership with East Mississippi Community College will produce first-rate surgical technologists and meet a demand for all hospitals in the region."
The EMCC Board of Trustees, the Mississippi Board for Community Colleges and the Southern Association of Colleges and Schools Commission on Colleges have approved the Surgical Technology Program, which will be the first of its kind in the Golden Triangle area.
Students in the program will shadow certified surgical technologists for their clinicals, not only in the operating rooms at Baptist Golden Triangle, but at North Mississippi Medical Center in West Point and OCH Regional Medical Center in Starkville as well.
Baptist Golden Triangle's Director of Perioperative Services Derrick Forrester said the ultimate beneficiaries of the program will be patients undergoing treatment at health care facilities in the Golden Triangle area.
"Providing excellent patient care is always our No. 1 priority," Forrester said. "Having high-quality surgical technologists will help ensure we continue to provide the best possible care for patients."
While the bulk of the training will take place at Baptist Golden Triangle, students will take their academic classes at EMCC's Golden Triangle campus. The initial class will include 15 students. Many more applied.
"I sent out more than 200 emails with applications attached from those interested in the program," said Janan Rush, who will serve as both director and instructor for the Surgical Technology Program.
EMCC Division of Nursing and Allied Health Director Dr. Tonsha Emerson said one of her goals is to grow the division's programs.
"Adding the Surgical Technology Program is definitely a plus for our division and a start towards that future growth," Emerson said.
Unlike the Surgical Technology Program, EMCC was already accredited for a Paramedic Program.
"The program was inactive last year but in July we brought it back to active status with the accrediting body," EMCC Director of Emergency Medical Services Education Chris Kelly said.
"Our hope is that with EMCC reactivating its paramedic program and by Baptist providing the training facility, our partnership will help fill the growing need for those first responders who are so valuable to meeting the health care needs of our community," said Baptist Assistant Administrator Bill Lancaster.
Students in the Paramedic Program can earn an associate's degree or a certificate that takes a year to complete.