COUNTY SUPERVISORS TOUT CMTE 2.0 AS ECONOMIC DRIVER
News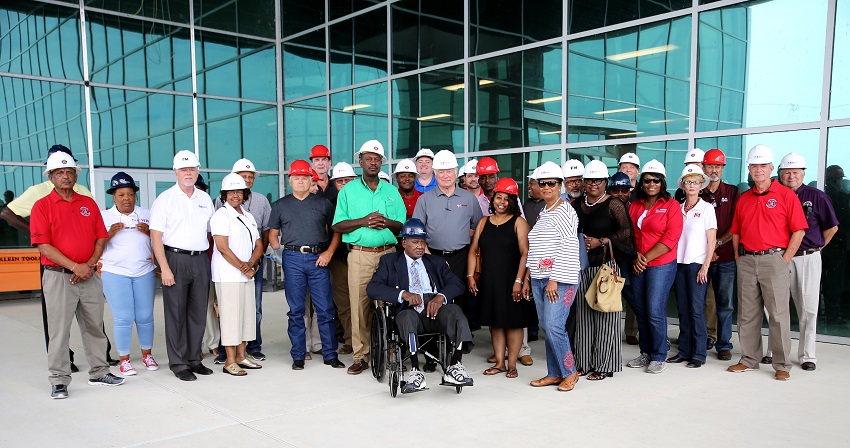 July 27, 2018
The role East Mississippi Community College's Center for Manufacturing Technology Excellence 2.0 will serve as an educational conduit to provide a highly-skilled workforce needed in automated production processes will further strengthen the region's ability to attract new industries, officials and county supervisors from Clay, Kemper, Lauderdale, Lowndes, Noxubee and Oktibbeha counties said during a Friday, July 27, tour of the facility under construction at the entrance to the Golden Triangle Regional Global Industrial Aerospace Park.
"I think the sky is the limit," Lowndes County Administrator Ralph Billingsley said. "Once this unbelievable training facility opens up, we will have all the pieces. We have EMCC and the Golden Triangle Development LINK. We have land, water, electricity and rail.
"Lowndes County put $10 million into the project and we think the investment will be paid back many times over once this facility opens."
Officials from Clay County are contributing $2.5 million towards construction costs for the CMTE 2.0 and Oktibbeha County is providing $1 million.
"I think it is a wonderful investment," Oktibbeha County District 3 Supervisor Marvell Howard said. "This is a foundation that will be here for decades to come. This will definitely help get our communities in the Golden Triangle to the level we want them to be. I think the future is bright."
Clay County District 3 Supervisor R.B. Davis agreed.
"I am very excited about the opportunities this will provide for our young people," Davis said. "I think it will definitely attract more industries. I remember when there was talk of building a regional airport and some people said that was way out of our ballfield. Thank goodness for the foresight of those who believed in that project. We have now have a regional airport and it has proved an asset to this entire region. This facility is going to be the same kind of thing."
Other funding partners for the nearly $42 million project include the state of Mississippi, which issued $18 million in bonds and the Appalachian Regional Commission, which secured more than $10 million in federal funds.
Once it opens, the CMTE 2.0, known by some as the Communiversity, will offer training in existing and emerging fields, such as Automation and Control Technology, Electrical Technology, Electro-Mechanical Technology, Engineering Technology, Drafting and Design, Mechatronics Technician, Precision Manufacturing, Machining Technology and Information Systems Technology.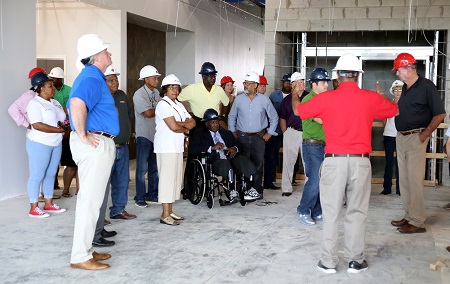 Students will be trained on cutting-edge equipment by instructors keeping pace with rising technological innovations. One emerging field is that of augmented reality, which adds graphics, information and sound to the existing world.
"Augmented reality is a term I first heard six months ago," EMCC Vice President of Workforce and Community Services Dr. Raj Shaunak told the group of visitors. "That is the future. It is now. What we want to do is take those kids playing video games and provide them the skills to develop new unmanned aircraft, new helicopters and things we don't even know about yet."
EMCC Interim President Dr. Rick Young said the CMTE 2.0 will be a game-changer in the region for economic development and workforce training.
"There won't be anything else like it in the nation," Young said. "The day the CMTE 2.0 opens, it will provide training that will enable our area residents to be more competitive in the marketplace. One of the first things industries look at once they qualify an area is the availability of a trained, quality workforce. That's what we do. Our Workforce Services people are the best."
PryorMorrow, which has offices close to the CMTE 2.0, is the architect for the facility that features open spaces and glass partitions that will provide open views into classrooms.
"We want visitors to see students doing things and learning," said Michael Taylor, the architect of record for the CMTE 2.0. "That is the premise of the whole design. We have really upped our ante on the design and layout. We wanted to set it apart from everything else around here and impress folks from out of town."
A groundbreaking ceremony for the CMTE 2.0 took place in December 2016 and the project has been paying dividends ever since, officials said. Columbus-based West Brothers Construction is the general contractor for the CMTE 2.0.
"Pretty much all of our contractors are local," West Brothers project manager Jason Morgan said. "We have between 100 to 150 people working at the site, depending on the day."
"There has been a tremendous economic impact to the area just from the construction work alone," Billingsley said.
Lauderdale County District 2 Supervisor Wayman Newell said he was impressed with the facility.
"This is going to be state-of-the art," Newell said. "Workforce is key to everything now. If you don't have a trained workforce, then you are not even in the running when an opportunity does come about. EMCC is doing a good job and they have the best interest of the kids at heart."