EMCC SPRING 2018 GRADUATION LIST
News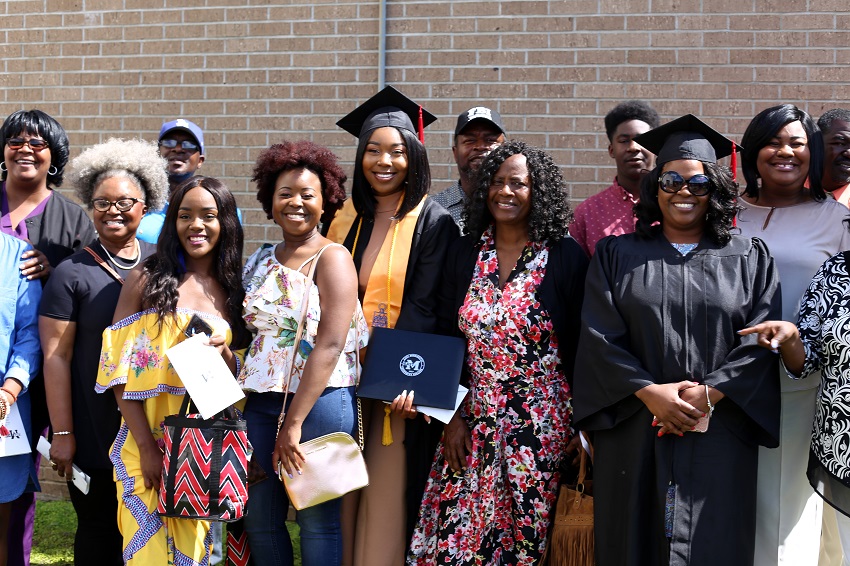 May 10, 2018
East Mississippi Community College held spring 2018 graduation ceremonies May 8 at the college's Golden Triangle and Scooba campuses. The ceremonies included more than 650 academic and career-technical students who completed their coursework at the Scooba, Golden Triangle, Columbus Air Force Base, Naval Air Station Meridian, Lion Hills, West Point Center and online/eLearning campuses.
Graduation ceremonies for students at the Scooba campus took place beginning at 10 a.m. Two graduation ceremonies were conducted on the Golden Triangle campus, with the first at 2 p.m. for academic students and a second beginning at 6 p.m. for career technical students.
The graduates hail from 46 counties and 108 cities in Mississippi, 11 states and two foreign countries.
Here is a list of the graduates broken down by the counties and cities in which they reside:
Mississippi
Alcorn County
Attala County
Kosciusko: Tanner Kyle, Quanisha Lacy
McCool: Douglas Fisher, Jonathan McGee, Alexis Turnipseed
Bolivar County
Cleveland: Ashley Vickers
Calhoun County
Big Creek: Justin Devall
Calhoun City: Petyon Suber
Pittsboro: Chaterika Martin
Vardaman: Baxter Hendrix
Chickasaw County
Houston: Clay Faulkner, Victoria Ferguson, Clarence Frison
Okolona: Kaleb Charles, Kiara Foster, Arlisha Sada
Choctaw County
Ackerman: Latoya Baber, Brady Cagle, Christopher Dean, Jaiye Gillon Matthew Lawson, Michael Miller, Isaac Newman, Kyle Pittman
Mathiston: Linda Fuller
Weir: James Dylan, Jabaubi Nash, Angelia Wade
Clarke County
Clay County
Cedar Bluff: Tyler Houston, Emerson Shinn, Hannah Albert, Paul Bridges, Rachel Bridges, Kadaijha Johnson, Matthew Ray
Pheba: Jacob Davidson, Lucas Foster, Brittany Jones, Edward Perkins, Zachery Walker
West Point: Robert Allen, Angel Bensend, Lakendra Bentlystrong, Jordi Card, Ana Chandler, Richard Chandler, Kandice Clinton, Brandon Dailey, Demondtae Donald, Adrianna Fulgham, Jose Garcia, Jessica Haga, Ann-Marie Harris, Taylor Harris, Jordan Hawkins, William Hays, Ashley Hoskins, Zachary Hudson, Alexandar Jones, Elizabeth King, Taylor Lairy, Jamaya Matthews, Kennedy Morgan, Austin Pennington, Kamaria Pigram, Constance Powell, Lexus Price, Johathan Rainey, Karina Reyes, Logan Sims, Brandon Smith, Katelyn Vest, Mylesha Walker, Trevia Walker, Taquanta White, Matthew Wilkerson, Alice Wooten
Copiah County
Crystal Springs: Brookley Lang, Sarah Miller
Hazlehurst: Payton Allen
Covington County
DeSoto County
Hernando: James Keel
Horn Lake: Carlos Thomas
Olive Branch: Loralee Cox, Jordon Lee
Southaven: Ashlyn Armstrong, Demarcus Ford, Kaleb Tanner
Forrest County
Hattiesburg: Destin Payton
Petal: Dalton Patterson
George County
Lucedale: William Garriga
Grenada County
Harrison County
Biloxi: Peyton Warren
D'iberville: Kelcie Wilding
Gulfport: Christopher Burns, Shawn Gilliland
Pass Christian: Anthony Hickman
Hinds County
Byram: Weston Acey
Clinton: Kevin Lewis
Edwards: John Crawford
Jackson: Dylan Crawford, Brianna Munn, Ariel Reed
Terry: Richard Grantham
Utica: Joshua Fountain
Holmes County
Jackson County
Moss Point: Justin Plummer
Pascagoula: Illyan Scott
Vancleave: Matthew Mizelle
Jasper County
Heidelberg: Bailey Nichols
Jones County
Ellisville: Cameron Atwood
Laurel: Spencer Bryan, Alex Ellzey, James Ruth
Kemper County
Bogue Chitto: Marley Sills
DeKalb: John Bowen, Thomas Cumberland, Jeremiah White, Alexa Harrison, Taylor McKee, Berisha Odom, Kayla Stevens
Porterville: Brejenn Allen, Raymond Davis, Kayla Thompson, James Worrell
Preston: Rebekah Loving, James Luke, Tamara Rush, Austin Yarbrough
Scooba: Trey Blakenship, Parker Dial, Qyhdijha Ivy, Shundarius Keshad, Annette Shinn, Adam Wade
Lauderdale County
Collinsville: Herbert Irby, Victor Miller, Abbigail Reid
Daleville: William Higgason
Lauderdale: Martinique Munn
Meridian: Dawson Boes, Daniel Crowell, Caitlyn Hearn, Shelby Koch, Matthew Mackey, John McCraw, James Miles, Tracee Moore, Olivia Scarbrough, Khristina Spinks, Kailah Tubbs
Toomsuba: Sharon Gaddis, corin Grady, McKenzie McKee, Haley Randall
Leake County
Carthage: Dylan Bobo, Hunter Crofford, Mariallen Moore, Rebekah Roberson, Abbie Scott, Kristen Sprayberry, Victoria Sprayberry, Caroline Thomas, Kayley Wilcher
Lena: Erin Johnston, Jacob Patterson
Walnut Grove: Maggie Crane, Wyatt McCann
Lee County
Baldwyn: Dylan Hatfield
Saltillo: Clayton Fulgham
Lincoln County
Brookhaven: Brandon Granger
Lowndes County
Artesia: Quintasia Brewer, Kalan Harris
Caledonia: Summer Arnold, Ali Easley, William Glasgow, Rachel Guyton, Holley Hastings, Elijah Hemphill, Van Hurley, Brandi McCullough, Garrett McWilliams, Kaleb Morris, Colby Ponds, Jared Reed-Wood, Jordan Sanderson, Melissa Saraiva, Emilee Wilcox, Macy Williams,
Columbus: Alex Adair, Christopher Adair, Ty'jay'a Alsobrooks, Chase Austin, Devione Bailey, John Barrett, Nautica Barry, Joanna Barton, Skylar Baswell, Jamie Beams, Karl Bell, Kristina Blanton, Leah Boiardi, Izola Bonner, Jarvis Bonner, Rebecca Bounds, Victoria Bradley, Sylvester Brandon, William Brewer, Dwayne Brown, Rachel Bruce, Tyree Calvert, Christine Carpenter, Sean Carpenter, Daniel Carter, Johnna Chaney, Christina Clark, Austin Clemmons, Ashley Cunningham, Joshua Dantzler, Nicholas Debbaut, Garrett Dees, Destiny Dickerson, Kirsten Dickerson, Sh'kaitlin Dickerson, Jasmine Dismuke, Carolyn Dixon, Clint Docher, Austin Dodson, Daniel Doty, Chloe Draper, Brady Duggin, Michael Duncan, William Duncan, Parker Earhart, Doris Easley, Byronn Edwards, Shadrica Edwards, Kiersten Elliott, Daylon Ferguson, Dusty Fields, Laura Fondren, Darius Gandy, Marissa Gandy, Carrie Gayle, Aidan Glover, Zyria Golden, Joseph Gray, Amanda Groves, Kailey Hall, Haylee Hamilton, Haley Harper, Tyzaviya Harris, Christon Hearn, Emily Hickman, Jaquan Hines, Katelyn Holliman, Rachel Hood, Tyler House, William Hoyt, Kalee Huddleson, Kendra Ingra, Betty Jackson, Devagus Jenkins, Neely Jenkins, Asia Joiner, James Jones, Laclaudia Keaton, Isaac Kimble, Alexus King, Resharda King, Ashley Lingle, Eric Lloyd, Marshall Lockett, Peyton Loper, Kathryn Mackey, Linda McBride, Scylind McCloud, Rochard McCollum, Leon McIntosh, Brandon McCay, Drucilla Meggs, Dylan Meggs, Meisha Miller, Stefphon Moody, Latanya Moore, Justin Nichols, Jared Oakes, Cameron Oliver, Tyborris Perkins, Christion Petty, Stacey Petty, Margaret Phillips, Tyrone Porter, Ivy Powell, Anthony Prowell, Joshua Pusha, Ryan Ramsey, Matthew Richards, Abigail Richardson, Kayla Rogers, Bradley Rollins, Trevan Samuel, James Sharp, Christopher Sisson, Zachary Slaven, Ashton Smith, Kathy Smith, Charles Stanback, Kiana Staples, Amy Stennett, Bailey Stewart, Dahlia Stewart, Brody Stokes, Rachel Strickland, Jarmorris Swanigan, Tambria Tate, Whitney Tate, Orlando Taylor, Zachary Taylor, Alicia Templeton, Keiown Terry, Caleb Thomas, James Thomas, Davinda Tuggle, Timothy Upton, Brittani Valentine, Chelsea Veazey, Avery Velek, Renee Walls, Keyanna Washington, Markeita Watt, Shaquile Wells, Breeze Whitmore, Audrianna Wicks, Jordan Williams, Christopher Winter, Zackery Wright, Deborah Young
Crawford: Ebonee Humphries, Amber McCarter, Edleishia Sherrod
Steens: Precious Gilleylen, Jorden Hollowell, Christina Lee, Jacob Lowery, Ethan Monahan, Avery Prowell, Tylesha Washington, Brittany Younger
Madison County
Camden: Kala Gaston
Canton: Carly Thompson
Flora: Earl Butler, Wesley Neely
Madison: Ryan Angelo, Neil Dowty
Ridgeland: Jonathan Akins, Walter Williams
Monroe County
Aberdeen: Steve Collins, Robin Culver, Annie Edmond, Daniel Harrington, Logan Tate, Ivy Way
Amory: Bailey Doolittle
Hamilton: Samuel Bertrand, Melanie Caulder, Malerie Guess, Peyton Jones, William Logan, Emma McGhee
Prairie: Jamoni Pulley
Montgomery County
Stewart: BA Brasfield, Jacob Klemme, Kurtis Odom, Cody Roberts
Winona: Morgan Mills
Neshoba County
Philadelphia: Hunter Irons, Joshua Jones, Colten Kirkland, Breanna Land, Steven Richardson, Cortney Sanderson, Allison Vick, Jenna Vining, Hunter Weatherford
Newton County
Chunky: Michael Parnell
Hickory: Zaporiah Gordon
Union: Walker Kelly, Lane Stevens
Noxubee County
Brooksville: Shameka Colom, Janeshia Dancer, Zakeia Gavin, Talisa Holmes
Macon: Antavious Belgrave, Lukas Borntrager, Zaneshia Brandy, Tyrique Brown, Damion Conner, Deanberia Grassiree, Johnathan Heflin, Christian Holder, Jasmine Johnson, Janeequa Jones, Tea Lewis, Clemmia Little, Donesha Macon, Kent Macon, Lashena McCoy, Tony Neal, Jazsmine Perry, Traneka Reed, Brooke Simmons, Samantha Sims, Wiley Stevenson, Quincy Stokes, Lacoiya Turner, Dominique Wilson, Tyhendreon Wilson
Shuqualak: Chiquita Dunn, Jaquana Jenkins, Jasmine Stewart, Gabrielle Thomas, Terrance Thomas
Oktibbeha County
Starkville: Audrea Powell, Charlie Armstead, Molly Bears, Ashley Benton, Christopher Bishop, Fanny Bonilla, Damon Bostick, Susanna Bowman, Austin Brown, Sarah Buice, DeAngelo Bush, Christian Chandler, Olen Coatney, Joshua Coggins, James Conner, Lindsay Cook, Katrina Crowley, Olivia Daves, Amber Davis, Jonathan Duncan, Brittany Eakes, Victor Forrester, John Foster, Christopher Galloway, Eric Gandy, Sharita Gandy, Takelia Garrett, Matthew Gent, Courtney Gibson, Billy Guillotte, Jabriel Hardiman, Henley Hardin, Keith Harris, Jacob Hemphill, Hayden Henderson, Hayes Henderson, Alexandria Hendrix, Dominic Henn, Thomas Holley, Carmen Howell, Leedward Jefferson, Charles Jenkins, Zandalynn Jenkins, Jade Justice, WL Kelly, Kayla Landrum, Chau Thi Tran Le, Lataviyon Lee, James Leech, David Long, Michael Long, Lauren Lucious, Rokia Madison, Marlee Maples, Bryan Marheine, Duncan Massey, Madalyn McBride, Christopher McHann, Nathaniel McNair, Zakia Merritt, Amanda Miller, Alexus Milons, Stephen Moore, Brittany Mosley, Gabrial Muhammad, Will Murphree, Shuntiva Neely, Abigail Orrick, Andrew Parker, Cage Peterson, Joseph Phillips, Charli Pollard, Kyunna Purnell, Casey Reeves, Kayden Riding, Caleb Roberson, Kelly Roberson, Katherine Roberts, Anna Robertson, Emily Robertson, Jermarrio Robinson, Kristopher Robinson, Elvia Rodriguez, Taylor Rogers, Daniel Scott, Akash Shaunak, Brandon Shook, Courtney Smith, Fredijha Smith, Hannah Suit, Robert Summers, Matthew Talbot, Nia Tate, Luke Templeton, Zahria Towns, Kdrianna Wade, Matthew Walsh, Alice Ward, Emmanuel Ware, Carnecia Wiggins, Austin Wileman, Jnada Williams, Megan Wingate, Steven Wylie, Haley Yelverton, James Zila
Sturgis: Chandler McCafferty, Casey Sexton, William Watson
Panola County
Pearl River County
Pontotoc County
Pontotoc: Megan Warren, William Witt
Rankin County
Brandon: MacKenzie Cooper, Monica Deer, Labrandon Hill, John Therrell
Pelahatchie: Thomas Gibney
Richland: Tyler Tucker
Scott County
Morton: Alexis Stewart
Pulaski: Bethany Mosley
Sharkey County
Rolling Fork: Austin Heranney
Simpson County
D'lo: Kornelius Rogers
Magee: John Arender
Mendenhall: Noah Hinkley
Smith County
Sunflower County
Warren County
Vicksburg: Aaron Coomes, Gabriel Riveros, Connor Wilkinson
Webster County
Eupora: Dakota Burton, James Cook, Jerry Fountain, Amanda Fulgham, Jon Hatcher, Cameron Hitt, Brady Love, Andrew McKay, Makayla Morton, Colton Ray, Aaron Stovall, Billie Swindle, Daniel Waller
Maben: Justin Crowley, Luke Crowley, Derek Cunningham, Olivia Dewberry, Summer Douglas, Tucker Hogue, Josiah McKee, Jonathan Morrison, Meagan Smith, Kimmie Taylor, Kristina Telano
Mathiston: Caitlyn Allen, Hagen Jones, Joseph Miller, John Nason, Dalton Parnell, Heather Parnell, James Scales, Robert Scales, Chelsie Sykes, Trystun Vickers, Kaylin Williams
Walthall: Claire Henderson
Winston County
Louisville: Lanicholas Ingram, Savannah Cole, Cody Dapp, Alex Eubanks, Tyler Foster, Hope Gladney, Jason Jones, Nicole Littrell, Elizabeth Ornelas, Charles Parkes, Barrett Perkins, Cody Reed, Garesha Robinson, Brianna Roulston, Richard Woodruff
Noxapater: Maxwell Allen, Kiera Phillips, Charles Smith
Yazoo County
Benton: Whitley Shackelford
Yazoo City: Reid Barnes
Out-of-state
Alabama
Aliceville: Nathan Cameron, Miguel Resendiz
Emelle: Martha Adams, Israel Moore, Robert Smith
Gainesville: Marquise James
Gallion: Markeise Tucker
Geiger: Jacob Watt
Jacksonville: Cameron Horton
Livingston: Javarius Degraffenreid
Loxley: George Thames
Millport: Kimberly Mitchell
Mobile: Brandon Rodgers
Montgomery: Jermarcus Lewis
Pickensville: Christian Brigg
Summerdale: Carli Hodges
Vernon: Brittney Baker
Arizona
Arkansas
North Little Rock: Samuel Dunkum
California
Florida
Georgia
Louisiana
Downsville: Austyn Antley
New York
Brooklyn: Kaisah Lucky
Theresa: Oscar Griffith
Oklahoma
McAlester: Johnathan Manning
Tennessee
Texas
Humble: Cydnee Hill
Marble Falls: Matthew Dearmont
Memphis: Rogelio Duarte
Out-of-country
Republic of Honduras: Gissela Perdomo
Santa Tecla, El Salvador: Andrea Monroy