EMCC'S 'MR. JOHNNY' SERVING UP FOOD, HOSPITALITY FOR DECADES
News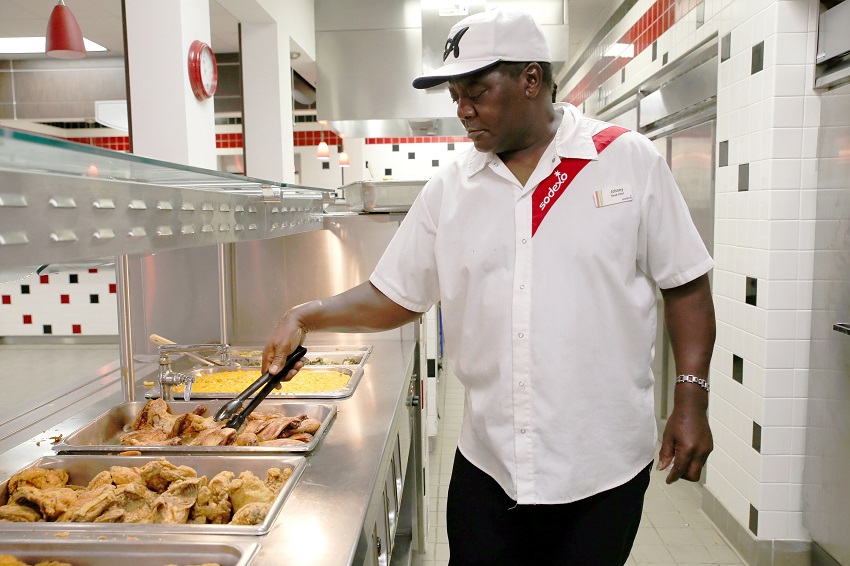 July 19, 2018
Johnny Boyd, 60, began working in in the cafeteria on East Mississippi Community College's Scooba campus as a dishwasher before he was old enough to drive. Forty-five years later, "Mr. Johnny," as he is called by students, can be found most days in the same cafeteria where he now serves as head chef.
"These are my kids," Boyd said of the students, many of whom he helps feed two, and sometimes three, times a day. "They will come and say, 'You must have cooked this Mr. Johnny because it is so good.'"
Recently, Sodexo, which operates the cafeterias on EMCC's Scooba and Golden Triangle campuses, presented Boyd with a 32-inch flat screen TV and a plaque recognizing his 40 years of full-time employment with the Scooba cafeteria, which is located in the F.R. Young Student Union.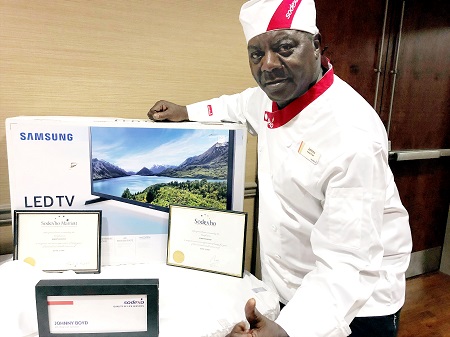 Boyd was promoted to a full-time position in the cafeteria at the age of 20 after having worked there since the age of 15 as a part time dishwasher.
"I would get off the school bus and come straight to work," Boyd said.
A lot has changed over the years since he was first hired. Boyd said he has probably worked for seven or eight general managers during that time. The cafeteria is in its second location and company ownership of EMCC's food services provider has changed hands three times.
Sodexo General Manager John Baker said jokingly that if Boyd ever retires he plans to do the same.
"I tell Johnny the minute he retires, I am going to run out the door that day," Baker said. "It has just been a pleasure to work with Johnny and I look forward to the years we have together yet."
For the past 30 years, Boyd has served as head chef in the cafeteria, juggling breakfast, lunch, and sometimes dinner when the evening crew is short-staffed. When school is in session and the student residence halls are occupied, meals are provided on the weekends as well.
"Johnny and the rest of the staff at Sodexo play a key role in ensuring our students feel at home while on campus," EMCC Interim President Dr. Rick Young said. "Students know when they enter the cafeteria they are not only going to get a great meal but that they will be served by people who will treat them like family. That is important and we are grateful to Johnny for his many years of dedicated service to our students and our institution."
In addition to cooking meals for EMCC students and employees, the staff in the Scooba cafeteria also prepares food for special events, such as board meetings, summer camps, JourneyEAST orientation sessions and athletic recruiting days.
They also provide concession fare during football games and other athletic events.
"I do all that while I am cooking breakfast and I will be working on lunch at the same time too," Boyd said.
On average, when school is in session the cafeteria feeds about 250 people for breakfast and more than 400 for lunch. During a typical breakfast, 30 pounds of eggs, 10 pounds of sausage, 15 pounds of bacon, 8 pounds of grits and 320 biscuits are served.
A favorite with students and staff comes around every Wednesday on "chicken day" when Boyd will fry 280 pounds of chicken, and that's in addition to baked chicken served. Boyd said he has been cooking for so long it has become second nature.
"I don't' even think about it," Boyd said.
He enjoys creating new recipes that are not only appetizing but visually appealing as well. Red and yellow bell peppers are a favorite ingredient.
"The kids really like it when I make chicken spaghetti," Boyd said. "I like to surprise them and will sometimes make blueberry pancakes for breakfast. They really enjoy that."
Another popular meal is served on Fridays.
"It tickles me and Johnny both about how many students who don't have class on Friday will stay on campus that day just for the fried catfish," Baker said. "They will tell him, 'Mr. Johnny, I'm just here for that fried fish.'"
Dontreal Pruitt, an assistant on Head Football Coach Buddy Stephens' coaching staff, was a first-team NJCAA All-American quarterback who helped the Lions claim the 2013 NJCAA National Championship.
"Johnny is the same person he was when I played football here," Pruitt said. "He's just a really nice guy who always has a smile on his face. He always serves good, quality food."
A lifelong Portersville resident, Boyd said he doesn't do a lot of cooking at home but does like to grill out for his mother, Callie Boyd, 91, who worked at EMCC's Scooba cafeteria for 10 years. Boyd has two daughters and eight sons, all of whom are now grown with careers of their own.
Baker said he is grateful to both Boyd and the rest of his staff.
"You have those special employees like Johnny who stay with you for a long time but they are few and far between," Baker said. "Johnny has been a great friend and a great person to work with. I am honored in that all of my staff are great and grateful that we work with such a wonderful college."