SMARTASSET RANKS EMCC 5th IN NATION AMONG COMMUNITY COLLEGES
News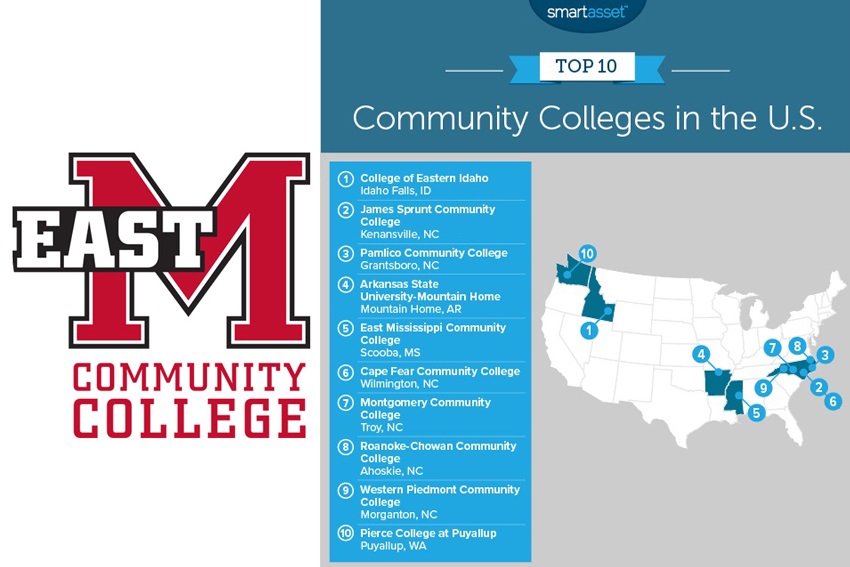 August 3, 2018
EMCC placed No. 5 on the annual report released Thursday titled "The Best Community Colleges in America — 2018 Edition." Last year, EMCC was ranked No. 3 on the list, up from No. 8 in 2016.
EMCC was the only college in Mississippi to make the Top-10 list.
According to the SmartAsset website, EMCC has the best graduation and transfer rates among all colleges on the Top 10 list.
"Residents in eastern Mississippi have access to one of the best community colleges in the nation, according to our data," the SmartAsset website states.
Fall classes at EMCC start Aug. 13 and registration at all campuses is under way now. Applications for admission are available online at http://www.eastms.edu/apply.
SmartAsset, a company that uses data to help people make sound financial decisions, looked at 798 community colleges for the study. SmartAsset ranked the colleges by examining three factors: The student-faculty ratio, graduation and transfer rates, and the cost of tuition and fees.
The rankings were based on information compiled by the Integrated Postsecondary Education Data System. EMCC scored 81.36 out of 100 possible points, with a graduation and transfer rate of 82 percent, a student-faculty ratio of 17-1, and an average in-state tuition and fees cost of $3,240.
According to the SmartAsset study, EMCC "gives its students plenty of bang for their buck."
View the SmartAsset study here.
"We are dedicated to ensuring our students are provided an exceptional education at an affordable price," EMCC Interim President Dr. Rick Young said. "To make the Top 10 list three years in a row validates those efforts.
"What we are really excited about is what this means for our students. We have garnered a reputation for producing top-notch graduates sought after by employers, who value a quality education when considering job applicants. Confirmation that EMCC is among the best colleges in America will help our students seeking to enter the workforce, obtain a better job or transition to a four-year university."