PECO FOODS TO EVENTUALLY EMPLOY MORE THAN 300
News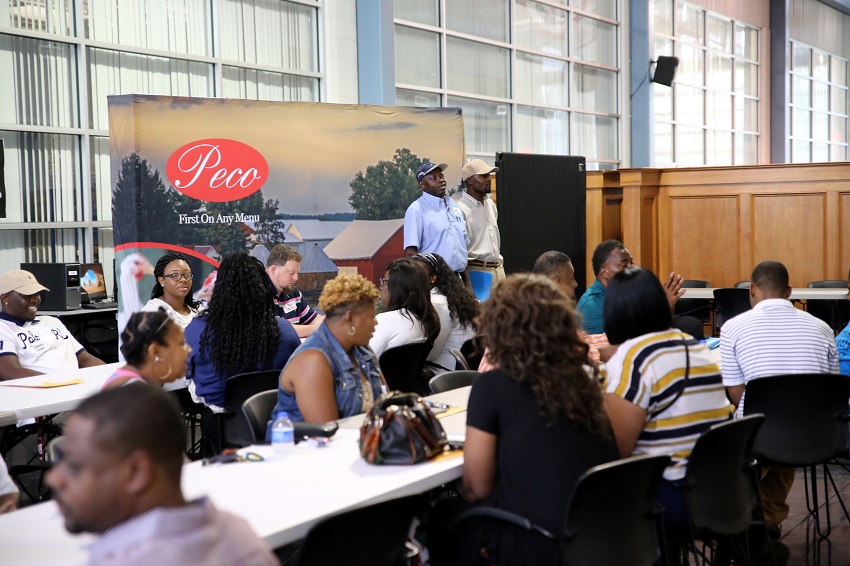 September 27, 2018
West Point is ground zero for Peco Foods' foray into operating its own centralized distribution center, which will open in November or December at the old Americold plant on West Church Hill Road.
"Our other facilities will ship us their frozen chicken and we will store it in our freezer facility until an order comes in and we will then ship it out to the customer, whether it is Wendy's or Buffalo Wild Wings," said Jordan Townsend, plant manager for the company's West Point facility.
Peco Foods, the 8th largest poultry producer in the U.S., operates processing plants, feed mills, and hatcheries in Mississippi, Arkansas and Alabama. In May, Peco Foods and Gov. Phil Bryant's office announced the company would invest $40 million to convert the facility into a warehouse with freezer, cooler and storage space.
On Saturday, Sept. 22, more than 300 applicants showed up for a Peco Foods job fair at East Mississippi Community College's Golden Triangle campus to apply for about 35 job openings at the company's distribution center. The company was looking to hire maintenance and refrigerator technicians, management trainees and supervisors, and experienced forklift drivers.
Applications were also accepted for the company's plant in Brooksville.
The job fair took place inside EMCC's Center for Manufacturing Technology Excellence and members of the college's Workforce Services division helped with support services for the event.
"They needed a facility where they could conduct the job fair and interview applicants," said Mitzi Thompson, director of EMCC's West Point Center. "We look forward to partnering with Peco to help meet any of their employees' needs over the coming years."
In the next 12 to 15 months, the company plans to open a partial fry operation in the south end of the West Point plant. The chicken will be batter coated, partially fried and shipped to customers for final cooking.
Initial plans are to employ between 300 and 350 people once the plant is fully operational.
"We may find we need to add more equipment and the number of employees could grow," Townsend said. "Or, we may add another shift at our warehouse and need more team members for that part of the operation.
"This is our first go-around at a warehouse. It is one of those things where we will kind of learn as we go. We are going to start out with one shift. We may see the demand is really high and we need to go to two shifts."
Four years ago Townsend was a maintenance manager for Peco and has worked his way up to his current position.
"You can look around Peco and find plenty of workers who started out deboning chickens who are now maintenance supervisors, plant managers or maintenance managers," Townsend said. "It is all about the career track that person wants. It is not easy. You have to do some work to get it. Peco is not going to give it to you.
"If one of our team members wants to be a supervisor, I can ask what I can do to help make that happen. I may need that person to take some public speaking classes or obtain a certain certification. We can help with putting them in contact with the correct people but it is up to them to follow through."
Townsend said one area in which EMCC and Peco might be able to collaborate is in training for employees.
"EMCC is not going to be able to put in a partial-fry plant for training purposes," he said. "But from an electrical side, we can tell you what voltage, meters and touch screens we work with. We can say, 'Hey, it would be really helpful to us if you can go through with your students some of the equipment brands we use, such as Allen-Bradley, Siemens or Honeywell.'"