EMCC TO OFFER CLASSES, SERVICES IN MARION
News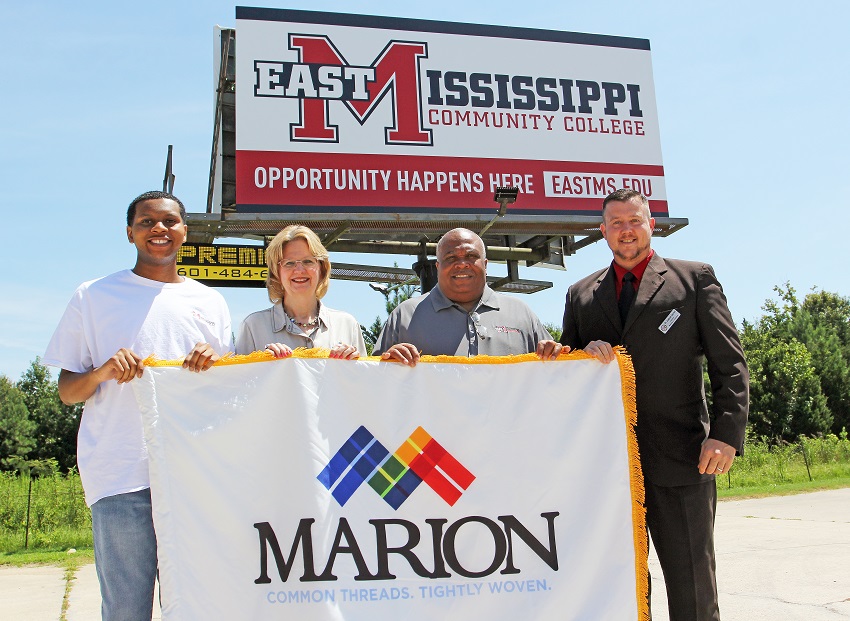 August 7, 2018
East Mississippi Community College will begin offering classes and services in the town of Marion this fall.
Initial services will include a Principles of Entrepreneurship class, ACT prep classes and counseling for high school students interested in dually enrolling at the college. Plans are in the works to offer a Certified Nursing Assistant program in Marion as well.
EMCC's district includes Lauderdale County and the Town of Marion.
"Lauderdale County contributes funding to the college and we would like to offer more educational training opportunities for residents there because of the commitment they have made to us," EMCC Interim President Dr. Rick Young said. "We are really excited about the opportunity to better serve Marion and Lauderdale County."
The Town of Marion has offered temporary space for the initial classes. The Principles of Entrepreneurship class will meet Tuesday nights from 6 p.m. to 8 p.m. in the Marion Town Hall Board of Aldermen meeting room. EMCC's fall term begins Aug. 13.
"We are excited about having EMCC here," Marion Mayor Elvis Hudson said. "As a mayor I am always looking for new opportunities for growth and I believe having a college presence here will help with those efforts."
The Principles of Entrepreneurship class will count as three credits for students seeking an Associate of Applied Science degree. The class is also a natural fit for students interested in a career trade, EMCC Business and Marketing Management Technology instructor Dr. Joshua Carroll said.
"This is a great class for students interested in any of our skills and trade programs such as Cosmetology or Welding," Carroll said. "This class will prepare them to start their own businesses after they are certified in one of those fields."
A seminar will take place at the Marion Town Hall on Thursday, Aug. 9, from 5 p.m. to 7 p.m. to provide information to high school students and their parents about dual enrollment at EMCC. Information about the ACT preparatory classes and residual ACT testing will also be available.
The ACT test is an entrance exam that assesses students' general educational development and their ability to complete college-level work. The multiple-choice test covers four skill areas: English, mathematics, reading and science.
ACT prep courses will be offered at Marion Town Hall in September, October, November and December, with classes covering a different skill area each month. The residual ACT test will be offered in December.
"I would encourage anyone with questions to come out and talk with us Thursday," Carroll said. "We will be conducting informational seminars at Marion Town Hall in the future as well."
Discussions are also under way between EMCC and Bedford Care Center of Marion to offer a Certified Nursing Assistant program.
"We are exploring the opportunity of having both the classroom and clinical settings at Bedford," EMCC Director of Nursing and Allied Health Dr. Tonsha Emerson said.
Once the details are worked out and the necessary approval is granted by the Mississippi Department of Health, students will be able to enroll in the CNA program, which will prepare them for hands-on care of patients.
The course, which will consist of evening classes, will take between eight to 10 weeks to complete. Students will learn how to take care of older adult clients. Typical duties include monitoring patients' vital signs, dressing, feeding and bathing them, and turning those who are bedridden.
"I think this is a wonderful opportunity that will benefit residents in Marion and Lauderdale County, as well as the residents at Bedford Care Center of Marion," Emerson said.
Ed Mosley, an EMCC Board of Trustees member who represents Lauderdale County, said students will be the beneficiaries of the programs.
"Lauderdale County is in our service area and we need to ensure we are providing students here and in Marion with as many educational opportunities as possible," Mosley said.
Lisa Lindley McCleskey, alderman and vice mayor for the Town of Marion, agreed.
"EMCC is a wonderful educational facility and our residents will be able to take classes right here in Marion and won't have to drive to Scooba," McCleskey said. "This will improve the quality of life for all of our residents."
Students interested in enrolling in the Principles of Entrepreneurship class can call Dr. Joshua Carroll at 662.243.1943 or email him at jcarroll@eastms.edu. They can also call EMCC Counselor Liz Regl at 662.243.1959 or email her eregl@eastms.edu.