EMCC GRADUATES FILL NEW LPN TO RN PROGRAM
News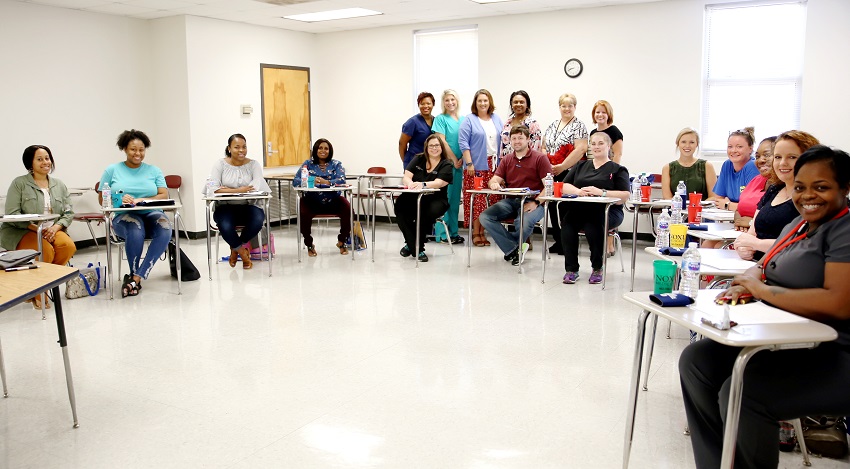 July 30, 2018
Twelve graduates of East Mississippi College's Licensed Practical Nursing program are returning to the college this semester to comprise the newly created LPN to RN Transitions Track, which will allow them to become registered nurses.
"Every one of the students in the program graduated from here," said EMCC Director of Nursing and Allied Health Dr. Tonsha Emerson, who taught five of the returning students. "We are really excited to give our students this opportunity to return home and further their education."
EMCC offers an LPN program that takes three semesters to complete and an Associate's Degree Nursing, or generic registered nursing, program that takes two years to complete. The LPN to RN Transitions Track program is for LPN graduates who want to complete the Associate Degree Nursing program.
The first LPN to RN class starts Aug. 13 at the beginning of EMCC's fall term. The last, and only other , time the course was offered at EMCC was during the 1980-81 school year.
Students who earned their LPN certificate from any accredited college or university can apply to enter the program. It just so happens that all of the students graduated from EMCC, many of them years ago.
West Point resident Monique Bradshaw graduated from EMCC's LPN program in 2002. She was pregnant with her oldest son, who is now 16, while attending school. She later had three more children and wanted to wait until they were older before continuing her education.
"I wanted to return to school and decided when the right opportunity presented itself I would go back," Bradshaw said. "Well, it presented itself and here I am."
A July 25 orientation day for the new students was like a homecoming for many of the students as they hugged teachers and in some cases, classmates, they had not seen in a long time.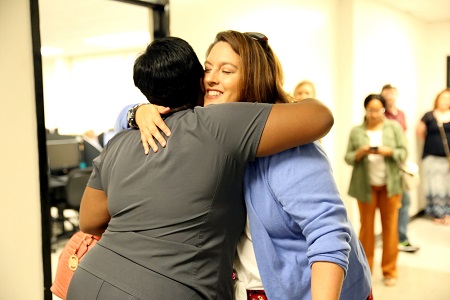 "Every one of the students has had interaction with at least two of the instructors here at some point in time," Associate Degree Nursing instructor Karen Taylor said. "They are familiar with the hospitals and facilities where we do our clinicals and they are all practicing nurses so they know the lingo. This is going to be good."
The first semester will consist primarily of online classes, with a few days in class for testing and work in the labs.
"If they are successful this semester, they will merge into the existing generic Associate Degree Nursing class and graduate with that class in December of 2019," Taylor said.
New students in the LPN to RN program will be accepted each July, with tentative plans to expand the program in future years.
Emerson said there has been a growing interest among students for an LPN to RN program at EMCC to help meet the demand among employers for more registered nurses.
"We are focusing on addressing the needs in our community while helping our students obtain their educational goals," Emerson said.
Taylor said there is still a big demand for LPNs, many of whom work in clinics, nursing homes and home care under the supervision of physicians or registered nurses.
"A lot of these students were eager to come back to enter the program but they were a little reluctant because they love what they do as an LPN," Taylor said. "We are hoping to give them more options by providing this program. They can start here and begin work as an LPN making good money and come back later and upgrade if that is what they want to do. What we wanted to do was bridge that gap."
Bradshaw has worked for 14 years as an LPN in medical records at Dugan, a skilled nursing home in West Point.
"I have a really good job and don't plan to leave but this program does give me more options," Bradshaw said.
Starkville resident Tyler West, who graduated in 2009 from EMCC's LPN program, works as a home health nurse for Mississippi HomeCare. West and his wife, Rosanne, have five children, the first of whom was born two months after West graduated.
"I have a family to take care of," West said. "Earning my RN will give me a lot more options as far as the certifications I will be able to get and the money I will be able to earn."