AURORA FLIGHT SCIENCES TAKES TOP HONORS AT EMCC APPRECIATION LUNCHEON
News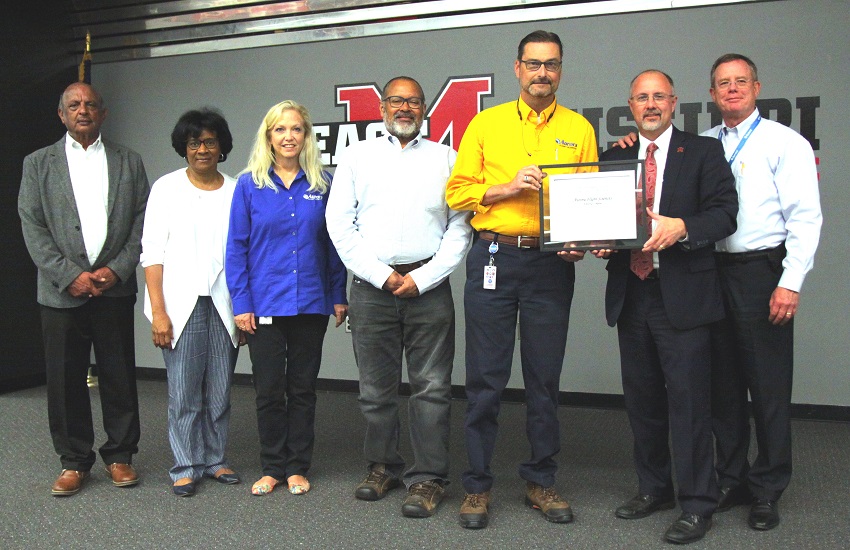 May 2, 2018
Aurora Flight Sciences took top honors Wednesday at East Mississippi Community College's 29th Annual Industry Appreciation Luncheon in the Lyceum Auditorium on the Golden Triangle campus.
During the event hosted by EMCC's Manufacturing Technology and Engineering Division, Aurora Flight Sciences was presented with the 2018 Director's Award, the event's highest honor. Also honored was Baptist Memorial Hospital – Golden Triangle, which took home the Best Practices Award. Special Recognition Awards went to Deborah Gilbert, deputy executive director for Finance and Administration of the Mississippi Community College Board, and Joe Cade and 4-County Electric Power Association.
EMCC President Dr. Thomas Huebner spoke about the importance of team work in achieving goals.
"No success happens without a team or team effort," Huebner said. "We have heard a lot about teamwork and partnerships. Teams that serve a common vision are successful. When team members each know what their role is, they are successful. When each of those roles are achieved with excellence, teams are successful.
"That combination of things happens here and it is something for which I am very, very thankful. The success we experience is a team effort. Thank you for your support and for your contribution to the success of all of us and for helping to move Mississippi forward."
Aurora Flight Sciences, a Boeing company, received the Director's Award for "the highest level of recognition through workforce training, demonstrating management excellence with superior outcomes, continuing to improve and build upon outstanding results and excellent systems and deploying world class processes."
Aurora's Mississippi plant has operated since 2005 out of a 120,000 square-foot-building located at the Golden Triangle Regional Airport. The facility "fabricates and performs final assembly of composite aerostructures for defense and commercial aerospace customers," the company's website states.
"We are appreciative of all of our area businesses and industries," EMCC Vice President for Workforce and Community Services Dr. Raj Shaunak said. "But over the years, Aurora Flight Sciences, especially (Director of Development) Greg Stewart, (Human Resources Manager) Ann Talley and President and CEO John Langford, have been true community partners. They have reached out to not only EMCC but to area schools and universities to share their passion for STEM related fields, especially those related to the aerospace industry. They are a great symbol of how public, private partnerships yield a better community."
Baptist Memorial Hospital – Golden Triangle was presented the 2018 Best Practices Award for "providing outstanding examples of workforce training, quality management and business practices that serve as models for others."
"To our team from Baptist, what great friends you are," Huebner said.
Joe Cade and 4-County Electric Power Association was presented a 2018 Special Recognition Award for "outstanding leadership in regional community development and economic enhancement." Gilbert received her Special Recognition award for "outstanding leadership and steadfast commitment in building effective state workforce development partnerships to meet industry needs and community college training programs, to enhance the economic opportunities for the citizenry of the state of Mississippi."
Cade is the manager and CEO at 4-County Electric.
"They have been great partners with EMCC over the years, including helping us with our power and utility needs," Shaunak said. "Mr. Cade has offered steadfast support of EMCC and for that we are very grateful."
About 300 people attended the annual luncheon, including representatives from area businesses and industries, as well as officials holding local, state and federal offices.
The keynote speaker for the event was Randy Kelley III, executive director of Three Rivers Planning and Development District, which, according to the agency's website is a "nonprofit organization formed by local government entities and business leaders to promote overall economic development, foster responsible short- and long-term community planning, and aid general civic, social and economic development."
Kelley spoke about the importance of partnerships.
"I am firm believer that we accomplish in Mississippi unending things, unimaginable things, working together as partners, where singly we fail," Kelley said. "A partnership is where everyone comes together for a common goal that enhances and benefits every party."
Dr. Malcolm Portera, former president of Mississippi State University who later served as chancellor of the University of Alabama System, spoke about EMCC's "Communiversity," officially known as the Center for Manufacturing Technology Excellence 2.0, which will house credit and non-credit courses related to training students for careers in advanced manufacturing.
Under construction, the Communiversity, which is located between PACAAR Engine Company and EMCC's Mayhew campus, is expected to open in early 2019.
"The first priority for us is to create the state's most significant resource for training," Portera said. "The second priority is to serve as a training and educational magnet that functions to attract new manufacturers to the Golden Triangle. … Number three is to educate students and teachers to learn and teach STEM (science, technology, engineering and mathematics) disciplines.
"Four is to engage with (Golden Triangle Development) LINK, MDA (Mississippi Development Authority) and the local schools to produce students who are work ready, motivated and attracted to employment in advanced industry. Finally, to supply a temporary soft landing space for new companies coming to locate in the Golden Triangle. That facility is all about doing all we can possibly do as an educational institution to support private enterprise."