EMCC FINE ARTS DEPARTMENT TO HOST HOLIDAY CELEBRATION
News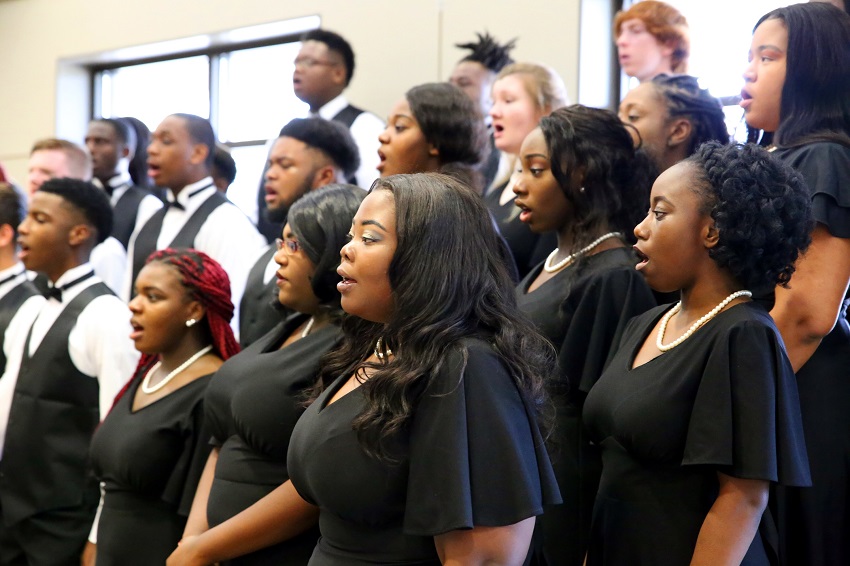 November 16, 2018
The public is invited to attend East Mississippi Community College's Fine Arts Holiday Celebration on the Scooba campus Nov. 27, which will feature musical performances, a Christmas tree-lighting ceremony and a pottery sale.
There is no cost to attend and refreshments will be served.
First up is "Vessels of Plenty," which runs from 3 p.m. to 5 p.m. in the F.R. Young Student Union. Vessels of Plenty is an EMCC Art Department fundraiser in which handmade ceramic bowls and mugs will be sold and proceeds donated to a local charity.
The sale will feature works by EMCC students, as well as that of EMCC art instructors Terry Cherry and Lisa Spinks. Pottery made by EMCC chemistry instructor James Skipper, former EMCC student Addison Garrett and Meridian High School art instructor Dillan Ladner will also be on sale.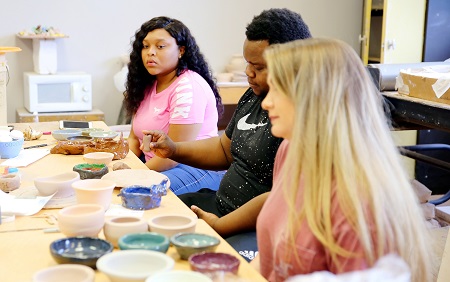 Most of the bowls and mugs will sell for $10 each and there will be larger pottery pieces and paintings offered at reasonable prices, Cherry said. Soup and hot chocolate will be provided to attendees at no cost.
"We want everyone to come out and enjoy the evening," Cherry said.
At 7 p.m., members of the Mighty Lion Band, the Concert Choir and the Reflection Singers will host a concert in the Dottie Smith Band Hall.
"There will be some holiday music and other selections that will include a little bit of everything," EMCC Director of Bands Chris King said.
EMCC's 24-member Jazz Band will perform, as will members of the Symphonic Band.
"This is the first time we have offered a jazz band ensemble in the fall because we are so busy with marching band right now," Assistant Director of Bands Ron Gann said. "There has been quite a bit of interest in Jazz Band this year and we began working on holiday music in August."
The Concert Choir will perform "Glory be to Jesus" arranged by Keith Hampton, "Baby will Come" and Pachelbel's "Canon of Peace," with a flute accompanist and students singing "Dona nobis pacem," which is Latin for "Let there be peace."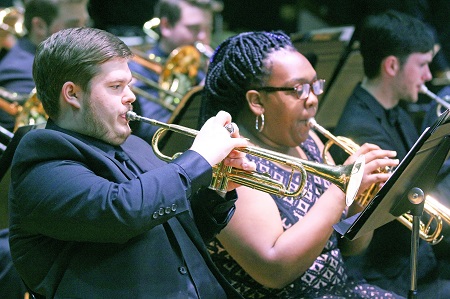 The Reflection Singers will perform a jazzy version of "Carol of the Bells" and "Mary Did you Know?" Holiday song selections by soloists will also be featured and printed copies of the verses for EMCC's alma mater will be passed out so the public can join in.
Festivities will then move to the F.R. Young Student Union for the lighting of the Christmas tree, hot chocolate and cookies, and Christmas caroling led by the Concert Choir and Reflection Singers.
This year, members of the Fine Arts Department decided to combine various events that are typically spread out over the holiday season.
"It is a busy time of year and hopefully this will help members of the community by allowing them to come to one event rather than trying to make it to several," EMCC Director of Choral Activities Dr. Lorrie Stringer said. "We would really like to have a good crowd and by offering a variety of events we are hoping this will prove to be an attraction for people to come."