EMCC LION HILLS GOLF CLUB INSTALLING CHAMPIONSHIP QUALITY GREENS
News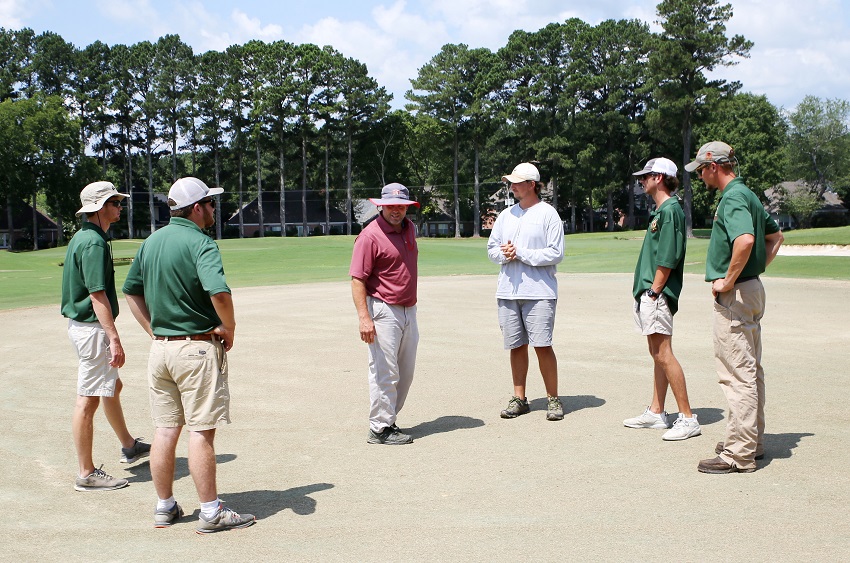 July 9, 2018
East Mississippi Community College's Lion Hills Center & Golf Club is in the final phase of converting the golf course greens to a premium grass that has become the industry-leading standard at high-end golf courses across the country.
"We will be the only public golf course that offers daily-fee play in our area with this kind of grass," Lion Hills Director of Golf Will Arnett said. "There are some public golf courses in Tuscaloosa that have it but we will be the only one locally."
The holes on greens on holes 1-9 are being converted to Ultra-Dwarf Tif-Eagle grass. The conversion process that began in late June is expected to take about eight weeks to complete. Temporary greens have been cut into the fairways on the front nine for use until the work is complete. Golfers also have the option of playing the back nine holes twice.
The greens on holes 10-18 were converted last year to Tif-Eagle, which is among three new Ultra-Dwarf Bermuda grasses touted for offering improved ball speed, putting consistency and overall playability.
"This is the type grass most high-end country clubs are going to," Arnett said. "It is a faster green and the grass is smoother, thicker and denser. Another benefit is it is a 12-month grass that maintains its playability in cooler months. The old generation of grass was only smooth and consistent for about nine months of the year."
Students in EMCC's Golf / Recreational Turf Management program are helping out with the labor-intensive process to install championship quality putting greens. Killing the old grass required three applications of Roundup.
The greens were sprigged with Tif-Eagle on July 2. The new grass will be watered every other hour for the first 10 days and five times daily after that. The grass will be fertilized weekly throughout the process and mowed three times per week beginning in weeks four to five.
Lastly, the grass will be top-dressed, which requires adding a layer of sand to improve putting performance.
Arnett said the students are gaining valuable hands-on experience they typically would not be exposed to while in college.
"It has been interesting to see how the process works and what all is involved in converting the greens," said Turf Management student Winn Kent, whose father is a former golf course superintendent at Greenville Country Club who now works for the Ole Miss Golf Course.
The daily fee of $45 for 18 holes has been dropped to $25 until the work is complete and other area golf courses are offering discounted rates as well. Golfers can drop by the Lion Hills Pro Shop for help scheduling a tee time at participating golf courses.
EMCC head golf professional Benji Williams said feedback from golfers has been positive since the greens on holes 10-18 were converted.
"When you stand over a putt you actually think you stand a chance of making it now with the type of greens we are putting in," Williams said. "It is smoother and the putts are more true. You don't have to worry about the ball wobbling now."
The greens will only improve with time as the Tif-Eagle grass matures, Arnett said.
"This is just a far superior quality of grass than what we had," Arnett said. "We had some doubters while we were doing the back nine holes. This spring they said, 'Okay, I get it. These greens are really, really good.'"