EMCC STUDENT OVERCOMES OBSTACLES TO EARN GED
News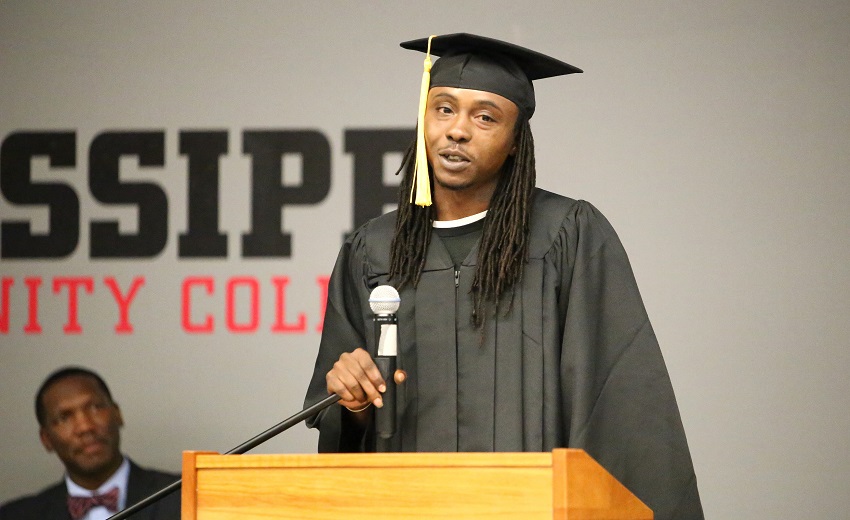 June 15, 2018
Roger Jones was a senior at the former West Oktibbeha County High School and was weeks away from final exams and graduation when he was arrested in February of 2003 on a drug charge that resulted in a 7.5-year stint in a Mississippi prison.
The night of Thursday, June 14, Jones was among 21 East Mississippi Community College adult basic education students in the Launch Pad program who received their high school equivalency diplomas in the Lyceum Auditorium on the Golden Triangle campus.
Two days before the graduation ceremony and 15 years after his initial arrest, Jones, 33, learned he had passed the high school equivalency test.
"I can't describe how great it felt to do something good after all these years," Jones said. "When I got my test results everybody at school gave me a standing ovation like I had won a championship or something. Then I saw how happy it made my mom, my sister and my nephews. When I got home my kids and their mother were so excited for me. I had been messing up for so long I had forgotten what it felt like to succeed. I don't ever want to lose that."
Jones, a lifelong Maben resident, learned to read at an early age and excelled in school. Jones said he was 7 when his father abandoned the family, leaving his mother to raise five children. Jones said at the age of 14 he had what would be the first of several run-ins with the law.
Jones said he managed to stay in school though, was on track to graduate with honors and was slated to attend Meridian Community College on a basketball scholarship when he was arrested and eventually convicted for selling cocaine.
"I was about to graduate and instead of being patient I went out and made things so much worse," Jones said. "I'm not making any excuses. I embrace it. It is part of who I am and the reason why I am driven to do better, not just for me but for my family."
Jones was released from prison on Oct. 31, 2010 and was sent back in April of 2011, serving an additional six months for violation of conditions of the Mississippi Department of Corrections Earned Release Supervision program. He was discharged on Oct. 31, 2011.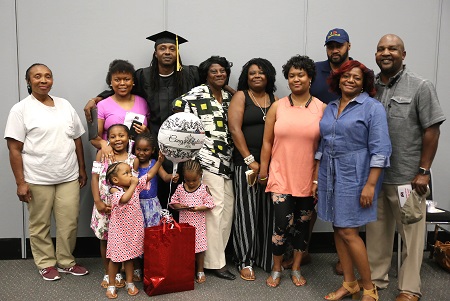 Jones later met Ariel Jones, his fiancé and mother to his four daughters, which includes a set of twins, age 3, and a 5 year old and a 6 year old. The couple is expecting a fifth daughter.
Jones said he was changed by the birth of his daughters and a desire to live up to the high expectations his mother always held for him. He began attending church and forgave himself for his past mistakes.
"I have been trying ever since to figure out a way to not just better myself but to make the people around me better," Jones said. "One way you can do that is to do something positive that everybody can feed off of."
Jones plans to enroll in Manufacturing Skills at EMCC in hopes of landing a job with an area manufacturer. He said his goal is to continue his education to earn a degree that would lead to work as a social worker, journalist or lawyer.
"I would like to do something to help people who don't have a voice," Jones said. "I would really like to help kids. You need to reach them when they are young. If I had a man around to talk to when I was young who could have pulled my reigns and stopped me from being so hardheaded I may not have made the bad decisions that landed me in prison."
The keynote speaker during the graduation ceremony was Zach Scruggs, executive director of 2nd Chance MS, which is dedicated to raising awareness about, and funds for, adult education and work skills training.
Scruggs told the graduates their decision to return to school and earn a GED shows they have the attitude and aptitude to succeed.
"I can tell you without a shadow of a doubt that employers are most likely to hire you, somebody who went back to school later in life and got their high school equivalency, than somebody who didn't overcome the challenges that you did," Scruggs said. "That shows an employer something. You have gumption."
EMCC Interim President Dr. Rick Young encouraged the students to continue their education and set new goals.
"We have people who were sitting in the seats where you are tonight who are now medical doctors," Young said. "We have people who have gone through the GED path who are in almost every profession you can imagine."
EMCC Adult Basic Education Director Dr. O'Neil Wright told the students they had taken an important first step.
"You don't want to stop here," Wright said. "The best is yet to come. It is up to you to make sure you don't waste this moment."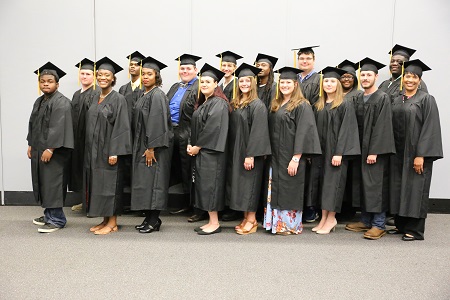 The following is a list of the 21 students who participated in the graduation ceremony: Anthony Bishop of Caledonia; Thomas Brown of Columbus; John Clark of Macon; Stephanie Clark of DeKalb; Brandi Dempsey of Mathiston; Tyler Elliott of Columbus: James Enis of Vardaman; Thomas Flores of Columbus; Haleigh Gazaway of Ackerman; Sheila Guyton of Columbus; Justin Harrison; Roger Jones of Maben; Karl Mast of Brooksville; Gracie Murphy of Maben; Abraham Niswonger of Caledonia; Chinesa Ross of West Point; Quez Stephenson of Choctaw County; ReErica Tumblin of West Point; Gerald Williams, Jr. of West Point; Emily Wilson of Brooksville; and Tes Wilson of Steens.