EMCC FUNERAL SERVICE STUDENTS BUCK ODDS FOR PERFECT PASS RATES
News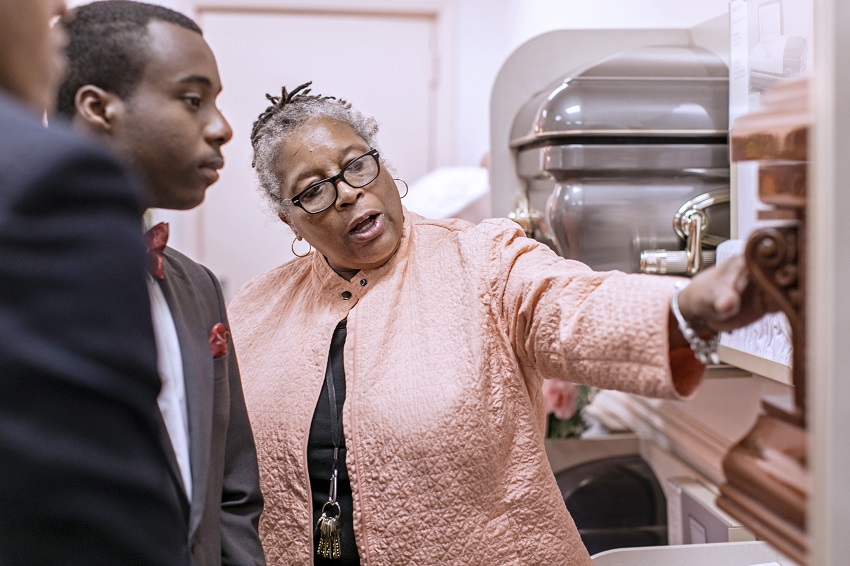 September 5, 2018
For the second year in a row, 100 percent of the graduates from East Mississippi Community College's Funeral Service Technology program passed the National Board Exam (NBE) on their first try.
While the nine EMCC students who graduated from the program over the past two years do not represent a large number, the fact that all successfully earned passing grades on their first attempt at taking the NBE is significate given the difficulty of the test, EMCC Funeral Services Technology Director Octavia Dickerson said.
The combined national pass rate in 2017 for both first-time test takers and those who failed and had to repeat the test was 69 percent, according to statistics compiled by The International Conference of Funeral Service Examining Boards.
"It is a very difficult test," said Brittany Eakes of Amory, who was among the EMCC Funeral Service Technology program graduates who passed the NBE.
The program curriculum is demanding as well.
"The subject matter is very scholarly and the courses are reading intensive," said Dickerson, who graduated with a master's degree in Instructional Technology from Mississippi State University. "In fact, students must have a minimum ACT score of 17 to enroll."
The course material is broken up into two components: arts and science.
The arts classes are geared toward those interested in a career as a funeral director and includes topics such as funeral directing, business law, merchandising, sociology, psychology and funeral history.
The science curriculum is for those considering the embalming side of the business and includes classes in microbiology, anatomy and physiology, restorative art, pathology and thantochemistry.
Students who earn their Associate of Applied Science degree are trained in both career paths. After graduating they can apply for state licensing. Mississippi offers a Funeral Directing License and a Funeral Service License, the latter of which is a dual license that allows the holder to serve as a funeral director or an embalmer.
"People like to hire dual-licensed people even though they may not do any of the embalming," Dickerson said. "It is a good skill to have if an emergency comes up and you need to help out in the prep room."
Before students can apply for their state licenses, they must first complete a one-year apprenticeship in the field.
Eakes, who received the Mississippi Funeral Home Association Student of the Year award, graduated in May and was awarded her Funeral Service License in August. She is a funeral director and embalmer with E.E. Pickle Funeral Home in Amory, where she completed her apprenticeship.
Eakes earned a bachelor's degree in English Literature from Mississippi State University in 2016. She planned to earn her master's degree from MSU in literature as well but that changed when her grandfather, Cecil Collins, died.
"I was so impressed with the way the funeral home in Carthage had taken care of my family," Eakes said. "I was like, wow, that is a job that nobody ever really considers but it's just amazing."
She enrolled in the program at EMCC.
"Now that I am in the field I can't think of a better fit for a job," Eakes said.
One of the things that sets EMCC's Funeral Service Technology program apart from others is that it is offered on a block schedule, program instructor Kevin Hurt said.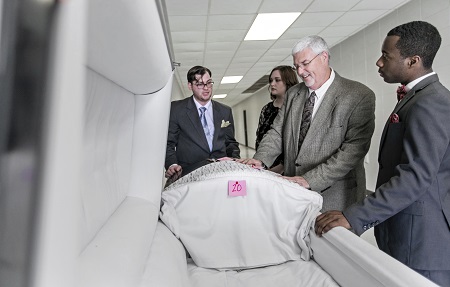 Freshmen take classes Mondays and Tuesdays, while sophomores meet on Wednesdays and Thursdays.
"The block program gives students the time to work on their apprenticeship while they are enrolled school," Hurt said. "If you are taking classes five days a week it is going to be hard to do that."
In fact, Hurt, who graduated from the program in May of 2014, said the block schedule was one of the main reasons he chose EMCC. A church minister of education for 27 years, Hurt was looking at another school when he heard about the program at EMCC.
"I commuted more than two hours one way twice a week but I was able to go home to my family for the rest of the week," Hurt said.
The program has attracted students from as far as Florida, Louisiana and Arkansas for the same reason.
Hurt, who began work in the funeral profession in 2012 while still in school at EMCC, earned a master's degree in Christian Education from New Orleans Baptist Theology Seminary.
"I tell students the program at EMCC was as extensive as the one I took to earn my master's degree," Hurt said. "Business law is one of the biggest challenges because you can be sued so easily if mistakes are made at the funeral home."
The industry is highly regulated by the Federal Trade Commission and students spend a semester learning about the agency's "Funeral Rule."
Overall employment of funeral service workers was projected to grow 5 percent from 2016 to 2026, which was the average expected growth of all occupations, according to the Bureau of Labor Statistics. Demand for funeral services has increased as baby boomers age but industry revenues have been offset somewhat by reduced costs to consumers opting for cremation and budget-friendly online casket sales.
According to Statista, the anticipated $16 billion funeral services industry in 2018 is up from $15.2 billion in 2013.
Many of those who enter the field find helping those during what can be the most difficult times of their lives rewarding, Dickerson said.
"Many of our students see it as a calling," Dickerson said.
An increasing number of females are entering the once male-dominated profession.
"About 55 percent of the mortuary science graduates now are female," Dickerson said.
Both Dickerson and Hurt said they are pleased with the program's high pass rate on the National Board Exam.
"Miss Dickerson and I have worked hard to make this the premier mortuary program in the state of Mississippi," Hurt said. "That is our vision."
The students who have taken and passed the NBE in 2017 and 2018 are: Austyn Antley of Downsville, La. (2018); Samuel Bertrand of Hamilton (2018); Robin Culver of Aberdeen (2018); Brittany Eakes of Amory (2018); Chaterika Martin of Pittsboro (2018); William Seabrooks of Caledonia (2017); Matthew Stokley of Meridian (2017); Robert Walker of Newton (2017); and Clyde Williams of Okolona (2017).
For more information call Dickerson at 662.476.5101 or email her at odickerson@eastms.edu. Hurt can be reached by phone at 662.476.5100 or by email at khurt@eastms.edu.