CENTENARIAN RECALLS TIME AT EAST MISSISSIPPI JUNIOR COLLEGE
News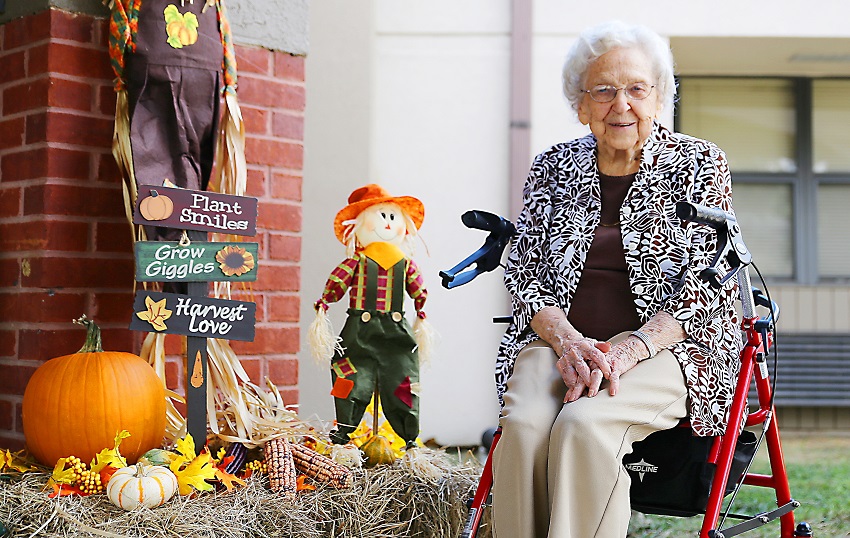 November 12, 2018
After graduating from Buena Vista Agricultural High School in 1934 at the age of 16, then Frances Gray didn't believe she would be able to attend college.
That was during the heart of the Great Depression and the country was gripped in the harshest economic meltdown in the history of the industrialized world. Frances' mother, Alice Hollinsworth Gray, a widow of nine years, couldn't afford the $7 monthly tuition and board for her daughter to attend what was then East Mississippi Junior College.
"My older sister, Eugenia, who had already gotten a degree and was working as a teacher, paid the $7 a month for me so I could go to college," said Frances, who later married and is now Frances McKay. "I went to work in the school cafeteria serving tables to help pay my way. A lot of girls did that back then."
McKay, who turns 101 on Nov. 18, recalls vividly her years at EMJC, where she played on the girls' basketball and tennis teams.
"We had a little tennis tournament one year and I won the singles championship," said McKay, who is a resident at Trinity Personal Care in Columbus.
A native of Chickasaw County, McKay's parents moved to the Delta when she was 1. Her father, Dan Gray, died six years later and her mother moved the family back to Chickasaw County where she landed a job in the cafeteria at Buena Vista Agricultural High School, which was a boarding school at that time.
"In those days students in Mississippi would go to eighth grade in a little country school with one or two teachers," McKay said. "Students didn't have transportation to get to town to finish their high school education so they needed boarding schools where the students could stay."
McKay, her older sister, Eugenia, and younger sister, Lillian, lived in a small apartment at the boarding school with their mother. McKay's brother, Nolan Gray, was enrolled at Birmingham Southern College in Alabama. Less than two years after graduating, while working and helping pay for Eugenia to attend the Mississippi University for Women, Nolan died of cancer at the age of 22.
"He was a very, very smart and talented man," McKay said.
McKay graduated from EMJC in 1936 with a two-year certificate that qualified her to teach through eighth grade. Her mother landed a job at EMJC not too long afterwards.
"There weren't any jobs in those days and my mother got room and board and, I think, $20 a month," McKay said. "The state didn't have any money to pay her but the wife of the college president, J.D. Wallace, was the school dietician and she paid my mother out of her check.
"My mother always said I helped her get that job. She would tell me, 'If you hadn't been a good student or behaved yourself they would not have let me come.'"
McKay's younger sister, Lillian, finished her senior year at Kemper County Agricultural High School, which was co-located on the same campus as EMJC, and enrolled at the college.
After graduation, McKay taught multiple grades at a two-teacher school in Buena Vista and was elated the next year when she was hired to teach a single grade in Pontotoc County. She taught for a year at Ecru and later at a school in the community of Wren, which is located between Columbus and Tupelo.
She would later earn a bachelor's degree in elementary education from Mississippi State University.
At Wren, McKay met her future husband, Robert Wilson McKay, an agricultural teacher she married in 1941, who later worked as an assistant county extension agent in Chickasaw County before purchasing a dairy farm in 1955 in New Hope. Robert McKay passed away in 1992.
The couple had three children: Elaine Teague Wick, who resides in Florida; Barbara Conner, a 1966 graduate of EMJC and retired teacher of 34 years who resides in New Hope; and a son, Robert McKay, Jr., who passed away in 2017.
Frances McKay has six grandchildren and 14 great grandchildren. She has fond memories of her times at EMJC although leaving home at 16 wasn't easy at first.
"I cried the first month I was at school," Frances said. "My mother would write to me every day. I would get the letter and cry but I learned to like it. I really enjoyed my years there."