EMCC, OCH AND OKTIBBEHA COUNTY PARTNER TO PROVIDE EMT TRAINING
News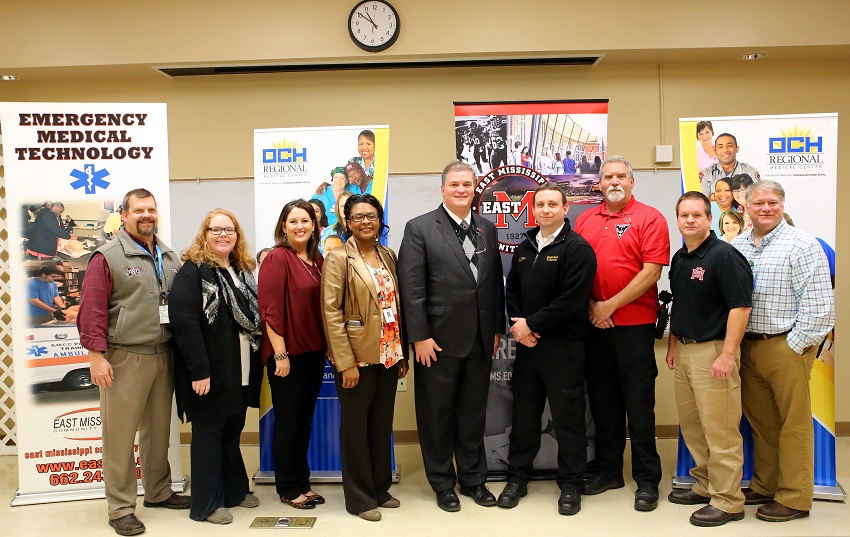 November 28, 2018
Officials from Oktibbeha County and East Mississippi Community College gathered at OCH Regional Medical Center Nov. 28, to mark a collaboration that will provide members of the Oktibbeha County Fire Department an opportunity to earn their emergency medical technician (EMT) certification without leaving the county.
OCH emergency room physicians, nurses and paramedics will serve as instructors for the EMT course taught to firefighters, with EMCC providing oversight of the program.
"Not only will we be providing the training in-house but the firefighters will become familiar with our personnel and the equipment we use," Oktibbeha County Training Officer Austin Check said. "That is a big deal because it shortens the learning curve."
In September, EMCC and the Oktibbeha County Board of Supervisors signed off on a memorandum of agreement to establish the Oktibbeha County Emergency Medical Technician — Basic Program, which will be made available to Oktibbeha County employees and those who contract with the county.
Under the terms of the agreement, EMCC will establish the curriculum, certify instructors, manage the admissions process, submit necessary paperwork to the state and process student grades and transcripts.
"The firefighters will follow the same admissions process on our campus that anybody else would," EMCC Director of Emergency Medical Services Education Chris Kelly said. "They will be held to the same standards as any other student. They have to be in order for this agreement to work."
Oktibbeha County will be responsible for providing training space, equipment and textbooks, as well as supplying a qualified pool of instructors.
"We look forward to this opportunity to serve our county in a capacity that enhances our medical community," OCH Director of Emergency Medical Services Michael Hunt said. "All of our ER physicians are board-certified in emergency medicine, and along with our highly-qualified nurses and paramedics, we will be able to provide a top-notch learning experience for those in EMCC's EMT program."
The program will fall under the umbrella of EMCC's Division of Nursing and Allied Health.
"We work closely with our area hospitals and are excited about this new partnership with OCH Regional Medical Center and the Oktibbeha County Board of Supervisors," EMCC Division of Nursing and Allied Health Director Dr. Tonsha Emerson said.
The Oktibbeha County Fire Department is comprised of about 130 volunteer firefighters who serve five rural fire districts, plus the towns of Maben and Sturgis. The county funds training costs for the firefighters.
Under the plan, Oktibbeha County will pay EMCC $100 per student for the 135-hour training course, which represents a significant savings in tuition costs. Other benefits are reduced driving time for firefighters who reside in West Oktibbeha County and flexible class schedules.
"We will be able to offer training that is convenient to our folks so we can attract more people into the program," Check said.
In the past, the county has provided firefighters with 40 hours of emergency medical responder training, which is considered entry level. Those who complete the new EMT training course and pass the national exam are qualified to work on an ambulance and are also in demand by industries.
The major beneficiaries of the partnership are Oktibbeha County residents, Check said. Fire department personnel are often the first on scene, especially in rural areas. Having well-trained firefighters readily available translates into better patient care, he said.
"Emergency medical services account for well beyond 80 percent of our calls right now and that percentage is only going to grow as our population ages," Check said.
EMCC Interim President Dr. Randall Bradberry said enhancing the quality of life of area residents is an integral part of the college's mission.
"This alliance between EMCC, the Oktibbeha County Board of Supervisors and OCH will help provide firefighters the skillsets needed to provide critical care when it is most needed," Bradberry said. "We could not be more proud to play a part in that."