OPEN HOUSE, RIBBON CUTTING HELD FOR EARLY CHILDHOOD ACADEMY
News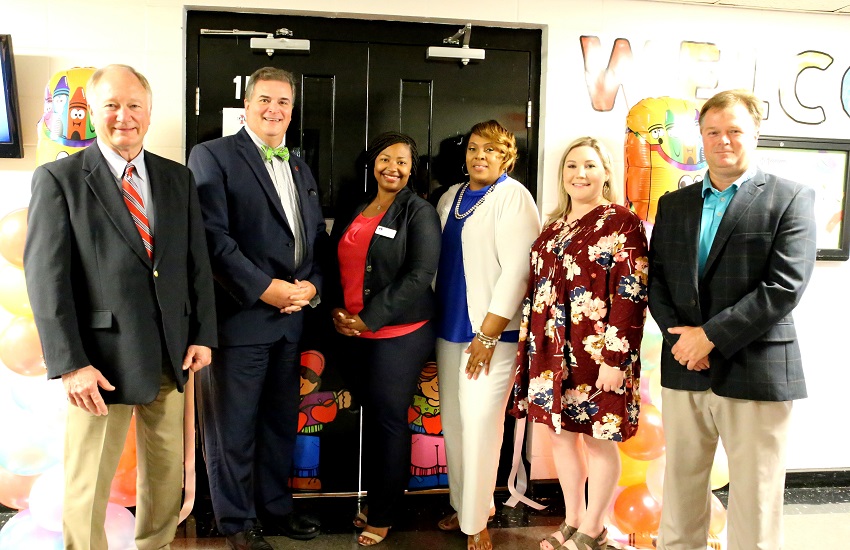 July 17, 2018
An open house and ribbon cutting was held the morning of Tuesday, July 17, for the Early Childhood Academy on East Mississippi Community College's Golden Triangle campus.
The ECA, which is located in room 140 of the Douglas Building, provides free resources to parents and childcare providers. While the main focus of the program is ensure children up to 5 years of age are prepared to enter kindergarten, parents and caregivers of children of any age can make use of available services.
"Our mission in education is all about helping people do better, get ahead and become contributors to our society," EMCC Interim President Dr. Rick Young said during an opening ceremony in the Lyceum auditorium prior to the ribbon cutting. "What better place do you start than with our babies?"
Among other things, the ECA offers resources for parents, caregivers and childcare providers, as well as referral services and children's toys and books that can be checked out.
ECA Coach and Professional Development Specialist Carolyn Harris provides professional development training for childcare providers in topics such as health and safety, lesson plan development and professionalism.
"Providing comprehensive technical assistance to our partners, professional development to parents and providers and collaborating with community entities is what the Early Childhood Academy is all about," Harris said.
ECA Resource and Referral Center Associate Michelle Cleveland said the academy can help parents of special needs children locate available services.
"We can also direct parents to childcare providers who accept payments through the Child Care Payment Program, which is now accepting applications," Cleveland said.
Story Time takes place from 10 a.m. to 11 a.m. each Wednesday throughout the month of July and includes the reading of popular children's books, art activities, games and free snacks and drinks.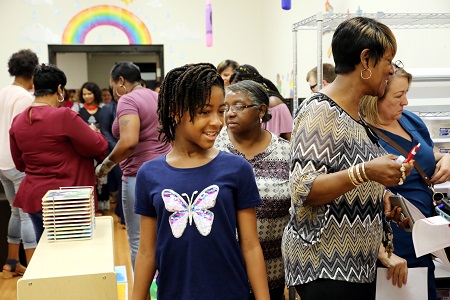 EMCC is among 12 community colleges in the state that offer an Early Childhood Academy. The academies are funded through the Mississippi Department of Human Services, which contracted with the Mississippi Community College Board to oversee the ECA program.
The MCCB contracts with the colleges to implement the ECA on their respective campuses, said Dr. Micca Knox, who is the assistant executive director of the Early Childhood Academy at Mississippi Community College Board.
"There is an actual scope that each college agrees to implement on their campus," Knox said. "That includes providing space, hiring of staff and operating the program. Our role at MCCB is to provide oversight and support to the colleges."
Knox said the program is centered on empowering childcare providers.
"We need to make sure our providers understand the role they play and how important and vital it is," Knox said, adding that childcare centers are no longer babysitting services. "We need to make sure when children leave a childcare center they are ready to enter kindergarten and compete with those kids who came from grandma's house."
EMCC's Early Childhood Academy opened in January.
"Carolyn and Michelle have accomplished a lot in a short amount of time," EMCC Associate Dean of Instruction Dr. Michael Busby said. "They built the program from the ground up and are continually looking for new ways to improve upon the quality services they offer. I would encourage parents and childcare providers to take advantage of the free programs available through the academy."
Starkville resident Adrian Austin was among area residents who attended the open house and ribbon cutting. She was accompanied by her son, Jay, and daughter, Aniya.
"The services at the Early Childhood Academy are phenomenal," Austin said. "The resources available to the community are great and they are free and accessible to everyone."
Harris can be reached by email at charris2@eastms.edu. Cleveland's email address is mcleveland@eastms.edu. Both can be reached by phone at 662.243.1999.