EMCC ALUMNUS AND POET SPEAKS TO CREATIVE WRITING CLASS
News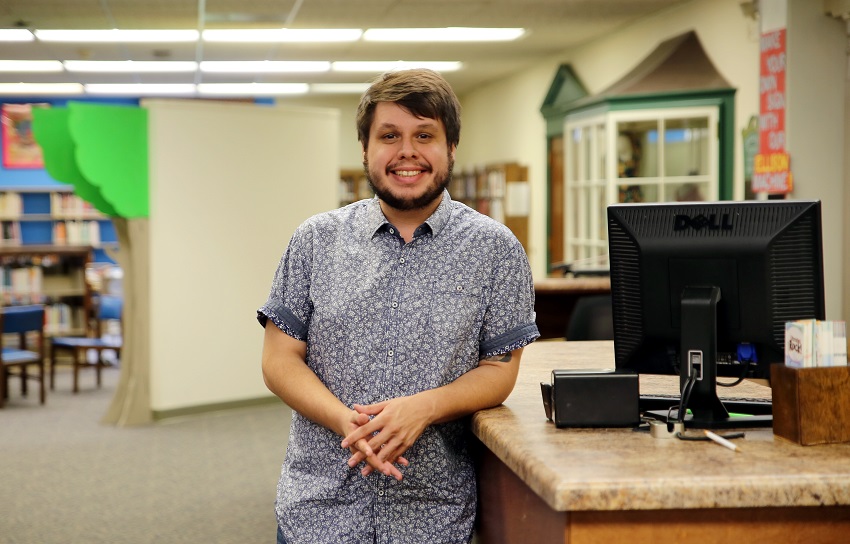 September 11, 2018
Poet and East Mississippi Community College alumnus Charles Thomas "C.T." Salazar was a guest lecturer for the Thursday, Sept. 6, Creative Writing class at the college's Golden Triangle campus.
Salazar discussed the techniques of poetry writing and shared with the students his writing process and the ups and downs of publishing. Students listened as Salazar read several of his poems and spoke of the qualities of other published poets.
As a Master of Fine Arts in Creative Writing candidate at the Mississippi University for Women, Salazar is part of the inaugural class for that program and will graduate in December.
A Columbus native, Salazar has made his poetic presence known internationally through publishing in a wide variety of literary journals such as the "Tampa Review," "Ink and Nebula," "Matador Review" and "32 Poems."
Marilyn Ford, the Creative Writing instructor at EMCC, spoke of the benefit for her students.
"C.T. is an amazing young poet whose successes are already monumental," Ford said. "It is a rare opportunity for learning and growing writers to have a published poet come to their classroom to speak to them. My students were able to interact with C.T., ask questions, and enjoy hearing his poems from him. The experience for them is invaluable."
Salazar said he enjoyed the experience.
"I have the pleasure of giving readings and talking about poetry in a lot of different spaces, but engaging with Marilyn's Creative Writing class is truly a privilege," Salazar said. "Her students are eager, engaging and welcoming. Marilyn Ford's classroom is an inclusive space of young artists and intellectuals, a model every college instructor should be striving for."