EMCC TO SPONSOR GOLDEN TRIANGLE COMIC-CON
News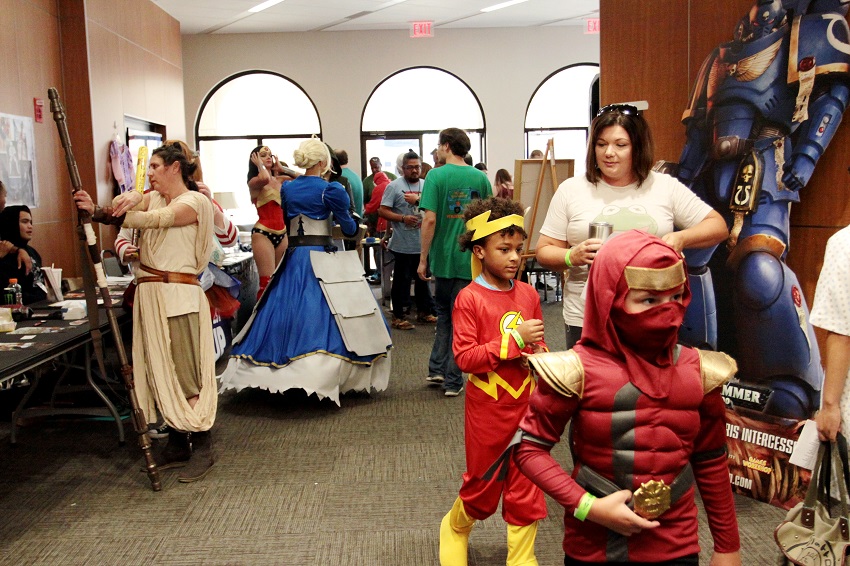 July 25, 2018
The Golden Triangle Comic-Con, a gaming, sci-fi and cosplay event that combines popular culture genres, returns to the Trotter Convention Center in Columbus Saturday, Aug. 18. Doors open at 10 a.m.
East Mississippi Community College is the presenting sponsor for the event co-sponsored by Re/Max Partners Colin Krieger and Cellphone Repair Geeks.
"It's a celebration of nerd culture, intelligence and creativity," EMCC Information Systems Technology (IST) instructor Charlie Grace said.
Last year, organizers with the Golden Triangle Comic-Con donated $2,000 from event proceeds to the Palmer Home for Children and another donation will be made to the agency this year, EMCC IST Director Brandon Sesser said. Admittance is free to the event for children from Palmer Home.
This is the third year for the event and the second with EMCC as a sponsor. Last year, the GT Comic-Con attracted attendees from Alabama, Arkansas, Florida, Mississippi and Tennessee.
"A lot of our vendors and special guests were from Los Angeles and the East Coast and we expect to see those areas well represented again this year," Sesser said.
This year's special guests include Erik Stolhanske, a member of the Broken Lizard comedy group who has written, produced and starred in the Broken Lizard films "Super Troopers," "Club Dread," and "Puddle Cruiser."
Actor Aleks Paunovic, whose television credits include "Battlestar Galatica," "iZombie" and "The 100" has appeared on the big screen in "Personal Effects," "Percy Jackson: Sea of Monsters" and "Kindergarten Cop 2" to name a few.
Voice actress Kimberly Brooks, who can be heard on "Mass Effect," "Voltron" and "South Park," will be in attendance, as will James Mathis III, whose work in animated productions include "Black Panther," Avengers Assemble" and "Metal Gear Solid 3: Snake Eater."
Artist, writer and producer Mariano Nicieza, comic artists Geoffrey Gwin and Marcus the Visual will also attend, as will the Ministry of Silly Suits, a group specializing in cosplay, in which people dress up as characters from a movie, book, comic book, cartoon or video game.
The event includes a cosplay contest and many attendees will spend the day in full costume.
"I have seen people spend thousands of dollars on their cosplay costumes," EMCC IST instructor Horacio Leal said. "Many of them make their own costumes and spend a ridiculous amount of time and work getting every detail just right. They come to the cosplay events to show off their costumes to the world."
GameStop will host the Golden Triangle Smash 2 gaming tournament that will feature WiiU singles and doubles, and Melee singles and doubles. The Gauntlet Tabletop Tournament will be hosted by Down to Game and will feature "Magic: The Gathering." Tupelo Game Days will sponsor open tabletop gaming, with free-play space for those who want to run their own games.
Tupelo Sportscards and Games will run Pokeman and Yu-Gi-Oh! tournaments.
EMCC's IST department will have Playstation available for use and instructors will demonstrate emerging trends in areas like virtual reality and augmented reality.
Vendors will be on hand selling everything from dice to collector comics to cosplay gear. Food will also be available for purchase. EMCC's Culinary Arts department will provide meals for special guests.
General admission tickets at the door are $20 for those 17 and older; $15 for first responders or members of the military (ID required); $16 for college or university students (ID required); $10 for children ages 13 to 16; and $5 for children ages 7-12. Children age 6 and younger get in free.
Tickets can be purchased in advance online at https://gtcomiccon.com. There is an additional $2 PayPal fee for ordering tickets online but advance purchases expedite entry into the event, Grace said. The website also contains event information and registration for gaming events. Those who wish to compete in the gaming tournaments are encouraged to register online.
For information not available on the website, email Sesser at bsesser@eastms.edu.
"I am really excited about this year's event," said Grace, a cosplay aficionado who plans to masquerade as Harley Quinn, a character created by DC Comics. "It is going to be amazing. Last year it really took off and I think this year it will be even bigger."
Leal agreed.
"I can't wait," Leal said. "It is going to be nerd-vana."
Want to Go?
WHAT: Golden Triangle Comic-Con
WHEN: Aug. 18. Doors open at 10 a.m.
WHERE: Trotter Convention Center, 402 2nd Ave. North, Columbus, Miss.
WEBSITE: https://gtcomiccon.com