EMCC'S SCOOBA CAMPUS OFFERING CERTIFIED NURSING ASSISTANT PROGRAM
News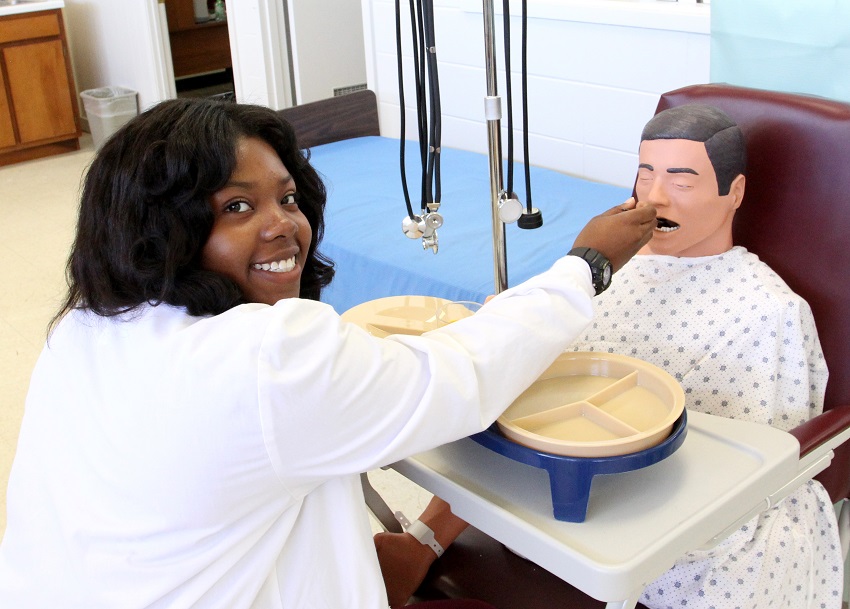 July 3, 2018
East Mississippi Community College's Workforce Services Division on the Scooba campus is taking applications for students who wish to enroll in the Certified Nursing Assistant program.
The eight-week course will begin as soon as the minimum required 10 students enroll, EMCC Kemper County Steps to Success Coordinator Susan Morgan said. Classes are offered three nights a week.
The CNA is a noncredit program that prepares students to provide hands-on care to patients. Typical duties could include bathing, dressing and feeding patients, as well as taking their temperature and blood pressure, and turning those who are bedridden.
They may also help monitor patients' health issues and report their findings to nurses.
"There is definitely a demand for certified nursing assistants in DeKalb," Mississippi Care Center of DeKalb Administrator Ruby Bolen said.
Of the 92 employees who work at the skilled nursing facility, the majority are certified nursing assistants, Bolen said. Patient care is provided around-the-clock, which requires three shifts of employees daily, seven days a week.
Our certified nursing assistants are our frontline people," Bolen said.
Students who enroll in the CNA the program must first score a silver or better on the WorkKeys assessment, which is available at EMCC and measures students' proficiency in Workplace Documents, Applied Mathematics and Graphics Information.
During the program, students will shadow certified nursing assistants at local hospitals or clinics. Tuition assistance is available to students who qualify.
Students who successfully complete the course will be issued a certificate of completion, which will allow them to take the State Board Certification exam.
Morgan said many certified nursing assistants go on to earn a degree as licensed practical nurses or registered nurses.
"The CNA program lets students know whether they are cut out for this type work or not," Morgan said.
For information about the Certified Nursing Assistant program on EMCC's Scooba campus, call Morgan at 662.476.5104 or Arianna Love at 662.476.5039.