STATE LEGISLATORS, OFFICIALS TOUR EMCC'S CMTE 2.0 AND STUDENT UNION
News, CMTE 2.0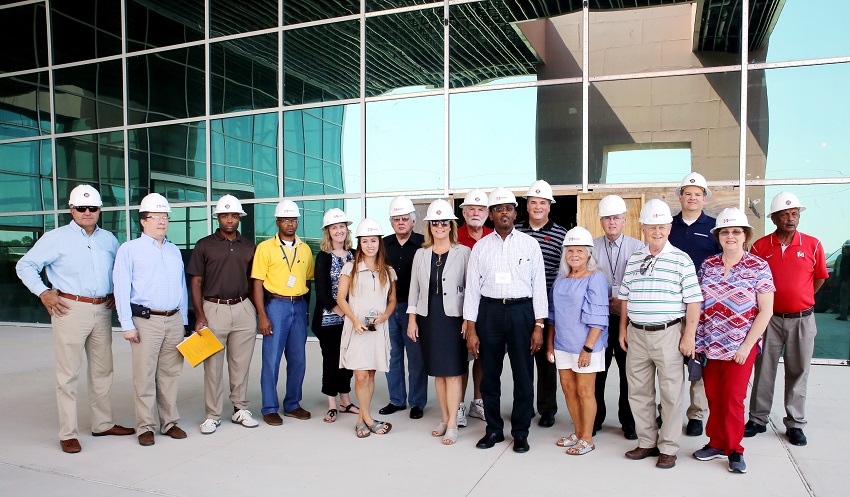 July 16, 2018
Mississippi legislators and members of a state agency with oversight over construction of facilities funded wholly, or in part, through state-issued bonds toured East Mississippi Community College's Center for Manufacturing Technology Excellence 2.0 and the student union on the Golden Triangle campus.
Attendees of the Friday, July 13, tour included officials from the Mississippi House and Senate, the Mississippi Department of Finance and Administration (DFA), and the Bureau of Building, Grounds and Real Property Management.
The Bureau of Building operates under the umbrella of the DFA. The agencies hold the construction contracts for facilities in which state funds are used. Their architects and engineers ensure the facilities are built to specifications and that procurement laws are followed.
The Mississippi House and Senate delegates who accompanied the DFA officials are members of a legislative oversight committee charged with inspecting the buildings.
"It is a really useful process in that the legislators, who are the decision makers, can put their eyes on the facilities rather than just rely on me to tell them what needs to be done," DFA Deputy Executive Director Glenn Kornbrek said.
The trip to EMCC was the last stop for the officials, who have been visiting facilities across the state. Both EMCC's student union on the Golden Triangle campus and the CMTE 2.0, also known as the Communiversity, fall under DFA's domain. Both buildings were designed by PryorMorrow, an architecture firm with offices in Columbus, Tupelo and Brandon.
CMTE 2.0 is under construction at the entrance to the Golden Triangle Regional Global Industrial Aerospace Park in Lowndes County, with work to be completed in 2019.
The state helped appropriate $3 million of the $17 million needed to construct the student union and multi-purpose building, which opened to students in January 2017. The remaining $14 million in bonds sold was shouldered by the six counties in EMCC's district, with each paying a prorated amount based on the number of students from their respective areas.
The 76,000-square-foot student union features an expanded bookstore, a full-service cafeteria, a coffee shop, lounge areas, administrative office space, computer labs and classrooms.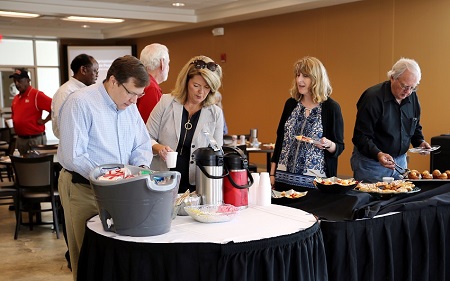 "From day one this building has done exactly what we wanted it to do and that is provide space for students to study, relax and plug into the college's available services," EMCC Vice President for the Golden Triangle Campus Dr. Paul Miller told the visitors during a presentation about the college's current and future projects.
The state also helped fund the CMTE 2.0, issuing $18 million in bonds. Former Sen. Thad Cochran and the Appalachian Regional Commission secured more than $10 million in federal funds, and Clay, Lowndes and Oktibbeha counties contributed the remaining $13.5 million to the nearly $42 million project.
"Everybody has been involved in this project," said District 62 Rep. Tom Weathersby, who is a member of the House Ways and Means committee and chairman of the Public Property committee. "That is due to the people in this community and their vision for workforce training. We also have a great group of legislators from this area who have helped push the project through."
One those local legislators, District 17 Sen. Charles "Chuck" Younger, was among those in attendance during the tour. Younger, who sits on the House Appropriations, Economic Development and Agriculture committees, called the CMTE 2.0 a "game changer for the area."
"This is going to do nothing but continue to grow," Younger said of the demand for training at the facility that will house EMCC's programs in advanced manufacturing. "You have Alabama on one side us, Mississippi State University on the other side of us and EMCC is right in the middle. Then we have Mississippi University for Women. This is nothing but good for our youth."
EMCC has outgrown the original Center for Manufacturing Technology Excellence, which was built in 1997, EMCC Vice President of Workforce and Community Services Dr. Raj Shaunak said. About 3,600 noncredit students are served each year by Workforce Services, in addition to those enrolled in for-credit courses.
"We do a lot of specialized training for people looking for a career change," Shaunak said. "They may have a bachelor's degree and are making $10 an hour at a retail outlet and we can provide them the training they need for employment at one of our local industries earning $16 to $18 an hour."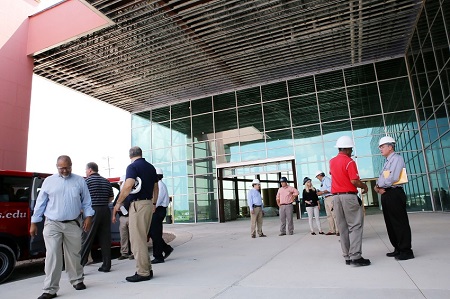 The demand for workforce training has risen as new industries, such as Steel Dynamics, Inc., Baldor Electric Company, Stark Aerospace, PACCAR Engine Company, Aurora Flight Sciences and Yokohama Tire Manufacturing Mississippi, migrated to the Golden Triangle area.
Aurora Mississippi Director of Community and Public Affairs Greg Stewart, who also serves as a Lowndes County representative for EMCC's Board of Trustees, said the success of the original CMTE helped sell the idea of CMTE 2.0.
Part of that success can be attributed to the college's willingness to adapt training to suit individualized industry needs, Stewart said.
"From a corporate perspective, one of the first things I familiarized myself with when I came here for Aurora was training opportunities that EMCC was providing to some of our employees. That training is what helped us be able to bring up the facility and do it effectively. We are continuing to interact with EMCC as we add staff and train people."