18 EMCC STUDENTS ENROLLED THROUGH C2C PROGRAM TO GRADUATE
News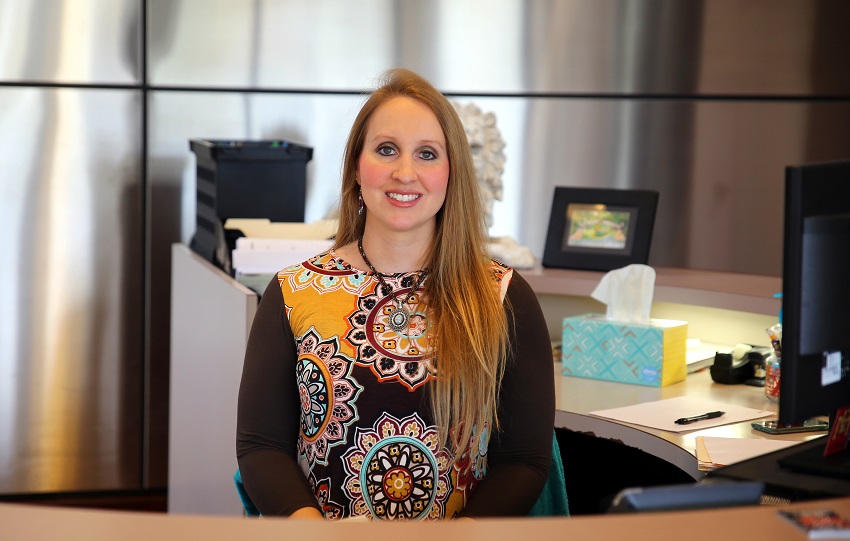 November 16, 2018
Scooba resident Carly Stokes, 29, is among 18 East Mississippi Community College students who will graduate in December thanks to a statewide initiative to help Mississippians complete the courses they need to earn a degree.
Stokes, a switchboard administrative assistant at EMCC's Scooba campus for the past three years, enrolled at the college through the Complete 2 Compete, or C2C, program, which helps students 21 years or older who have been out of college 24 consecutive months or more finish their studies.
"I heard about C2C and was really interested," Stokes said. "It is a really great program."
Stokes, a Columbus native who resides in Kemper County with her husband, Bolie Stokes, graduated from Columbus High School in 2008 and attended Hinds Community College. Busy with work and life commitments, she did not finish her degree.
Stokes has been taking online courses at EMCC since August and will graduate with an Associate of Arts degree with an emphasis in elementary education and early childhood development. She is considering continuing her education to obtain a bachelor's degree.
"I would really like to teach elementary education," Stokes said.
C2C is a statewide program launched last year by the Mississippi Institutions of High Learning and the Mississippi Community College Board. The Mississippi Public Universities and the Mississippi Association of Community and Junior Colleges assisted with implementation of the initiative.
Students who qualify can enroll at any public college or university in the state that offers the classes they need to graduate.
Incentives in the program include grade forgiveness, online classes and flexible schedules, credit for learning or military experience, and financial aid in the form of scholarships, discounts and state grants. Tuition assistance grants are available to qualified applicants.
EMCC has two C2C coaches: Kristen Cockrell, who is based out of the Scooba campus, and Dr. Michele Arney, who is the Golden Triangle campus representative. Among other things, they help students with FAFSA (Free Application for Federal Student Aid) and state aid forms, ensure their college transcripts have been reviewed and check on any outstanding student debt.
Since the program's implementation last year, 15 students have completed the courses they need to graduate and nearly 500 people have inquired about the program, Cockrell said. Students who signed up for classes through the C2C program range in age from their early 20s into their 70s, Cockrell said.
"For a lot of the students we work with, life just happened and they were not able to complete the courses they needed to graduate," Cockrell said. "It is exciting for us to be able to help them reach their goals.
"Most of them are really motivated because they have had a lot of obstacles in their lives and they are at a point where they can come back, finish their degrees and benefit themselves and their families."
As for Stokes, she is excited about graduation.
"I will feel like I have accomplished one of my goals by earning my associate's degree," Stokes said.
Registration and eligibility information about the C2C program is available online at www.msc2c.org.
In addition to Stokes, the other EMCC December graduates who enrolled through the C2C program are: Gavan Beckum of Starkville, Ericka Broach of Toomsuba, Louise Carter of Starkville, Antonah C. Cockrell of Columbus, Amy Crowley of West Point, Laquita Davis of Ackerman, Elizabeth A. Fraser of Steens, Martha Halbert of Crawford, Sharon Hawkins of Columbus, Paul Luckett of Starkville, Shundra Lang of Columbus, Jeri Beth Paulk of Ackerman, Amanda Robinson of West Point, Tiffany D. Rogers of Starkville, Jamie Swindle of Mantee, Nakova Ward of Starkville, and Dominique Wells of Columbus.