EMCC ROAD NAMED AFTER THE LATE BUDDY FAULKNER
News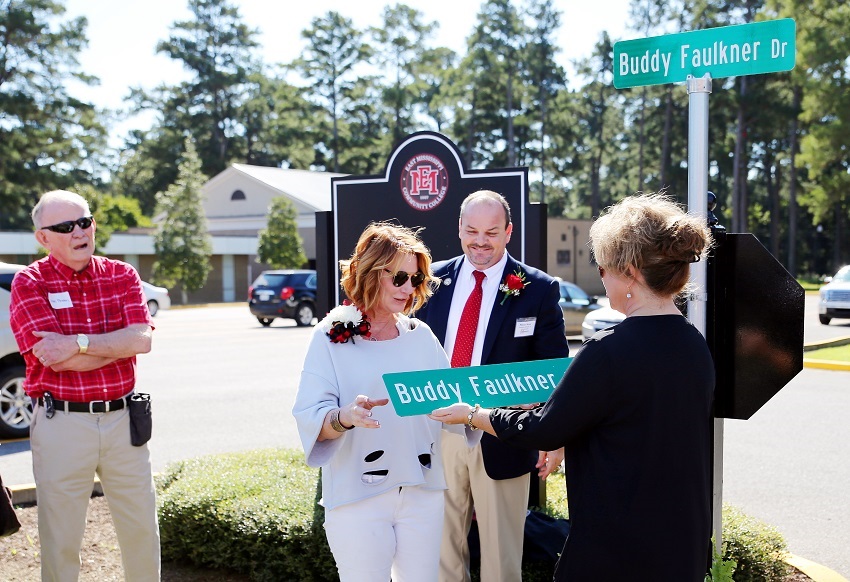 October 30, 2018
A main thoroughfare on East Mississippi Community College's Scooba campus has been named after Buddy Faulkner, a 1964 graduate of EMCC who was among the college's top supporters up until his death in 2009.
Buddy Faulkner Drive, formerly West Everett Street, was dedicated Oct. 13 during the college's Homecoming at an event attended by EMCC alumni, college administrators and Faulkner's widow, Tina Faulkner.
"That Buddy is still remembered here at EMCC after all of these years he has been gone means so much to our family," Tina Faulkner said. "Buddy had so much passion for this school and it is nice to know he will always be connected with EMCC with the naming of this road in his honor."
Buddy Faulkner was born in Meridian where he lettered in baseball and football at Meridian High School. At EMCC, he was a standout player and team captain on both the baseball and football teams. In 2001, he was inducted into the EMCC Sports Hall of Fame.
After graduating from EMCC, Faulkner earned a bachelor's degree in Industrial Engineering from Mississippi State University and later a master's degree in Business Administration from the University of Alabama.
His early career included engineering and manufacturing for large corporations. Later he worked in sales and marketing, specializing in consulting and training, mainly for Fortune 500 companies.
"He was a visionary," Tina Faulkner said. "If you told him what you wanted to accomplish, he would visualize how to get you there. That was his gift."
Buddy Faulkner's work took him around the globe but he never forgot his alma mater and was an indefatigable fundraiser for EMCC, those who knew him said. He was among the five founding members of the Sullivan Committee, a group of former football players who played under legendary EMCC Coach Bob "Bull" Sullivan. Faulkner was the original chairman of the group tasked with growing support for the school's athletic and academic programs.
Former EMCC Vice President of Institutional Advancement Nick Clark, who was also among the founding members of the Sullivan Committee, said Faulkner was tireless in his dedication to EMCC.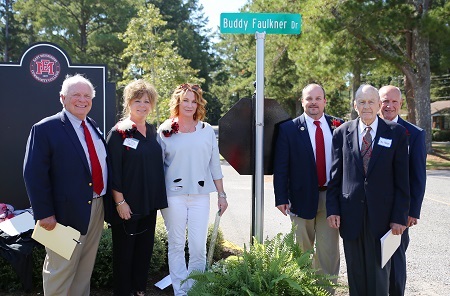 "Tina, I can think of no one else more appropriate to receive this honor than Buddy," Clark said at the dedication. "He gave a lot to this college. Under his leadership we went a long, long, long way. I don't know that it will ever be duplicated. His leadership meant the world to all of us."
An avid golfer, Buddy Faulkner was a key supporter of the college's golf program. Following his death, the Henry W. "Buddy" Faulkner Excellence in Golf Award was established and presented to the golfer with the lowest score on the seven-round World Class Golf Tour held each fall. The annual EMCC / Old Waverly Golf Classic takes place each year in memory of Faulkner, who was a member of the Cameron Club at Old Waverly Golf Club.
"I can't say enough about Buddy and what he has done for this college," EMCC Executive Director of College Advancement Marcus Wood said. "He was a person who gave back more than he took."
A Destin, Fla., resident, Faulkner was a frequent visitor to EMCC and conducted much of his work on behalf of the college from afar.
A self-made man, Buddy Faulkner came from humble beginnings and could not afford to attend a large university after graduating from high school, Tina Faulkner said. He credited EMCC and Coach Sullivan with providing him the opportunity to succeed, she said.
"He never forgot the impact EMCC had on his life," Tina Faulkner said. "What he learned at EMCC drove him to work hard and be who he wanted to be. After he traveled all over the world and did all of the things he did, his heart came back to EMCC. He wanted to help this school progress. He felt as he got older that there was something he had to offer."