BRIGGS' ROOTS RUN DEEP AT EMCC
News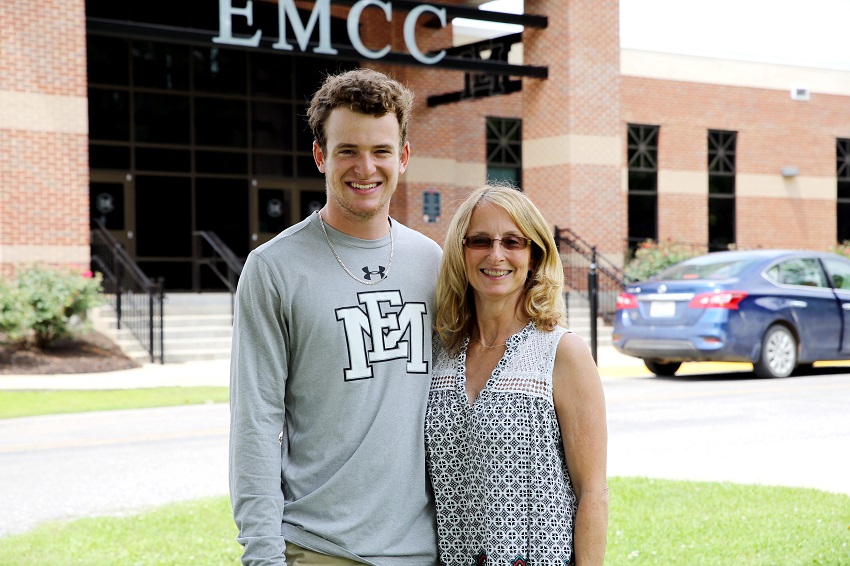 June 12, 2018
Clara Edward Briggs attended high school at East Mississippi Junior College in 1940, which was known as Kemper County Agricultural High School up until 1939.
Seventy-eight years later, her great grandson, John Ross Briggs, is a sophomore at the college. He is the fourth generation of the Briggs family to attend school on the Scooba campus of what is now East Mississippi Community College.
John Ross Briggs' father, John Lyle Briggs, attended EMJC from 1987 to 1989 and played basketball for the school. John Lyle Briggs' father and John Ross Briggs' grandfather, J.K. Briggs Jr., also played basketball for EMJC, where he attended from 1962 to 1964.
John Ross Briggs' mother, Lisa Briggs, has worked for EMCC for 12 years and is the transportation coordinator and administrative assistant for the physical plant on EMCC's Scooba campus.
John Ross Briggs is a distant cousin to the husbands of EMCC Humanities instructor Janet Briggs and Communications and Software Training Specialist Karen Briggs.
"It's weird coming to the college because I basically know every single person who works here," said John Ross Briggs, 18, who is attending EMCC on a baseball scholarship.
John Ross Briggs is hoping to land a baseball scholarship at a four-year university once he finishes his degree at EMCC. If not, he said he will likely attend Mississippi State University. If that happens, he will be the third generation of Briggs to attend MSU.
A West Lauderdale High School graduate, John Ross Briggs attended Kemper Academy up until the fourth grade, before his family moved to Meridian. His parents had a house in Scooba and John Ross Briggs and his family were regular attendees at the college's football practices and sporting events.
His grandfather, J.K. Briggs, rode a horse to watch football practices in the 1950s and 1960s when legendary EMJC coach Bob "Bull" Sullivan ruled the gridiron.
"Although my mother attended the high school, she never earned a degree from EMCC," J.K. Briggs said. "My daddy didn't earn a degree either but when he got back from the war (WW II) he went to school up there on the GI Bill."
J.K. Briggs' parents, Clara and Jiggs Briggs, owned the former Briggs Motel and Café at the intersection of U.S. Highway 45 and Mississippi Highway 16. J.K. Briggs, a former Scooba bank manager and a math instructor/coach at Kemper County High School before it consolidated, now runs the Briggs Five Points general store, which is where the Briggs Café was located.
J.K. Briggs said there have been a lot of changes in Scooba over the years.
"Businesses have come and gone but EMCC has been the rock that has stayed here the whole time," J.K. Briggs said. "To say EMCC is important to the community is an understatement."
The history of EMCC has been intertwined with that of the Briggs family.
The archives room in the Tubb-May Library on EMCC's Scooba campus is named the Thelma Briggs McConnell Archives after McConnell, a member of the Briggs family who passed away last year. She attended both the Kemper County Agricultural High School and East Mississippi Junior College on the Scooba campus and was a staunch supporter of the school.
The Margie B. Aust building is named after Margie Briggs Aust, the first secretary of Kemper County Agricultural High School, which was founded in 1912. In 1927 the school added a 13th grade, marking the beginnings of the present-day college.
The land where the college's Chapel in the Pines is located was donated by the late Brown Briggs of Scooba.
"The Briggs' roots are imbedded deep here at EMCC," said Lisa Briggs, whose eldest son, Vincent Cusimano, graduated from EMCC.