EMCC HOSTS BOY SCOUTS OF AMERICA 'CAMPOREE'
News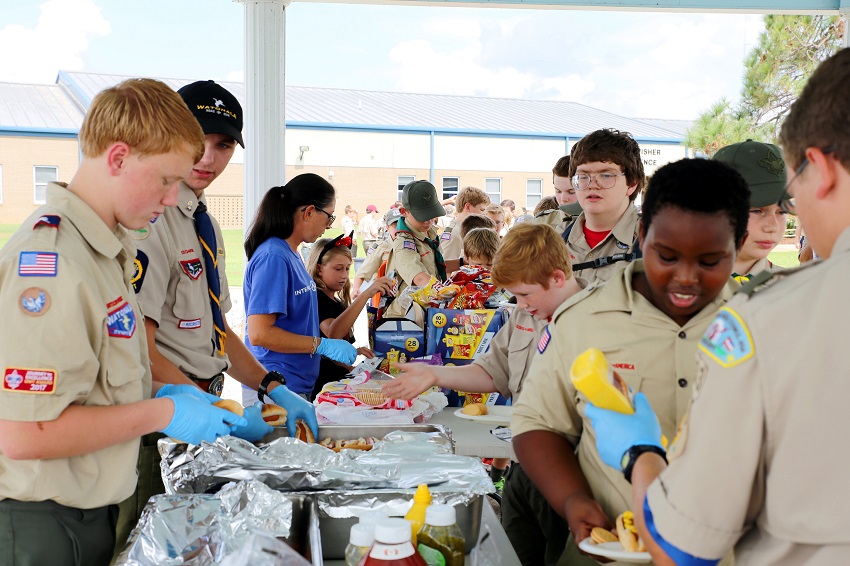 September 22, 2018
More than 120 members of the Boy Scouts of America and volunteer leaders representing troops from six Mississippi counties descended upon East Mississippi Community College's Golden Triangle campus Friday, Sept. 21, through Sunday, Sept. 23, for the annual Pushmataha Area Council Fall Camporee.
The group that included Cub Scouts in first through fifth grades and Boy Scouts in sixth through 12th grades camped out in tents on a grassy area on the west side of the college campus.
"It was a treat for us to be around such a good group of kids," EMCC Vice President of the Golden Triangle Campus Dr. Paul Miller said.
EMCC hosted the event in which college instructors offered the Scouts tutelage in areas such as amateur radio, electronics, forestry, journalism, robotics and woodworking. Training was offered in 15 areas that count toward completion of merit badge requirements.
Other merit badge training sessions offered at the Golden Triangle campus included automotive maintenance, drafting, electricity, programming/cyber security, pulp and paper, and welding. Courses were also offered at the college's Lion Hills Center in cooking, golf and landscape architecture.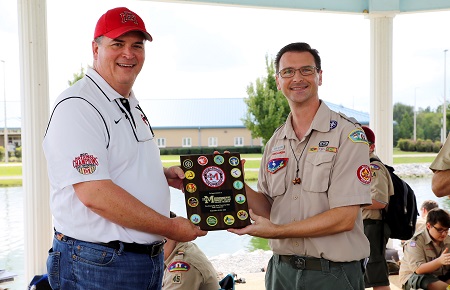 "This gives them great exposure and helps spark some interest so they can go on to complete their merit badges," said Pushmataha Area Council Scout Executive Jeremy Whitmore.
There are more than 130 merit badges members of the Boy Scouts of America can earn. A minimum of 21 merit badges must be earned to become an Eagle Scout, the organization's highest rank.
Members of troops from Calhoun, Lowndes, Monroe, Oktibbeha, Webster and Winston counties arrived late Friday afternoon, set up camp and cooked supper. Some of the Scouts attended a Local Area Network party that night in the college's Lyceum Auditorium, which included PC, console and virtual reality games, as well as board and card games.
Opening ceremonies took place at 7:30 a.m. Saturday, with the merit badge sessions beginning at 8 a.m. Each Scout attended two merit badge sessions, which were offered in the morning and again in the afternoon.
Scouts who took the cooking class learned about menu planning and food safety, while those in the automotive maintenance course were instructed in areas such as checking fluid levels. Scouts working on merit badges in robotics were provided hands-on experience and learned about the many uses for robotics in advanced manufacturing.
Boy Scout James Belk, 16, of Eupora attended merit badge sessions in automotive maintenance and electricity.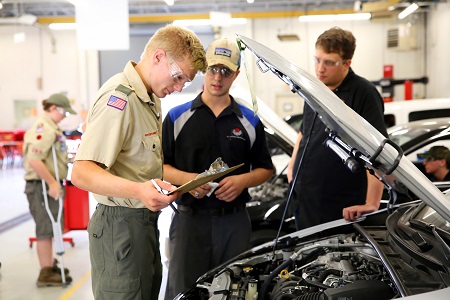 "I have always been interested in automotive maintenance because I want to know the basics of how to take care of a vehicle and make repairs if something goes wrong," said Belk, who attends East Webster High School. "Electricity is a merit badge I picked up because I am interested in electronics and how things work."
In the welding course, there were demonstrations of arc welding, grinding and metal cutting.
"They come in and are really excited when they see flames, sparks flying and everything going on," EMCC welding instructor Cliff Sanders said.
Those who took the golf merit badge session learned basics of golf etiquette and how to swing a golf club, among other things.
"One of the merit badge requirements is that they play 18 holes with at least one other kid their age and at least one adult," Miller said. "We are going to give those who signed up for golf a voucher so they can come back and play 18 holes for free so they can complete their merit badge."
Between merit badge sessions, the Scouts broke for lunch, which took place by the pond north of the student union. Saturday night's events included a bonfire, skits and campfire songs.
On Sunday, the Scouts turned out in their dress uniforms for inspection, which was followed by the award of earned merit badges. The Scouts then broke camp and headed to their respective homes.
The word "camporee" is derived by combining "camp" and "jamboree." The Pushmataha Area Council conducts camporees with differing themes each fall and spring at rotating locations throughout the organization's district. The last time a camporee took place at EMCC was in 2012.
"Most troops will have some activity once a month," Whitmore said. "But twice a year we like to bring all of the troops together so the Scouts will have an opportunity to see they are part of something bigger."