EMCC'S BLAIR MADISON EARNS PRESTIGIOUS SCHOLARSHIP
News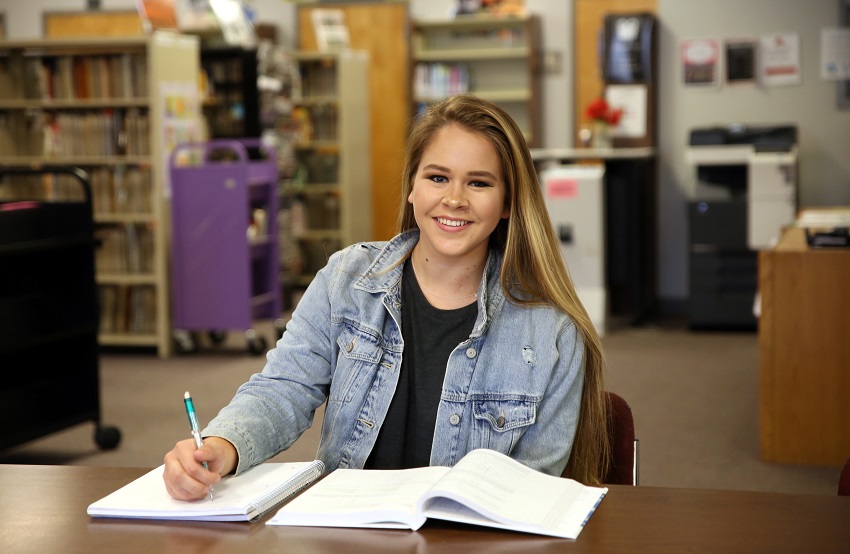 August 23, 2018
East Mississippi Community College sophomore Blair Madison has been named a 2018 Dowell Leadership Scholar and will receive a $1,500 scholarship.
The Dowell Leadership Scholar is awarded to the top-scoring Phi Theta Kappa member from the state of Mississippi based on information and essays provided in an application packet.
"I was really surprised," Madison said of her selection as a Dowell Leadership Scholar.
Scholarship recipients must be members of Phi Theta Kappa, a national honor society, be enrolled in an associate degree program and have applied for the Coca-Cola Leaders of Promise Scholarship.
"Blair is such a special person and is so deserving of this scholarship," EMCC math instructor and PTK advisor Alison Alexander said. "She works hard in the classroom and as an advocate for EMCC. I am so proud of her."
The Coca-Cola Leaders of Promise Scholarship program helps new PTK members defray educational expenses while enrolled in associate degree programs. Scholars are selected based on scholastic achievement, community service and leadership potential. Only one applicant is named a Dowell Leadership Scholar.
"Blair is a wonderful student and an exemplary leader both on campus and in her community and, most importantly, she is a fine young lady," EMCC biological sciences instructor and PTK advisor Eric Ford said. "Working with Blair makes me a better person each day. We are very lucky to have her at EMCC. She has a bright future ahead with no limits."
Madison, a Columbus resident, will graduate next May with an associate's degree in computer science. She intends to pursue a bachelor's degree, and possibly a master's degree, in computer science at Mississippi State University.
"I would really like to get into gaming development, making video games, and computer programming," Madison said.
She is a graduate of Heritage Academy and is the daughter of Heather and Stacy Madison. She has two younger sisters, Stephanie, 15, and Dena, 11.
When she isn't studying, Blair Madison, who has a 4.0 GPA, enjoys reading, watching movies, listening to music, writing and playing video games. Much of her time, however, is spent at school where she is an officer with Phi Theta Kappa.
"EMCC is awesome," Blair Madison said. "The teachers are extremely dedicated to the students and are very focused on helping us learn."