Role Transitions for the LPN to RN
News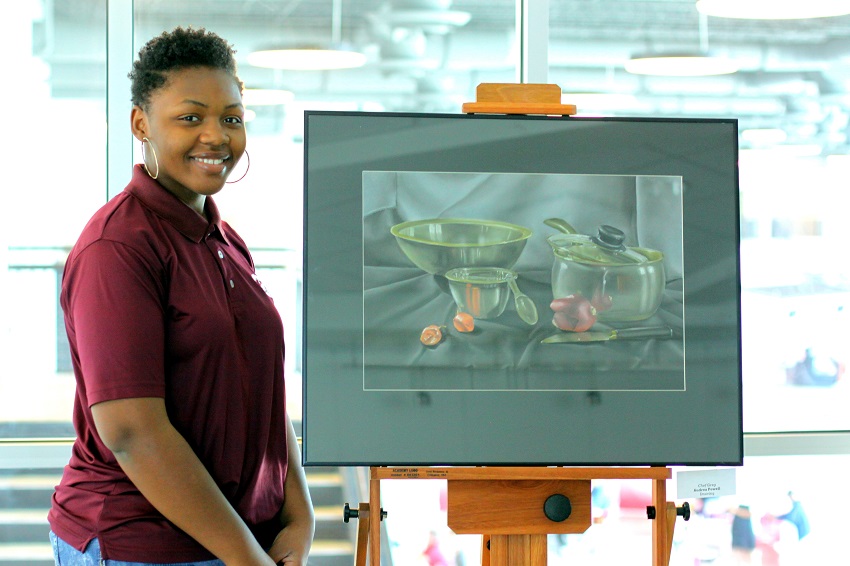 May 1, 2018
When East Mississippi Community College art major Audrea Powell's mother passed away in November, she immersed herself in artwork as a means to take her mind off of her loss.
"I came into the art studio every day," Powell, 22, said recently. "I didn't finish the rest of my classes until this semester. But I never left art class. It was kind of like therapy for me. It was a break from being at home with my thoughts."
In fact, on the day her mother died Powell sought comfort in the EMCC art studio located in the Humanities and Fine Arts Building on the Golden Triangle campus. That's where the Maben native who has resided in Starkville since 2010 can be found most days during the week.
"Audrey has learned one thing that a lot of artists don't get until a little later and it is that art is what makes her happy," EMCC art instructor Cindy Buob said. "So whenever she is feeling troubled she turns to artwork as her respite."
Through that experience, Powell said she has found her calling.
"I want to open up my own gallery and offer art therapy for people who are having a hard time," said Powell, who considered majoring in psychology before deciding to pursue a career in art. "I mentioned this to a lady at my church and she said, 'I don't know how to draw.' The fun thing about art is you don't have to know how to draw but it takes your mind off of other things because you are trying to focus. That's the point of art therapy."
But that's down the road. For now, Powell wants to complete her education. She graduates from EMCC in May and has been accepted into the art program at the Mississippi University for Women where she was awarded a $1,000 scholarship after professors there reviewed her portfolio.
Buob said the hours Powell has spent in the studio have helped her hone her craft.
"She is the real deal," Buob said. "She keeps getting better because she is practicing on her artwork so much of the time."
The practice has paid off. A drawing by Powell titled "The Reality of November 28," which was the date her mother died, was chosen for the cover of "Syzygy," EMCC's annual literary magazine.
The drawing depicts a skull surrounded by various household objects that belonged to Powell's mother.
"It was about how my mother couldn't take all of her nice things with her when she died," Powell said.
Powell also took third place in the Drawing category in the Mississippi Community and Junior College Art Instructors Association State Art Competition in March, which included artworks from students at all 15 community colleges in Mississippi. Powell's drawing, titled "Chef Greg," featured pots, pans and utensils.
Two other EMCC students also placed in that contest, which took place this year in the Marie Hull Gallery on the campus of Hinds Community College. Scooba campus student Brejenn Allen won second place in the Painting category for a piece titled "Homeless Transportation" that depicts a bicycle festooned with flags and brightly colored wheel spokes.
Golden Triangle student Claire Crutcher was awarded an honorable mention in the 2-D Design category for her piece titled "UPC Forest," which portrays a bar code with a forest canopy motif.
As for Powell, after she graduates from MUW she hopes to open her first gallery in Starkville, and eventually expand with branches elsewhere. Powell said working through her mother's death has been a process that will take time to complete.
Similarly, she said, achieving her career goals will take time as well.
"That is a process too," Powell said. "In 10 years I probably won't have everything I want but I hope to at least have the building for my studio."