FEDERAL OFFICIALS TOUR 'COMMUNIVERSITY'
News
June 20, 2018
Appalachian Regional Commission (ARC) Federal Co-chair Tim Thomas was among federal, state and local officials who toured East Mississippi Community College's Center for Manufacturing Technology Excellence 2.0., or Communiversity, Tuesday morning.
Under construction at the entrance to the Golden Triangle Regional Global Industrial Aerospace Park in Lowndes County, the Communiversity will house credit and non-credit courses related to training students for careers in advanced manufacturing.
"I see you all stepping up and showing that this region of North Mississippi and the Appalachian region, which is my charge, can do anything that the rest of the country or the rest of the world can do," said Thomas, who was nominated by President Donald Trump last January and confirmed to the post in April. "You are changing the narrative of this region by this type of planning and foresight in what you will be prepared to do with the workforce in the future."
In 2016, then U.S. Sen. Thad Cochran and the ARC announced the award of a $4.6 million grant to construct six high-bay classrooms at the Communiversity in addition to the 15 already planned. This was the second grant by the ARC, which has provided more than $10 million for the project. Other funding partners for the $42 million facility include the Mississippi Legislature and Clay, Lowndes and Oktibbeha counties. The Golden Triangle Development LINK has also been instrumental in the project.
"The cooperation at the local, state and federal levels in partnering on this project has been truly amazing," EMCC Interim President Dr. Rick Young said. "Everyone, from our congressional leaders to our governor and lieutenant governor, from our state legislators to our county supervisors, have all pulled together to make this a reality. Not least on that list is the ARC, whose contributions and leadership have proved invaluable."
The ARC is a regional development agency that represents a partnership of federal, state and local governments. ARC invests in projects that promote economic development and workforce readiness, among other things.
Tuesday's tour of the Communiversity also included ARC Chief of Staff Guy Land and representatives from the offices of U.S. Sen. Cindy Hyde-Smith, U.S. Rep. Gregg Harper, ARC Mississippi, and the Golden Triangle Planning and Development District, among others.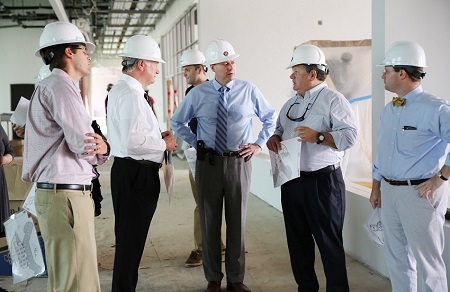 The Golden Triangle area has experienced a manufacturing renaissance in recent years, with an influx of industries that includes Steel Dynamics, Inc., SeverCorr Corporation (now Severstal Columbus), Baldor Electric Company, Stark Aerospace, PACCAR Engine Company, Aurora Flight Sciences and Yokohama Tire Manufacturing Mississippi.
EMCC has worked closely with the companies to provide instruction specific to their industries, often training students on the same cutting-edge equipment used on local manufacturing shop floors.
"We have built a reputation for providing highly qualified employees who meet exacting standards required in today's advanced manufacturing environment," said EMCC Workforce and Community Services Vice President Dr. Raj Shaunak, who was the 2017 recipient of the governor's Excellence in Local and District Government Award. "Our students are sought after and the Communiversity will ensure we remain at the forefront in providing industries a skilled workforce needed to meet current and future demands."
Much of the student training will take place in 21 high-bay laboratories designed to allow easy access for the setup and removal of heavy machinery. Most of the bays will be housed inside two, single-story wings that will intersect the main building at 45-degree angles.
Programs that will have dedicated space in the bays are: Automation and Control Technology; Electrical Technology; Electro-Mechanical Technology; Engineering Technology; Drafting and Design; Mechatronics Technician; and Precision Manu
facturing and Machining Technology, to name a few.
Space will be made accessible to manufacturers to train their employees and prospective new hires. Dining and seminar facilities will be available for educational, business and civic purposes. The 145,638-square-foot facility will also feature a two-story imagination center, which will include interactive exhibits and displays of products built by area manufacturers.
The group also visited the Yokohama plant in West Point, where they toured the facility and met with Yokohoma North America Senior Director of New Plant Development Alan Easome.
"They were really impressed with the cooperation between EMCC and Yokohama and the advanced automation processes at the plant," Shaunak said.
ARC Mississippi State Program Director Mike Armour said the Communiversity is a center for innovation that others across the country will likely want to emulate.
"People will flock to see this place once it is open," Armour said. "There were some who said the project could not be done but here it is. The governor and others have supported the project from the outset and I applaud their leadership and that of the folks at East Mississippi Community College."