COUPLE DONATES MEMORABILIA TO EMCC 70 YEARS AFTER GRADUATING
News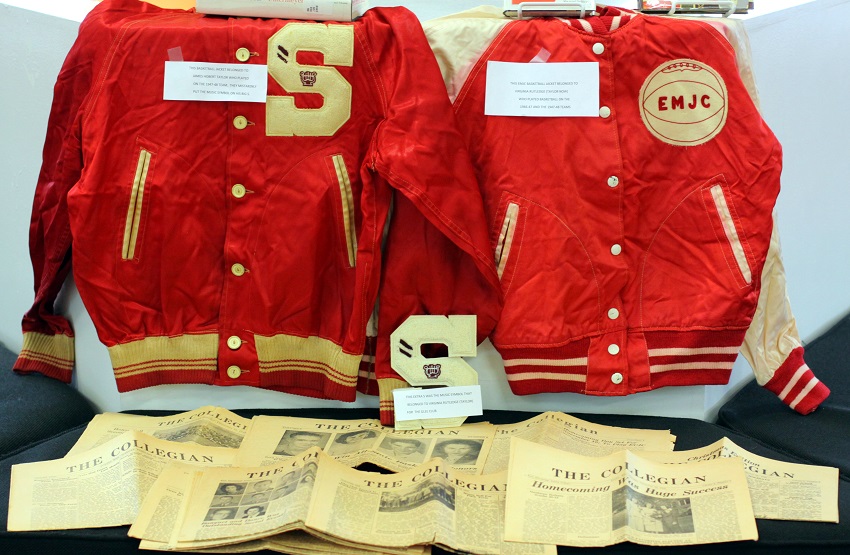 May 25, 2018
On May 20, 1948, then East Mississippi Junior College students Virginia Rutledge and Jim Hobert Taylor walked to downtown Scooba to celebrate Rutledge's 18th birthday at Briggs Café', which was located at that time near the U.S. Highway 45 and Mississippi Highway 16 intersection.
"When we got to the café, I found out Jim had arranged for a birthday cake to be made for me," Virginia said.
That was 70 years ago. EMJC is now East Mississippi Community College and Virginia is a Taylor. She married Jim Taylor in 1951 and this past May 20, Virginia and her husband celebrated her 88th birthday. Jim is 89.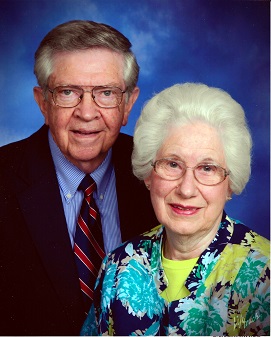 Recently, the couple donated cherished possessions from their years at EMJC to the Thelma Briggs McConnell Archives collection in the Tubb-May Library on EMCC's Scooba campus. Both Virginia and Jim played basketball for the college and the donated items included their lettered sports jackets, along with issues of the college paper, "The Collegian," dating from 1946 to 1948, and a gold bracelet that belonged to Virginia emblazoned with the EMJC emblem.
Also donated were various school documents from their years at the college, such as a meal ticket, football schedule, and pamphlets of a commencement exercise and a play presented by The Dramatics Club.
"I am just glad the items are going to be preserved," Virginia said. "I am one who is sentimental about old things."
EMCC Librarian Lisa Justis, Assistant Librarian Lillie Thornton and Library Assistant Janet Smelser were excited to receive the items.
"We are very grateful to the Taylors for their generous donation to our archives," Justis said. "Mrs. Taylor's copies of the 'Collegian' will likely be included in our next digitization project."
On Virginia's recent birthday, Jim told their grandchildren the story of his wife's 18th birthday and the experiences they shared at EMJC.
Virginia grew up in Fulton, while home for Jim was 30 miles away in Belmont. It wasn't until after they enrolled at EMJC, which was more than a two-hour drive from either of their homes, until they would meet.
Virginia estimates there were roughly 200 students enrolled at the college at that time, with many attending through the Servicemen's Readjustment Act of 1944, better known as the G.I. Bill.
Itawamba Community College and Northeast Mississippi Community College were not founded until 1948 and in addition to the locals, there was also a good contingent of students like Jim and Virginia who hailed from Northeast Mississippi who attended EMJC. Those students only went home during the Thanksgiving and Christmas holidays, traveling to and from Tupelo and Scooba on a slow "Doodlebug" train, small self-propelled railcars used to provide passenger and mail service on lightly used branch lines.
"I believe there were only two cars on campus at that time and we walked everywhere," Virginia Taylor said.
A popular destination was downtown Scooba, which was thriving at the time with two drugstores, the Briggs Motel and Café, and a movie theater that opened some nights.
"We walked to Scooba every weekend for a sundae or milkshake at one of the drugstores," Virginia said.
It was basketball that first brought the two together. Virginia played for the girls' team and Jim played for the boys' team. During spring break the two teams would travel the state for away games.
"Sports was very important and we had some good teams," Virginia said. "The football team wasn't like it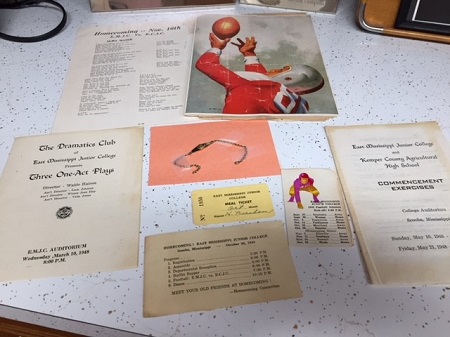 is today but our basketball teams were really good in the 1940s."
Virginia and Jim became friends during basketball season and later started dating, often eating together in the college's dining hall, which was located inside the girls' dorm.
Virginia was active in several student organizations. She was a member of the Glee Club, French Club and Choir. She was also a staff member for the "Collegian" and served as president of the Wesley Foundation. In 1948, she was voted "Most Intellectual" by her fellow students.
After graduating in 1948, Virginia transferred to Blue Mountain College where she earned a degree in English and Social studies. She taught English for 30 years: two years in her hometown of Fulton; two years in the West Memphis School District in Arkansas; and 26 years for the Auburn City Schools in Alabama.
Jim earned a bachelor's degree in Agricultural Engineering from Mississippi State University and a PhD in Engineering from Auburn University. He worked for more than 30 years for the U.S. Department of Agriculture's National Soil Dynamics Laboratory in Auburn, where the couple still resides.
The Taylors have a daughter, three grandchildren and five great grandchildren. Their son, Dr. Jim Taylor, passed away last October.
Two years ago, the Taylors visited the Scooba campus but it was closed at the time.
"That is really a beautiful campus now," Virginia Taylor said. "I really wanted to go into the student union. It looked really nice."
Virginia said she has fond memories of her time at EMJC.
"I guess you would when you meet your spouse there," Virginia said. "It was a very pleasant experience."