EMCC STUDENTS SOARING IN AEROSPACE MANUFACTURING PROGRAMS
News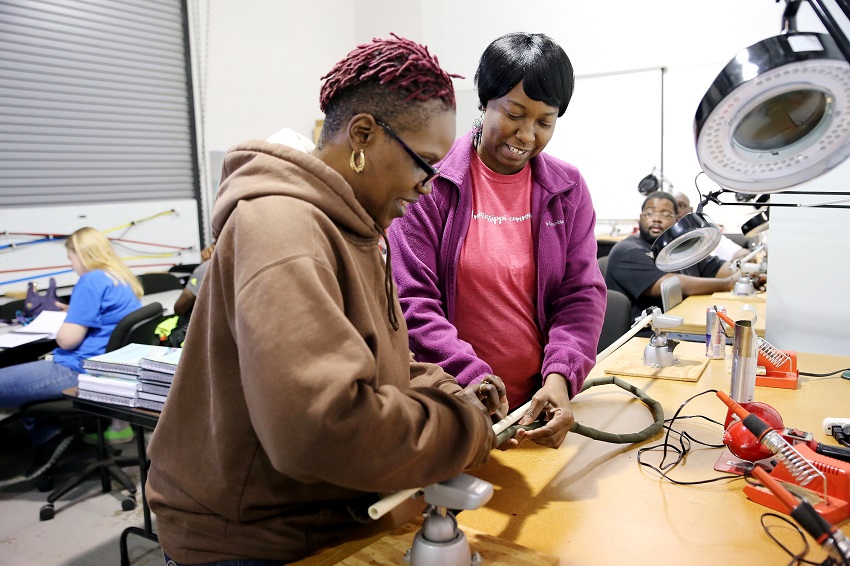 Columbus resident Teresa Brooks recently completed the Composite Manufacturing course at East Mississippi Community College and is enrolled in the college's Avionics and Cabling program.
Both courses last between 10 and 12 weeks and teach students skills needed by area aircraft manufacturers such as Airbus Helicopters, Inc., Stark Aerospace and Aurora Flight Sciences.
Brooks already works in the industry. In May, she was hired by Stark Aerospace, where she works as a wiring technician.
"It is really interesting work," Brooks said. "Some of the stuff we learned in the Avionics and Cabling class are things that have been integrated at Stark Aerospace."
Some classes in the program are taught by employees of Stark Aerospace, using when possible the same materials and equipment the maker of unmanned aerial systems and sensors uses on the shop floor.
"When we bought our tooling for the Avionics and Cabling class, we used one of the company's inventory lists to get the same items they are using," EMCC Workforce Project Manager Dr. Jim Huerkamp said.
Students in the Avionics and Cabling class learn about avionics wiring, which includes reading schematics, determining what size wires to use in different applications, soldering, and wiring terminals and plugs, among other things.
Students in Composite Manufacturing learn techniques for building aircraft parts using lightweight materials, such as carbon fiber fabric, Kevlar and Styrofoam, with the components bonded together with epoxies and resins.
"These composite parts are four to five times lighter in weight than a comparable aluminum part but they are as stronger or stronger," Huerkamp said.
One local manufacturer is expected soon to ramp up hiring for those who have completed the Avionics and Cabling course.
"The company is starting a division that builds aircraft harnesses," Huerkamp said. "Another company is going to be looking at adding employees at some point in time to meet their needs for an Air Force contract they have."
Before students enroll in either of the two programs, they must first score a silver or better on the WorkKeys assessment, which is available at EMCC and measures students' proficiency in Workplace Documents, Applied Mathematics and Graphic Information. They must also complete an eight-week Manufacturing Skills – Basic course at EMCC that is required by local manufacturers.
Students like Brooks who complete both the Avionics and Cabling and the Composite Manufacturing programs are particularly sought after, Huerkamp said.
"That gives you additional skills a company is looking for," Huerkamp said. "You are not just a one-trick pony. You can do other things as well."
Brooks, a former welder at BMW before the plant she worked at moved to Mexico, graduated from EMCC in May with an associate's degree in Engineering Technology, Drafting & Design.
"What I want to do is earn my bachelor's degree in engineering," Brooks said. "Hopefully, it will all flow together and some aircraft manufacturer will hire me as one of their engineers."
Starkville resident Kim Coats is also enrolled in the Avionics and Cabling course. A hairdresser most of her life, Coats completed the Certified Nursing Assistant program in 2009.
"I would really like to work in one of our local plants," Coats said. "I think that would offer stability and would provide more of a career rather than just a job."
Those interested in the Avionics and Cabling program or the Composite Manufacturing program can call EMCC's Workforce Services Division at 662.243.2686.