DEWAYNE HULL NAMED DISTINGUISHED SERVICE AWARD RECIPIENT
News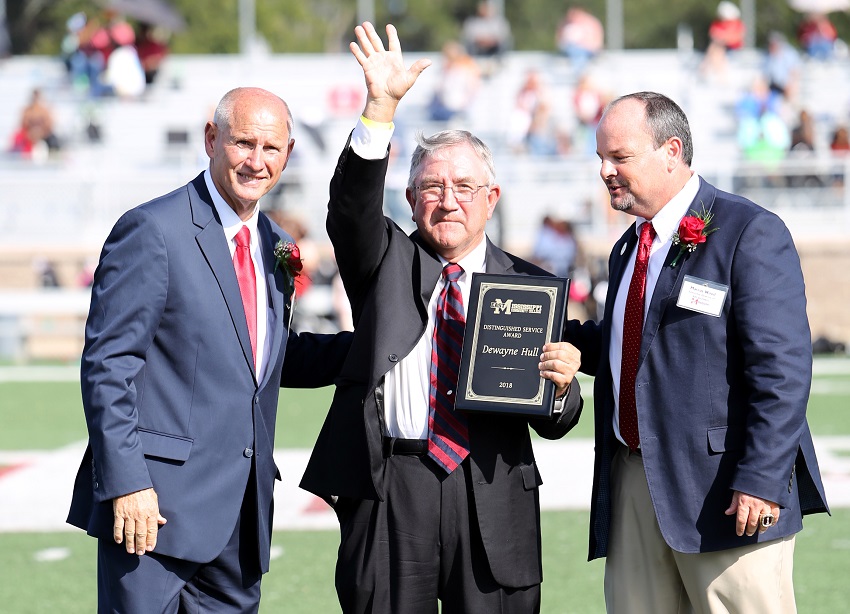 October 15, 2018
Lifelong DeKalb resident Dewayne Hull's roots run deep at East Mississippi Community College.
The 2018 recipient of the college's Distinguished Service Award, Hull is a 1971 graduate of EMCC who later married Lucy Hull, a popular instructor on the Scooba campus who passed away in 2015.
Since then, Hull has helped establish a scholarship fund at EMCC in his wife's name and is working on an endowment that will have long-term benefits for the college. He sits on the EMCC Foundation Board, is a regular at the Lions' football games and is a former member of the EMCC Forestry Advisory Committee.
"I can't think of anyone more deserving of this award than Dewayne," EMCC Executive Director of College Advancement Marcus Wood said. "He is a true friend to EMCC and his efforts on behalf of our college will have a lasting impact on our institution. Similarly, Lucy was passionate about her work at EMCC and made a difference in the lives of a countless number of students. We owe them both a debt of gratitude."
Hull was recognized during halftime of the EMCC Lions' Oct. 13 Homecoming football game, in which EMCC defeated Holmes Community College 56 to 21. Hull said he was "totally surprised" by his selection for the award.
"I wasn't expecting anything like this," Hull said.
Hull attended what was then East Mississippi Junior College from 1969 to 1971, playing second base for baseball coach Gerald Poole. The team earned a North Division championship in 1971, losing the state championship to Gulf Coast Community College by one point.
Hull, who was a member of the Phi Theta Kappa Honor Society, credits his time at the college dubbed "Scooba Tech" by many with giving him direction in life.
"I didn't know what I wanted to be," Hull said. "Scooba Tech gave me an opportunity to kind of find myself and see what I wanted to do."
In 1974, Hull graduated Magna Cum Laude from Mississippi State University with a degree in Forestry Management and a minor in Wildlife Management. He was hired in May of 1974 by Weyerhaeuser Company, which is now one of the largest sustainable forest product companies in the world.
He has served as a technical forester, silvicultural forester and inventory/production forester for Weyerhaeuser and managed a timber fund for the company.
"In 1987, Weyerhaeuser sold about 50,000 acres to Equitable Life Insurance Company but they kept the management agreement on it," Hull said. "I was the manager of that timber fund for Equitable for 10 years or so. For the last 15 years of my career I was the land adjustment forester for the Scooba area and Mississippi, Alabama region. This involved buying, selling and trading land, along with obtaining and granting easements to other companies and private land owners."
In 2016, Hull retired from the company after 42.5 years of employment, earning numerous awards and recognitions along the way. He has since formed his own forestry consultant business titled Hull Properties and Management.
"I have enough work to keep me busy but not enough to stress me out," Hull said.
He met Lucy Hull in the early 1980s thanks to the wife of a cousin who played matchmaker. His cousin's wife was from Magnolia, Miss., where she had taught school with Lucy.
"They invited me down there and Lucy and I just hit it off," Dewayne Hull said.
In 1985, Dewayne and Lucy married. After moving to DeKalb, Lucy was hired as an instructor at EMCC, where she taught classes in Economics, Government and Leadership for 25 years before she fell ill.
"Lucy was a kind, compassionate person to students and faculty alike," said EMCC Humanities instructor Janet Briggs. "She was a role model for students in that she set high standards, but she was always looking for someone she could help."
In 2016, Dewayne Hull donated $25,000 to set up the Lucy Hull Memorial Scholarship fund, which was established with help from Briggs. Lucy Hull's co-workers also donated to the fund.
"I continue to try and give between $1,000 and $5,000 each year to the fund," Dewayne Hull said. "I think we have enough in there now with the interest that it is going to provide one or two scholarships a year to a deserving student. I know Lucy would have been real proud."
By all accounts, Lucy Hull was passionate about her students. Dewayne Hull said while on a recent trip to Meridian he ran into one of Lucy's former students.
"When she found out who I was and that Lucy was my wife, she started crying," Dewayne Hull said. "She said Lucy invited her to join Phi Theta Kappa but she didn't have the money. She said, 'Mrs. Hull let me have the money to join. If it hadn't been for that, I wouldn't be where I am today.'"
In addition to his business, Dewayne Hull wears many other hats. He is the church lay leader for New Hope United Methodist Church and the lay delegate to the Mississippi Methodist Annual Conference in Jackson.
He is a current member and three-time past president of the DeKalb Lions Club and twice served as president of the Kemper County Forestry Association. He is a current member and past treasurer for the Loblolly District of the Society of American Foresters and a current member of the Mississippi Forestry Association. He is a 2016 graduate of the Kemper County Leadership Program.
An avid hunter, Hull is a founding member of the Kemper County chapter of the National Wild Turkey Federation and served for two terms as the Secretary for the NWTF State Chapter and Governing Board. He is a lifetime member of the Mississippi Wildlife Federation and served as the secretary and treasurer for the Streetfield Community Club for more than 30 years.
He has been an avid supporter of EMCC athletics since his days as a student. At home football games, Hull can be found outside the fence on the visitors' side of Sullivan-Windham Field.
"I don't sit in the stands," Hull said. "A buddy of mine and I walk up and down the field following the action. We listen to the players on the other team on the visiting sideline. It is kind of a tradition for us. We have been doing it for more than 30 years."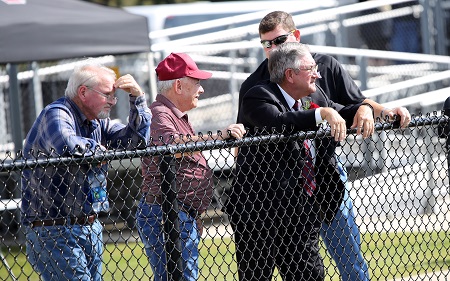 Recently, Hull decided there was one more contribution he would like to make to EMCC. He and his wife's only child, Johnathan Luke Hull, was stillborn in 1991 and the couple will leave behind no heirs.
Hull is going to endow part of his forestry land to EMCC.
"I was blessed to be raised by parents who gave more than they had," Hull said. "Then, Lucy came along and she had a real giving nature. I was taught it is always better to give than receive and that is especially true when those receiving are less fortunate than the giver. You never know when a simple gesture of giving and kindness could be a life changing act for those less fortunate than yourself."