JOHN APPLE NAMED EMCC'S 2018 ALUMNUS OF THE YEAR
News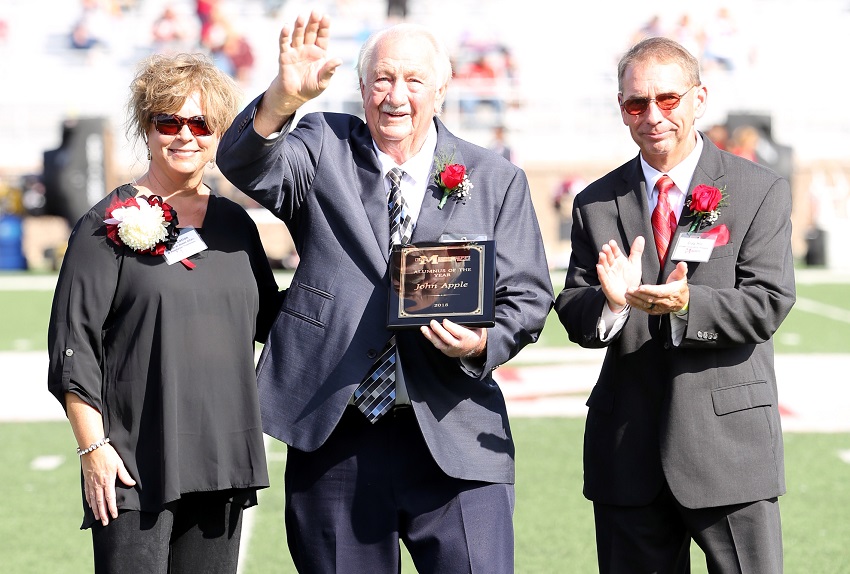 October 15, 2018
East Mississippi Community College's 2018 Alumnus of the Year, John Apple, has led a busy life. Among other things, the Nashville, Tenn., resident has operated a farm, participated in pro bass fishing tournaments and formed his own motorcycle racing team, all while working fulltime.
Apple, Class of 1957, was recognized during halftime of the EMCC Lions' Oct. 13 Homecoming football game, in which EMCC defeated Holmes Community College 56 to 21. A 2012 inductee into the EMCC Sports Hall of Fame, Apple played both sides of the ball for football coach Bob "Bull" Sullivan at then East Mississippi Junior College in 1956-57.
He is a member of the EMCC Inner Circle of Excellence and a long-time supporter of the school.
A Springfield, Tenn., native, Apple played football at Springfield High School under Distinguished American Award recipient Coach Boyce Smith. He was later a multi-sport standout at Tennessee Preparatory School in Nashville. There, he starred in basketball, baseball, track, boxing and football.
At Tennessee Prep he was a part of the boxing squad, which received the 1954 Southern Golden Gloves team trophy. He also earned 18th District Honors as a basketball player and was voted an All-City football player by The Tennessean newspaper and All-Nashville by the Nashville Banner.
In the summer of 1956 he arrived at Scooba, which Apple said boasted at the time between eight and 10 stores, a barber shop, a service station and a small theater with a leaky roof.
"When it was raining you couldn't sit in the first five or six rows of the theater because there was standing water on the floor," Apple said. "You would see water coming down in front of the screen while you were watching the movie."
Apple said tales surrounding Sullivan, who was featured in an April 30, 1984 Sports Illustrated article titled, "The Toughest Coach There Ever Was," were true.
"Coach Sullivan was a nice person off the field but if you survived practice under him on the football field you could make it in life. It was rough," said Apple, who played the positions of guard and tackle. "I had players wake me up in the middle of the night and ask me to take them over to Highway 45 or to Macon so they could catch a bus and go back home. Back then the junior college league wasn't nothing but a bunch of outlaws."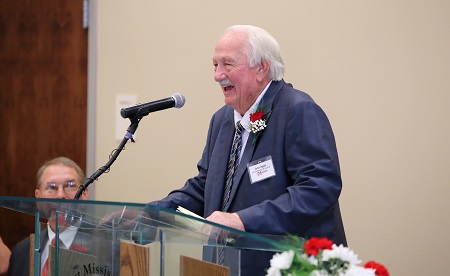 Apple later transferred to Tennessee Tech where he continued to play football.
A former member of the National Guard in both Tennessee and Mississippi, Apple worked in construction, truck driving and golf-course maintenance before landing a job in 1967 at Boswell's Harley Davidson and Golf Cars in Nashville.
He initially worked as a salesman and later as a sales manager at Boswell's, where he is still employed after 51 years of service. He has stayed busy over the years. Among other things, he raised cattle, wheat, corn, soybeans and hay before selling his farm in 2012.
"I did that on the weekends," Apple said.
A member of the Professional Bass Fishing Association, he competed in tournaments across the country. He was also a contender in state open and amateur golf tournaments and has four hole-in-one-shots to his credit.
He also sponsored his own motorcycle racing team, which finished third in the nationals in 1979. One of Apple's riders, Randy Goss, would later ride for the Harley-Davidson factory racing team to win two AMA Grand Nationals.
"We raced all over the country, from California to New York," Apple said. "I would work on the motorcycles at night. Then, on Friday nights I rode the bikes up in a van to wherever we were racing. When we got done on Sunday afternoon, I would drive back to Nashville and go back to work Monday morning."
About 10 years ago, Apple reconnected with EMCC and he and his wife Patsy have been regular attendees at football games and other events ever since, making the 700-mile-round trip from their home in Nashville to Scooba and back again.
Apple has two sons, John Jr., a music minister and ordained preacher in Illinois, and Jim, an engineer with Toyota Motor Manufacturing Alabama in Huntsville.
Over the past few years, Apple has donated five golf carts to EMCC, including one with an enclosed cab that is heated and another that seats six people that is used to ferry visitors around campus.
"We can't thank John enough for all he has done for us," EMCC Director of Alumni Affairs and Foundation Operations Gina Cotton said. "He has not only been generous in his gift of golf carts to the college but is active in promoting the college and supporting our various events. He is a real joy to have on campus and it is a treat for all of us when he comes to visit."
Apple said the feeling is mutual.
"I have been all over the country from New York to California fishing in tournaments and traveling with my motorcycle racing team and you can't find a friendlier, more hardworking group of people than those at EMCC," Apple said. "Everyone has made me feel right at home and you just don't find that in many places."