PROGRAM TO EMPOWER WOMEN LAUNCHED AT EMCC'S SCOOBA CAMPUS
Programs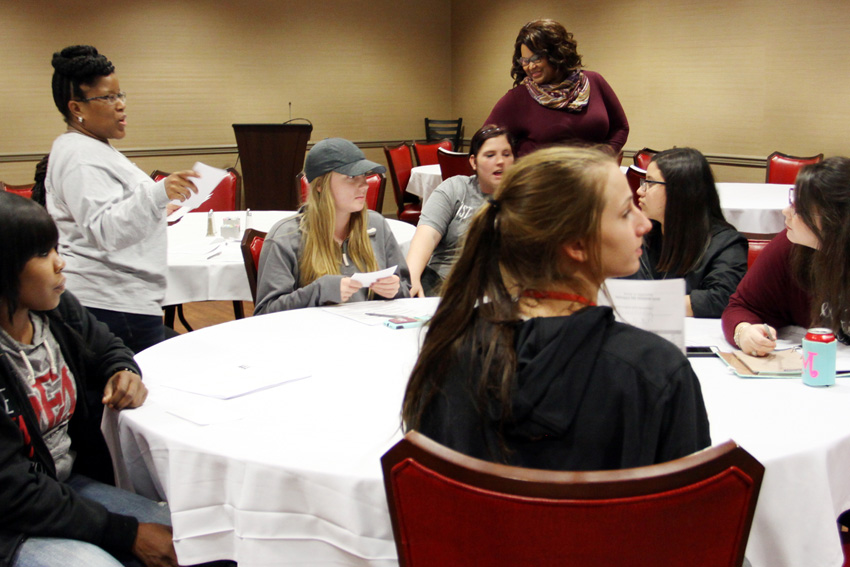 January 5, 2017
A program designed to provide a support network for female students juggling the demands of work, family and school is being implemented at East Mississippi Community College's Scooba campus.
In the Empowering Mentors to Promote Women's Retention (EMPOWR) program, at-risk freshmen, or mentees, are paired with sophomores or other nontraditional freshmen who serve as their mentors. On Monday, Dec. 4, officials with EMPOWR conducted a training session for mentors in the student union on the Scooba campus.
So far, about 25 students have expressed an interest in enrolling in the program at the Scooba campus.
"Many of the women have husbands and families and one of the biggest issues many of them face is trying to balance everything out," said Kimberly Rush, who, along with Renyetta Johnson, is one of two EMPOWR coordinators for the Scooba campus.
For incoming students who have been out of school for a while, navigating college can seem daunting and the mentors they are paired with can help them by sharing strategies they have learned, said Anne Buffington, EMPOWR director for Mississippi State University's Social Science Research Center (SSRC).
One of the big pluses for the mentees is having someone to talk with who understands what they are going through, Buffington said.
"A lot of times, it is the mutual respect for each other and the comradery that develops between mentors and mentees that is most helpful," Buffington said.
There are other benefits as well. Mentees earn one college credit and mentors receive a $500 check for successfully completing the program. Mentors and mentees must meet for at least an hour once a week.
There are also monthly meetings in which guest speakers give presentations on topics such as stress and time management, managing health and wellness, financial management and career counseling.
Upcoming guest speakers include Scooba Mayor Marion Smoot and East Kemper Elementary School Principal Tyreasia Brown, both of whom are EMCC graduates.
Preston resident April Grace, 32, is among the 13 mentors who have signed up for the EMPOWR program at the Scooba campus. Grace, who is majoring in accounting at EMCC, understands what it is like to juggle life's demands while attending school.
The mother of four works full time and is the co-creator of Hands to Spare Inc. Nonprofit Organization, which provides free lunches once a month to Kemper County residents age 18 and younger.
"I don't sleep much," Grace said with a laugh. "It would be nice to encourage, motivate and inspire other nontraditional students like myself who maybe have the same challenges I am facing."
EMPOWR is in its fourth year at EMCC's Golden Triangle campus, where it was launched as a pilot program. So far, 22 mentors and 13 mentees have signed up for the upcoming school year at the Golden Triangle campus.
"We are still looking for mentees," EMPOWR Program Coordinator Michele Arney said.
EMPOWR came about after the Women's Foundation of Mississippi — a Jackson-based nonprofit group dedicated to funding programs that improve the lives of women and girls statewide — awarded the SSRC a $50,000 grant to implement the EMPOWR program at EMCC's Golden Triangle campus.
In June 2017, the Women's Foundation of Mississippi awarded an additional $50,000 grant to EMCC fund the program through the 2018-19 school year and expand it to the Scooba campus.
Since its inception at EMCC, the EMPOWR has been implemented at the Jackson campus of Hinds Community College and at Meridian Community College.
"We would really like to expand the EMPOWR program to every college in the state," Buffington said.