SOUTH KOREAN CONSUL GENERAL VISITS EMCC, PRESENTS VETS WITH MEDAL
Korean War Memorial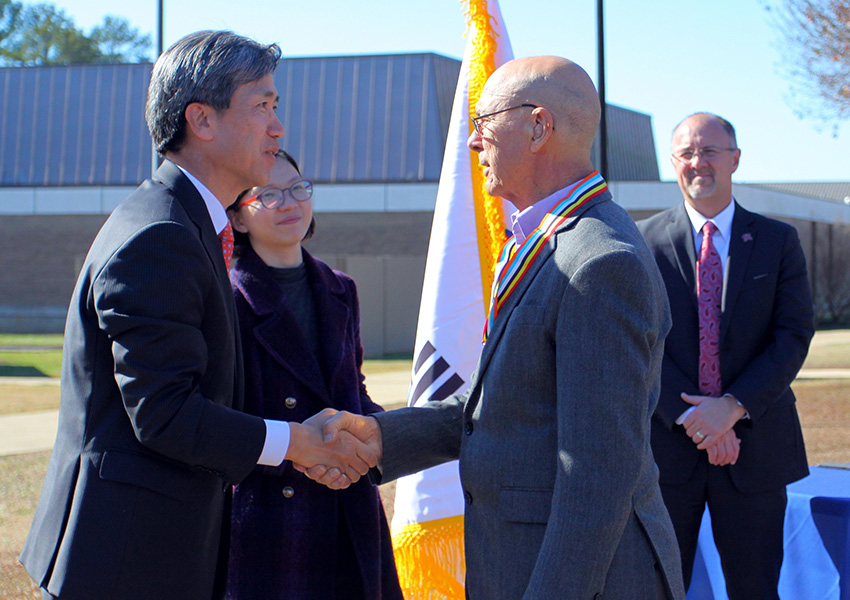 December 11, 2017
SCOOBA — Fourteen Mississippi veterans who supported U.S. efforts during the Korean War were presented with the Ambassador for Peace Medal by Republic of Korea Consul General Hyung Gil Kim Dec. 11 during a ceremony at East Mississippi Community College.
The veterans, members of their families and officials from EMCC and the Consul General of the Republic of Korea in Houston attended the event held adjacent to the college's Korean War Memorial. It marked Kim's first visit to Mississippi.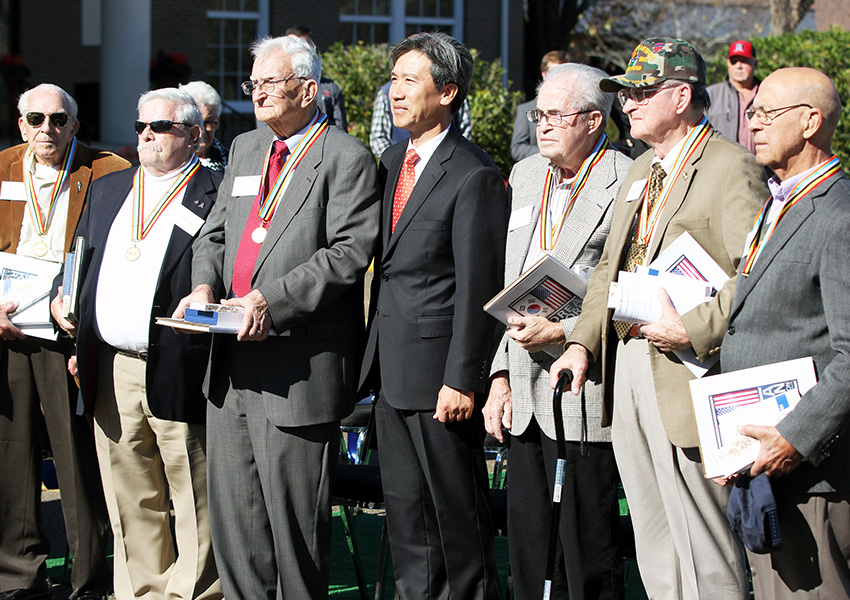 Kim, the Republic of Korea's youngest Consul General, told the veterans he would not be standing before them today had it not been for the sacrifices made by them and their fellow servicemen on behalf his country.
"My generation has not experienced war thanks to these veterans who came to Korea to defend my country against communist invasion," Kim said. "… The Korean War veterans are my heroes. Thank you."
Cody Perkins, outreach coordinator for the Mississippi State Veterans Affairs Board, said he was contacted by the office of the Consul General and asked to help coordinate the event.
"To my surprise, the only monument erected specifically to Korean War veterans in the state of Mississippi is right here at my alma mater of EMCC," Perkins said. "… Today is a very special event because we are honoring and showing appreciation for some of our veterans who are not only ensured the freedoms off our nation during the Cold War but also the freedoms and liberties of South Korea during the Cold War.
"As with any war, there were many sacrifices made. Some were the ultimate sacrifice. Men who laid down their lives in a faraway land for a people who they had never met. All in the name of freedom."
EMCC President Dr. Thomas Huebner said he is humbled and honored that the college was chosen as the site for the event to honor the veterans.
"I can't begin to thank you enough for what you were willing to do for the United States of America, for the people of Korea, for my family and for everyone standing here today," Huebner told the veterans. "A heartfelt thank you to each one of the men sitting in front of me today."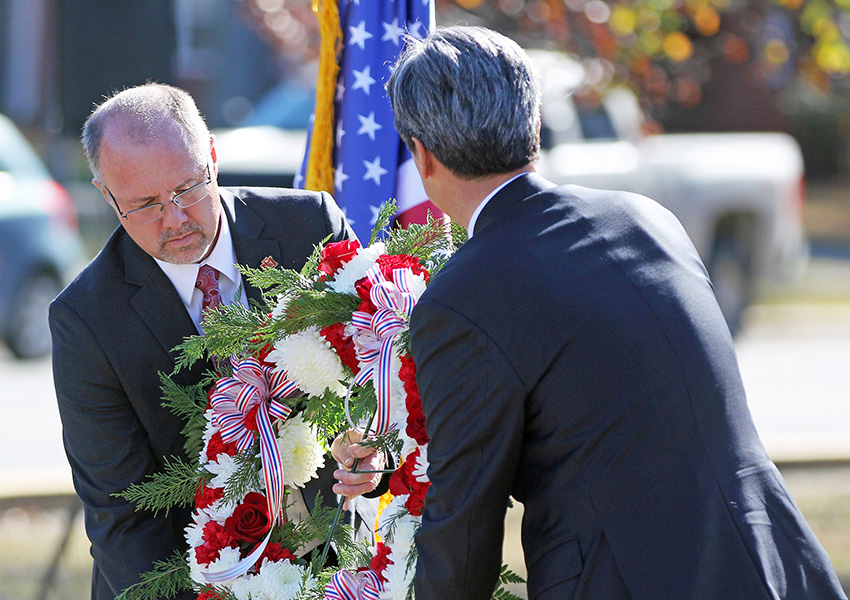 According to the figures compiled by the Pentagon, 33,651 U.S. service members died in battle during the Korean War, with another 3,262 non-battle casualties in the war that erupted on June 25, 1950 when 75,000 soldiers from the Soviet-backed North Korean People's Army poured across the 38th parallel into the Republic of Korea. It was the first military action of the Cold War.
The war lasted until July 1953. The country remains divided, with about 28,500 U.S. troops stationed in South Korea as a deterrent against North Korean aggression.
During the Monday ceremony, in which both the U.S. and Republic of Korea national anthems were played, Huebner and Kim placed a wreath in front of the Korean War memorial. Kim then presented the veterans with the Korean Ambassador for Peace Medal, which is granted in appreciation to those who served in the Korean War.
A proclamation was read that states, in part, "It is a great honor and pleasure to express the everlasting gratitude of the Republic of Korea and our people for the service you and your countrymen have performed in preserving our freedom and democracy."
Kim said due to the U.S. efforts, South Korea has "transformed itself into an economic powerhouse."
"We are America's sixth largest trading partner and the world's 11th largest economy," Kim said. "… Meanwhile North Korea has gone down a misguided road. … Its economy remains stagnant. This stark contrast gives meaning to what you fought for. … Without your valor, courage and sacrifice, South Korea's miracle would not have happened."
Madison resident Antoine Otto was among those honored. Otto served 13 years in the U.S. Armed Forces — in the U.S. Navy, Naval Reserves and National Guard.
He was a boiler technician on the U.S. Manchester, a Cleveland-class light cruiser equipped with 12 6-inch guns that were used to bombard North Korean troop concentrations while also performing patrol operations and blockades.
"We went up and down Korea firing night and day," Otto said. "We spent 30 days outside Wonsan firing nonstop for 30 days."
Otto said he was honored to take part in the ceremony.
"I also felt like it was an honor to serve my country," Otto said. "I would serve my country again if they ever need me. I may be 89, but I can do something."
Here is a list of the veterans honored at the event: Ed "Hoot" Gipson; Charles "Chuck" Fowler; Billy Whitaker; Bill Joe "BJ" Jordan; Robert Leo; Homer C. Birdsong, Jr.; Larry Vander-Meulen; George Chafin; Jimmie Walker; Ike Hopper; John W. Espey; Jacob "Jack" Moorman; Antoine Otto; and Henry F. Boswell, Jr.