Tuition Assistance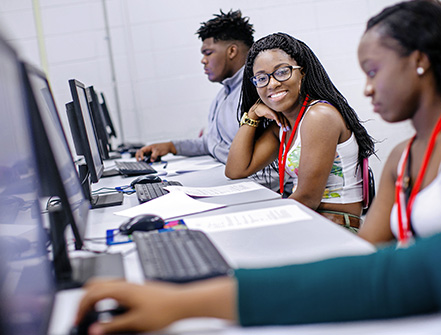 East Mississippi Community College offers tuition assistance to high school graduates who are residents of its six-county district of Clay, Kemper, Lauderdale, Lowndes, Noxubee, Oktibbeha, and Calhoun County. Briefly stated, it means qualified students who attend EMCC may be eligible, as funding permits, to receive assistance towards their tuition costs. To be considered, students must apply for all federal grants, state grants, and EMCC scholarships.

TUITION ASSISTANCE ONLINE APPLICATION
Do you qualify?
Tuition Assistance (TA) is a financial aid program which assists with tuition costs for eligible students who attend East Mississippi Community College. The program offsets the cost of tuition less all applicable federal aid, state aid, and EMCC scholarships. Assistance be we awarded up to a maximum of four consecutive semesters, excluding summers.
In order to be eligible for the Tuition Assistance Program, a student must meet the following requirements:
Must be a resident of the following counties– Lowndes, Clay, Oktibbeha, Noxubee, Kemper, Lauderdale, or Calhoun.
Must have been a graduate of an accredited public or private high school, or home school in the EMCC district or Calhoun County during the most recent semester. Most often, this means high school graduation in the spring, followed by enrollment at EMCC in the fall. There may be other situations that qualify; call the Financial Aid Office if you have questions.
Must apply for all federal and state aid and any applicable EMCC scholarships.
Must register full-time, 15 or more semester credit hours, in the next semester following high school graduation.
Must maintain a minimum of 15 semester credit hours each semester. If enrollment drops below 15 semester credit hours at any time, the student will lose tuition assistance funding and will be ineligible for the program from that point on.
Must maintain a 2.5 grade point average.
Calhoun County residents must maintain a 2.00 grade point average.
Please note:
Students who transfer from other colleges are not eligible for tuition assistance.
Students who enroll in programs that are not approved for financial aid are not eligible for tuition assistance.
Continuation of the Tuition Assistance Program is contingent on funding.