LONDON FASHION AGENCY TO DISTRIBUTE EMCC MERCHANDISE GLOBALLY
Merchandise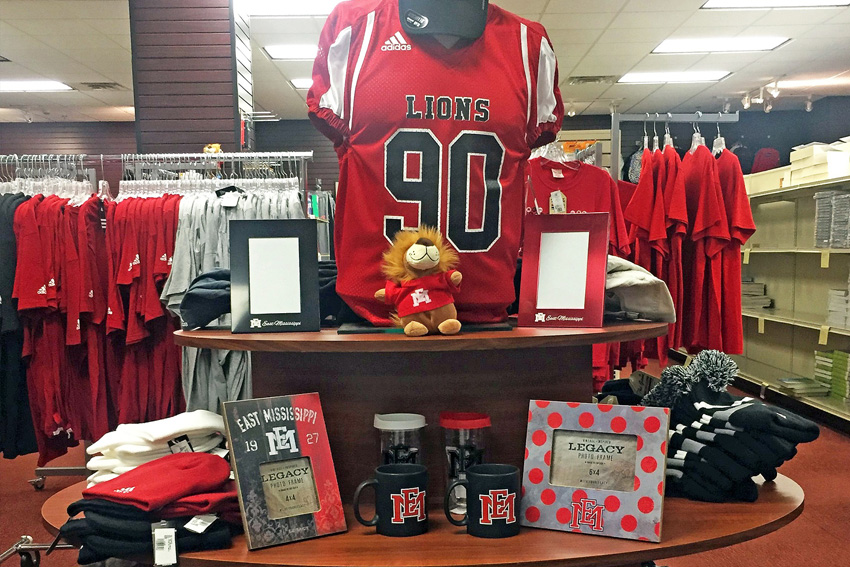 January 9, 2018
T-shirts, jerseys and jackets emblazoned with East Mississippi Community College's name and logo could soon begin showing up at major retail stores around the world.
London-based apparel company Park Agencies Ltd. has signed a contract with EMCC to design and distribute EMCC merchandise.
"The retail groups we work with are based in different countries but they can be spread out across the globe," Park Agencies Director Tony Park wrote in an email. "Key groups such as Primark, River Island and Next are based in the United Kingdom but have stores in 12 countries. Zara, Bershka, H&M and Best Seller are European-based but can be in 60-plus countries. We do sell into these groups but we are never 100 percent sure what (clothing items) they will select.
"We also sell to various online etailers such as ASOS, Zalando and Boohoo, for example. Most of our other clients have online sales as well."
Instore product trials could begin as soon as March, with the EMCC apparel line to officially launch this summer or this winter, Park said.
EMCC has already been selling apparel internationally since the July 29, 2016 release of season one of the gritty Neflix docuseries "Last Chance U," which follows the college's football team during the 2015 and 2016 years.
The series that provides an unfiltered look into the lives of the players and coaches quickly garnered worldwide acclaim. Apparel sales through EMCC's bookstore quickly rose that first year by more than 200 percent. After season two of "Last Chance U" debuted last year, sales increased by more than 1,500 percent over the previous year, with orders coming in from all over the U.S., the United Kingdom, France, Germany, Australia, the Netherlands and New Zealand, to name a few places, EMCC District Bookstore Manager and Athletics Social Media Coordinator Ginnie Cody said.
"That first night when the second season came out, I didn't sleep," Cody said. "I stopped processing orders at 5 a.m. the next morning, slept for a couple of hours at my desk and went right back to it. I remember thinking to myself, 'This is going to be bigger than we thought it would be.'"
The uptick in sales was generated from viewers who discovered EMCC's bookstore online. Cody is excited about the partnership with Park Agencies.
"They will have a much bigger audience than we have on our website," Cody said. "They can make it more of a brand, a cool thing to sell. We are not marketing in the UK or Europe and this is something they can do much better than we can."
EMCC will get a small percentage of the royalties from the agency's apparel sales.
"This won't cost us anything and it could actually generate some revenue for us," EMCC President Dr. Thomas Huebner said. "What is really exciting is the global expansion of the EMCC brand. As far as we know, we are the only community college in the world with an apparel contract like this."
Park Agencies designs its own brands and specializes in high fashion street clothing. Park said he would like to create a separate label for EMCC apparel that could include jerseys, hats, T-shirts, sweats, leisure wear and jackets.
"We are delighted to work with EMCC," Park said. "We feel that we will be able to offer a brand that will reflect the values and hard work of the staff and students at East Mississippi Community College."
EMCC Executive Director of College Advancement Marcus Wood, a former assistant football coach who was featured in the Netflix documentary, said he is pleased with the collaboration as well.
"This is a win-win for us," Wood said. "The Park Agencies have a broad reach and know the fashion industry. Not only will this provide us an opportunity to get entrenched in other markets, it will help us benefit from their experience as we learn the ropes of the game.
"It is exciting to know there are people in other countries who are interested in our merchandise. We are a small college in a small town and people all over the world are interested in our product. It is kind of amazing, really."