EMCC STUDENT SUCCESS STORY: KELLY BROWN
News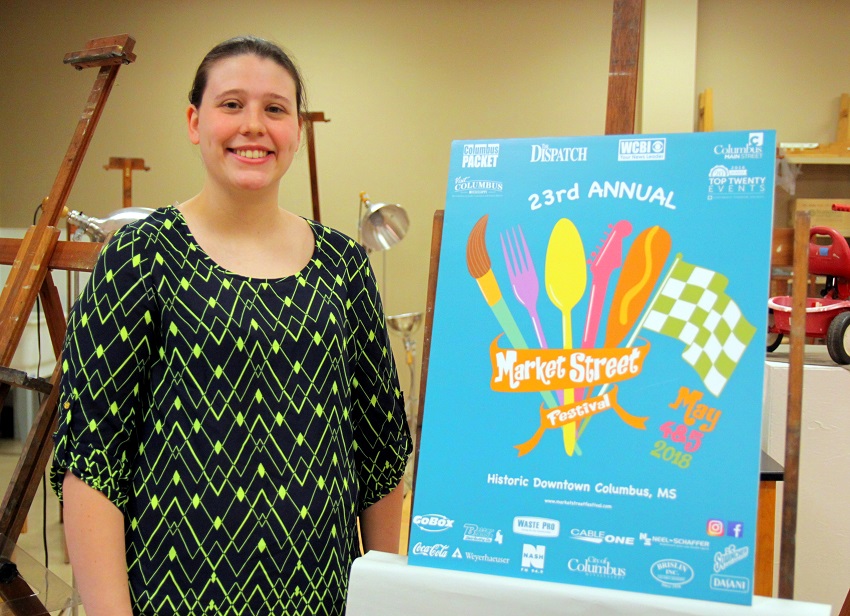 March 1, 2018
Artwork by former East Mississippi Community College student Kelly Brown is getting noticed.
One of Brown's designs is featured on T-shirts, posters and other promotional material for the 23rd Annual Market Street Festival to be held May 4-5 in downtown Columbus. Recently, some of Brown's art was on exhibit in a juried art show at the Mississippi University for Women where she is a student majoring in graphic design.
Brown said a lack of confidence in her artistic abilities almost propelled her down a different career path. Her original plan was to major in history at a four-year university after graduating from EMCC.
She wound up coming back to EMCC after graduating in 2014 to take classes under the direction of art instructor Cindy Buob.
"I spent a lot of time with Ms. Buob, who really boosted my belief that I could succeed in the field of art," Brown said. "She also helped put me in touch with the art teachers at MUW."
Buob said Brown was "very teachable."
"You could tell her something and you knew she would benefit from the advice and take it," Buob said. "That is sometimes not so easy with students."
Brown, who enrolled at MUW in 2016, was among a dozen students from the university's Advanced Art and Design Class who entered their artwork in a contest to come up with a design to promote Main Street Columbus' Market Street Festival.
Brown's submission was chosen as the winning design.
"I was very surprised because I wasn't able to be there to turn my design in," Brown said. "My professor had to turn it in for me."
MUW art professor Dr. Robert Gibson called Brown "a hardworking, dedicated student designer."
"She always focused on the task at hand and would typically give you more than you ask for," Gibson said. "She took criticism and instructions well and would do whatever it took to improve her work and build her portfolio — an ongoing process for graphic designers."
He commended Brown for winning the Market Street Festival design contest.
"She listened closely to the needs of the client and because of this she was rewarded for her hard work," Gibson said.
The Market Street Festival attracts a crowd of about 40,000 people each year. A 5K run, live music, arts and crafts, food and a classic car show are a few of the attractions. The festival is publicized statewide.
"They told me the poster would be pushed out all over the state of Mississippi and I also designed a billboard for them," Brown said.
Brown, of Louisville, is engaged to Jake Thompson. She is the daughter of Greg and Brenda Brown, and has an older sister, Dana Brown.
She would like to work in the graphics department at Taylor Machine Works in Louisville once she graduates from MUW. For now, she said she still has a lot to learn about her chosen profession.
"I am still discovering who I am as an artist and am trying to piece it all together," Kelly Brown said.