EMCC PRACTICAL NURSING GRADUATES READY TO SERVE
News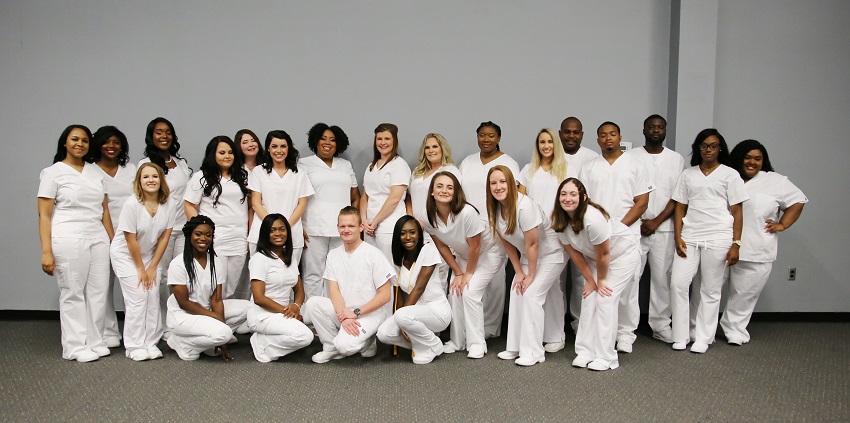 June 30, 2018
Kameshia Harris thought she had her future mapped out. She had earned a bachelor's degree in Kinesiology and was working as a fitness trainer but her mind kept going back to her clinicals when she was exposed to work performed by hospital nurses.
"I wanted to do something that was challenging and seeing the hands-on work they were doing made me want to push myself to do the same," Harris said.
On Saturday, June 30, Harris, who resides in Starkville, was one of 24 students who graduated from East Mississippi Community College's Practical Nursing program. Harris was presented with the Florence Nightingale Award by Practical Nursing Instructor Linda Hebert.
"The student chosen to receive this award embodies the true spirit of nursing," Hebert said.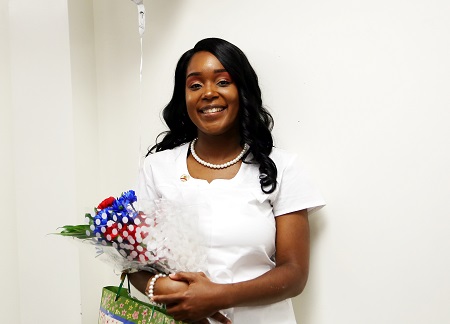 Harris, a native of Coila, an unincorporated community in the Delta, is the daughter of a nurse and mother to a 4-year-old son, Rovin Johnson. She said going back to school while serving as caregiver to a child was not easy.
"It's been a very long journey," Harris said. "I would lay my son in my lap and put a book on him to study. He's at the point where he knows just about as much about nursing as I do. It has been a challenge but it is worth it."
The Practical Nursing program is a 12-month course of study designed to prepare students to become licensed practical nurses. Students are taught nursing skills, nutrition, anatomy and physiology, human growth and development, pharmacology, maternal child nursing, emotional and mental illness, and medical/surgical nursing.
Many graduates will find work in clinics or nursing homes while others, like Harris, plan to continue their education.
"I have already started looking at different schools that offer the RN transition program," Harris said.
In addition to the Florence Nightingale Award, four students received Clinical Excellence Awards for exceeding the expectations of their instructors. Those students are: Niyah Brooks; Kanesha Johnson, Davius Smith and Montana Spencer.
Spencer is interested in work at a nursing home or an assisted living center.
"I have always had a heart for older people," said Spencer, a Mantee native. "I love kids. Don't get me wrong. But the elderly people, they are my world."
Like Harris, Spencer plans to become a registered nurse. And while she would like to work with elderly people, she is keeping her options open.
"The thing about nursing is you can upgrade," Spencer said. "You don't have to stay in one area. You can branch out in other areas."'
Whitney Blackston, a 2009 graduate of EMCC's Practical Nursing program was the guest speaker. Blackston, a Caledonia resident employed as an allergen nurse, is enrolled in the LPN to RN program at Excelsior College.
Blackston advised the graduates to take time to listen to their patients.
"Even though nurses can find themselves really busy, listening to your patients is equally important as the clinical skills you acquired here at EMCC," Blackston said.
EMCC Vice President of Administration Dr. Paul Miller congratulated the students.
"You have done an outstanding job," Miller said. "You have bright futures ahead of you as graduates of the Practical Nursing program at EMCC."
EMCC Director of Nursing and Allied Health Dr. Tonsha Emerson presented the graduates, who were confirmed by EMCC Interim President Dr. Rick Young. Hebert and nursing instructors Jamonica Johnson, BSN, and Eljenette West, MSN, conducted the pinning ceremony with assistance by Dean of Students Dr. Michael Busby.
The 2018 graduates of EMCC's Practical Nursing program are: Heather Bailey of Columbus; Candace Blanton of Columbus; Shelby Boulware of Louisville; Heather Brashears of Columbus; Niyah Brooks of Columbus; Savannah Cummings of Columbus; Shavonne Davidson of Maben; Brittany Jana Evans of Columbus; McKenzie Hancock of Columbus; Austin Harris of Starkville; Kameshia Harris of Starkville; Wanda Holman of Columbus; Kanesha Johnson of Columbus; Kinishua Pierce of Prairie; Javockie Robinson of West Point; Michelle Sales of Starkville; Shametrius Sanders of Yazoo City; Anna Seawright of West Point; Tyneshia Shelton of West Point; Davius Smith of Columbus; Montana Spencer of Mantee; Jason Taylor of Columbus; Michael Wilson of Columbus; Brandi Wright of Columbus.
Brooks graduated with cum laude honors. She was among eight of the students with 3.0 or higher GPAs recognized by the National Association of Licensed Practical Nurses Honor Society. The other seven are Bailey, Cummings, Evans, Harris, Sales, Smith and Taylor.