ANNUAL EMCC PINE GROVE FESTIVAL RETURNS
News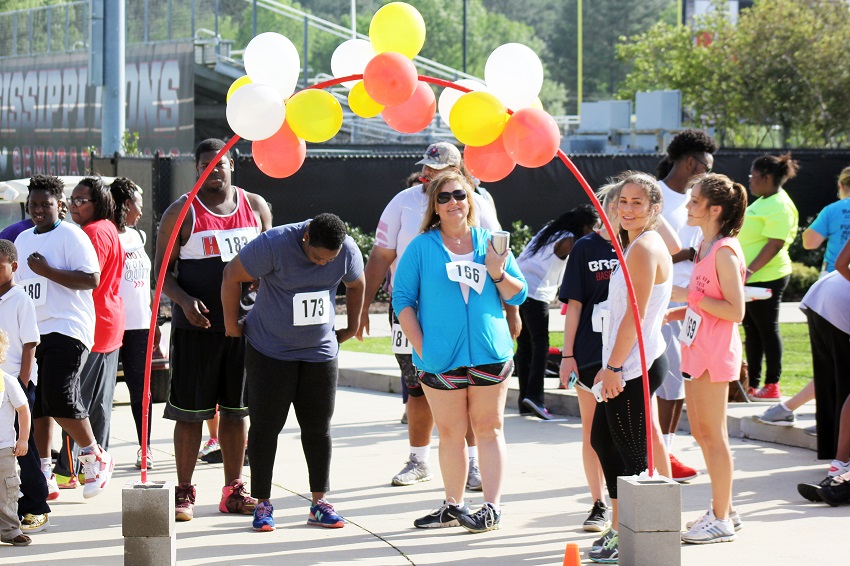 March 28, 2018
The public is invited to take part in East Mississippi Community College's annual Pine Grove Arts Festival, which returns to the Scooba campus April 9-12.
The annual event to celebrate the arts kicks off in the student union at noon Monday, April 9, with a pottery-making demonstration. Student artwork will be on display in the student union breakout rooms throughout the week.
The annual Crawfish Walk, a one-mile fun run and walk, will also take place on April 9 and kicks off at 4:30 p.m. in front of Sullivan-Windham Field. Participants are asked to bring a canned-good item, which will be donated to the needy. Division winners in the run/walk will be awarded prizes.
A reception for guest artist John Marshall, and an exhibit of some of his paintings and sculptures, will take place in the Aust Hall Gallery from 2:30 to 4 p.m. on Tuesday, April, 10. Marshall will host a painting demonstration beginning at 3 p.m.
Marshall, who has taught studio art at Meridian Community College for the past 32 years, has garnered numerous awards, including the Holliday Family Professional Development Award, the Mississippi Lamplighters Award and the 2010 Humanities Professor of the Year Award, to name a few.
"Not only is John a very talented artist, he is a great educator as well," EMCC art instructor Terry Cherry said.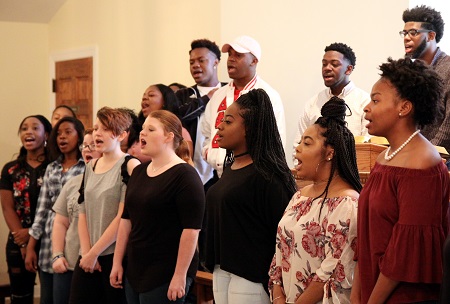 The events on April 10 will conclude with the EMCC Spring Choral Concert in Stennis Auditorium, with performances by the Concert Choir, Reflections singers, as well as vocal and instrumental solos. The concert begins at 7 p.m.
Selections will include: "Walk in the Light," a South African Spiritual, transcribed by Byron Green; "Wangol," a traditional Haitian song arranged by Sten Kallman; "Tue, Tue," a Ghanaian folk song, arranged by Ruth Morris Gray; "Miserere," by Antonio Lotti; "Verleih uns Frieden," by Felix Mendelssohn; Billy Joel's "The Longest Time," arranged by Kirby Shaw; "Bring Me Little Water, Silvy," by Huddie Ledbetter; and "The Blessing," by Brendan Graham and David Downes.
The EMCC Jazz Band takes center stage at noon Wednesday, April 11, in the student union, which will be followed at 1 p.m. by performances by the Eastern Belles Dance Line and Color Guard.
April 11 events wrap up with a dance at 6 p.m. in the street outside of the EMCC Wellness Center. Members of Elegance Ballroom Dance and Fitness Studio in Meridian will teach participants the Salsa.
"It should be a lot of fun and we are hoping for a good turnout," EMCC Director of Wellness Kate McCarty said.
Festivities conclude Thursday, April 12, with a painting class led by EMCC art instructor Lisa Spinks. The public is invited to participate. There is a $15 fee to participate in the class, which is a fundraiser to purchase supplies for the art department.
Spinks has chaired the Pine Grove Arts Festival for the past eight years.
"The Pine Grove Arts Festival is a great opportunity for people to come out, see what we are doing here at EMCC and enjoy the festivities," Spinks said.
EMCC's Golden Triangle campus in Mayhew will host its own version of the Pine Grove Festival on April 12, with food and activities for students, faculty and staff.