​EMCC'S OPHTHALMIC TECHNOLOGY PROGRAM HELPING SEND EYEGLASSES TO HAITI
News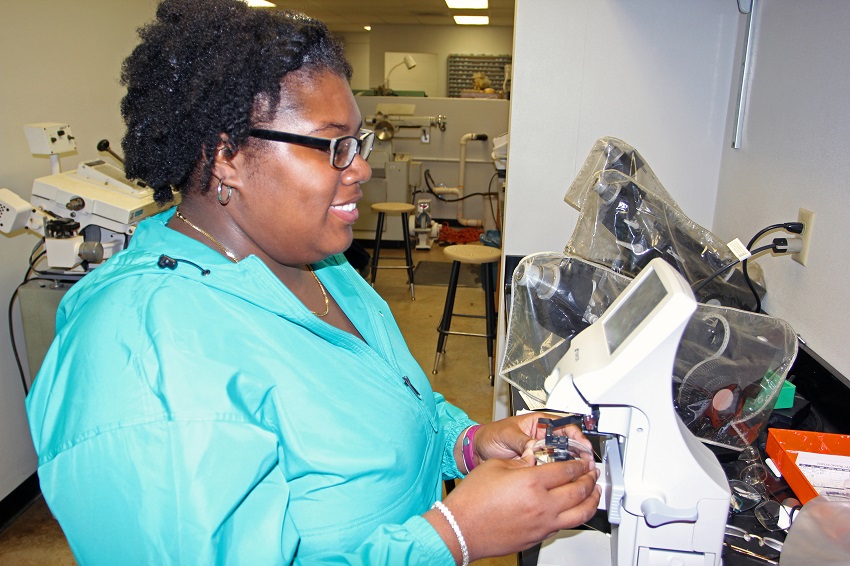 February 28, 2018
A group based in Lincoln, Neb., has made quite a name for itself by providing eye examinations and glasses to those in other countries who have no vision care. Now, students at East Mississippi Community College are able to lend a hand to the group's success.
EMCC's Ophthalmic Technology program is currently working on an order of more than 100 pairs of eyeglasses which will be given to those in need on an upcoming mission trip to Haiti by Shared Vision International.
Ophthalmic Technology instructor Eddie Sciple says he was originally contacted by a longtime colleague, Kevin Harrison of Heritage Vision Center in Hattiesburg, about possibly helping with the project. He was then paired with Dr. Todd Pfeil of Lincoln, Neb., who is also the director of operations for Shared Vision International.
"Heritage Vision Center in Hattiesburg is supplying the lenses and the group in Nebraska is supplying the frames," Sciple said. "And we're supplying all the labor and putting them together, edging them, adjusting them, getting them ready and labeled and then we'll send them back to Nebraska and they'll take them on their trip."
Shared Vision International has provided more than 10,000 pairs of glasses and examined 15,000 sets of eyes during its mission trips, primarily to Haiti and Honduras. A special emphasis has been put on Haiti in the aftermath of hurricanes which pounded the island country last fall.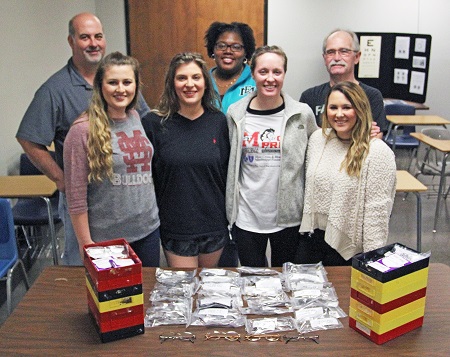 The group's next mission trip is scheduled for April 4-11, and Sciple says his group of students is hoping to finish their order for glasses before EMCC's upcoming spring break.
"We've been working on them for a couple of weeks now," Sciple said. "We only do labs two days a week, so it's definitely been busy for us. We're trying to get them finished and out so we can get them in the mail."
Sciple says the hands-on experience his students will gain while working on the mission trip project is similar to work they already do – but on a larger scale.
"It's a great experience for our students," he said. "We do this often, but it's still hands-on experience and we don't do it to this extent. What we make normally, we may take apart and make them again. But these are actually going to people who need them and they will be used.
"We have done similar projects for Dr. Emily Nail that practices out of Union," Sciple said. "She used to go on a mission trip to South Africa every year. She would send glasses that might already be made but we would fix them up or make adjustments or make more and send those. So we've done it in the past, but not necessarily to this degree."
Sciple said EMCC's Ophthalmic Technology program – a two-year technical program which provides an Associate of Applied Science Degree – is the only one of its kind in Mississippi.
"We're the only one in the state and it has been here since 1982," he said. "They opened one that was similar to it at Hinds about 10 years ago, but it didn't catch on. It was more on the doctoring end of it rather than making the glasses and the optician end of it. It's a fantastic program and I'm glad we were able to help with this project."
For more information on EMCC's Ophthalmic Technology program, contact Sciple by email at esciple@eastms.edu or give him a call at 662.476.5094.