TWO EMCC EMPLOYEES GRADUATE FROM LEADERSHIP ACADEMY
News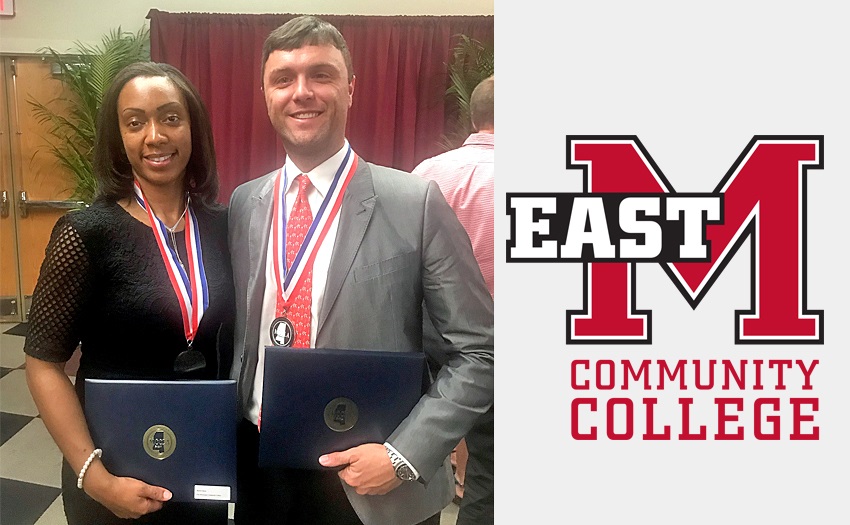 May 18, 2018
Two East Mississippi Community College employees graduated from the Mississippi Community College Leadership Academy Thursday, May 10, during a ceremony at the Hunter Henry Center on the campus of Mississippi State University.
EMCC's graduates for the 2017-18 class are Mark G. Alexander Jr., special assistant to the president, and math instructor Marion Smoot. They were awarded their medallions and certificates by EMCC Vice President for Workforce and Community Services Dr. Raj Shaunak.
Alexander and Smoot were among 31 Leadership Academy graduates from community colleges across the state.
The Mississippi Community College Leadership Academy was developed in the spring of 2009 to address the projected need for upper-level leaders in the Mississippi community college system.
The MCCLA is organized around the practical needs for future community college leaders, specific to the Mississippi community college system. Much of the material presented and discussed in the Leadership Academy are relative to the operation of Mississippi's community colleges.
Alexander is married to Alison Alexander. The couple resides in Columbus with their two children, Mark III and Amelia. Mark Alexander is a graduate of Mississippi State University where he earned a bachelor's degree in management and a master's degree in business. He has worked for EMCC for eight years.
Smoot, who teaches at EMCC's Scooba campus, is also a boutique owner, cosmetologist and the mayor of Scooba, where she resides with her daughter, Paisley. Smoot earned her master's degree from the University of West Alabama in Mathematics Computer Information Systems and is working on her doctorate's degree. She is a former math interventionist for the Noxubee County school system.